Two games into the season and Jefferson shows a lot of spark against quality foes
Jefferson girls hockey coach Mike Ryan said this group of seniors wanted to make the most of their final trip to the Chaska Community Center.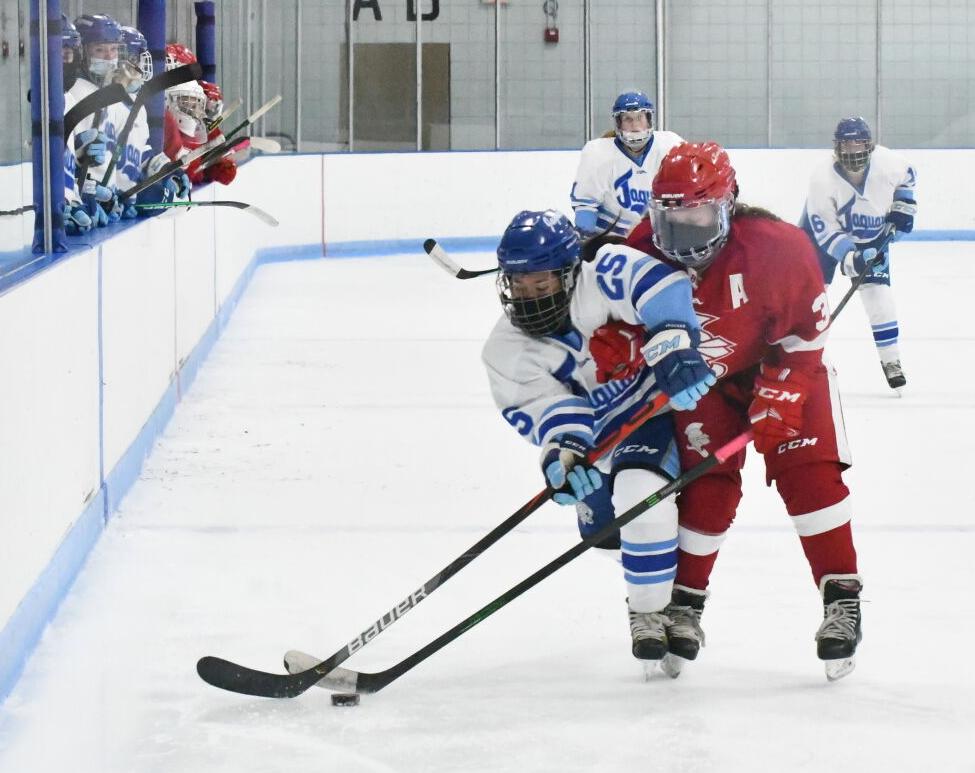 After going toe-to-toe with fourth-ranked Benilde-St. Margaret's in the Jan. 14 season opener, Ryan knew the team was in a good spot to pull out the win at Chaska/Chanhassen on Saturday.
"We feel like we are close to playing to our potential but still have work to do," Ryan said two games into the unique season. "Offensively, we need to figure out how to maintain pressure and earn more chances from good scoring areas in front of the net."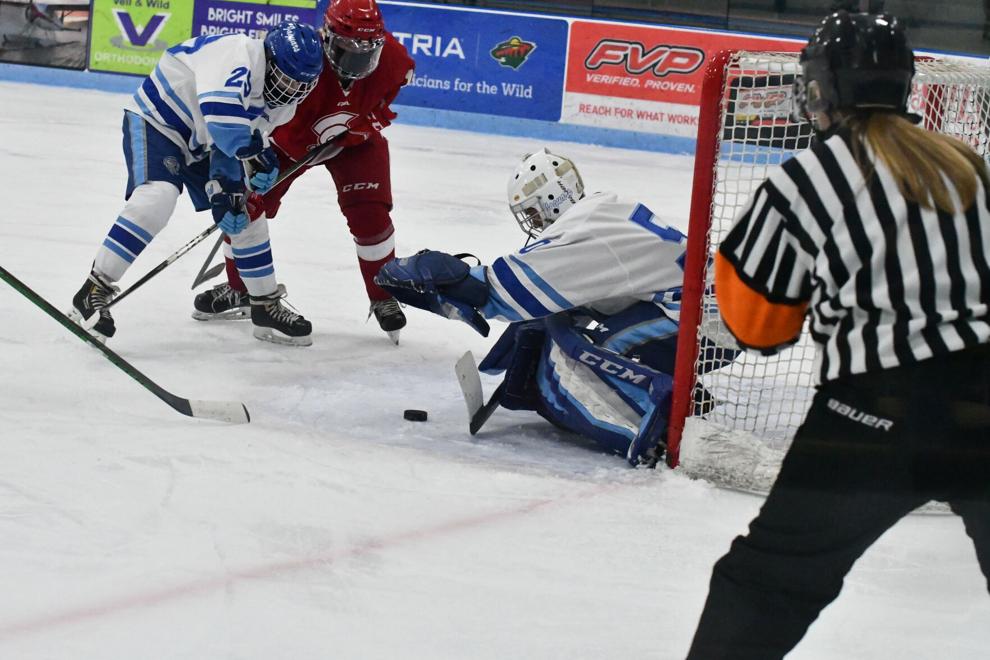 Defensively, staying disciplined and maintaining that trust between teammates to do their job is going to be a key factor to the success in their own end of the ice.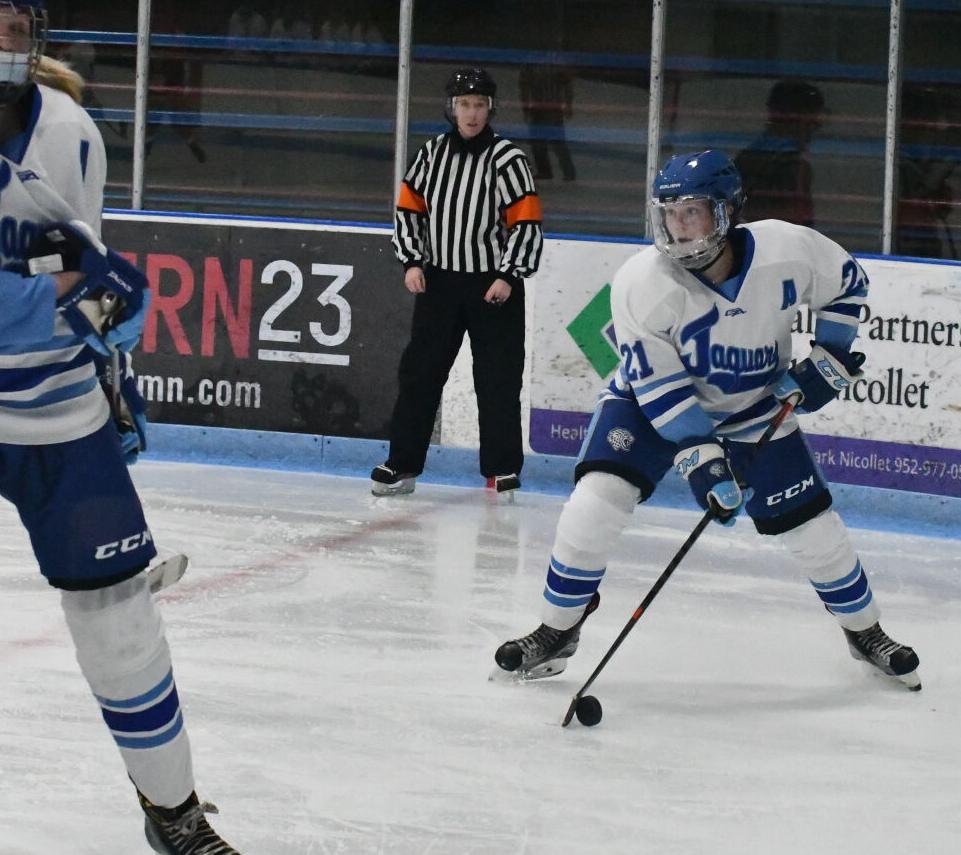 Those six seniors helped ignite the fire Saturday with Morgan Jones scoring a goal while Bella Grant and Jordan Fasching playing strong on both ends of the ice going against the StormHawks' top line. Defensively, senior captain Cayla Jungwirth added an empty-net goal to seal the win after junior Abby Longhenry scored the game-winner with less than five minutes to play. Junior Jayda Johnson set up the goal with, as Ryan described, "A patient, smart breakout decision that led to the game-winning goal."
Longhenry showed her determination to battle through pain after breaking the tips of both pinkie and ring fingers after blocking a shot in the first period.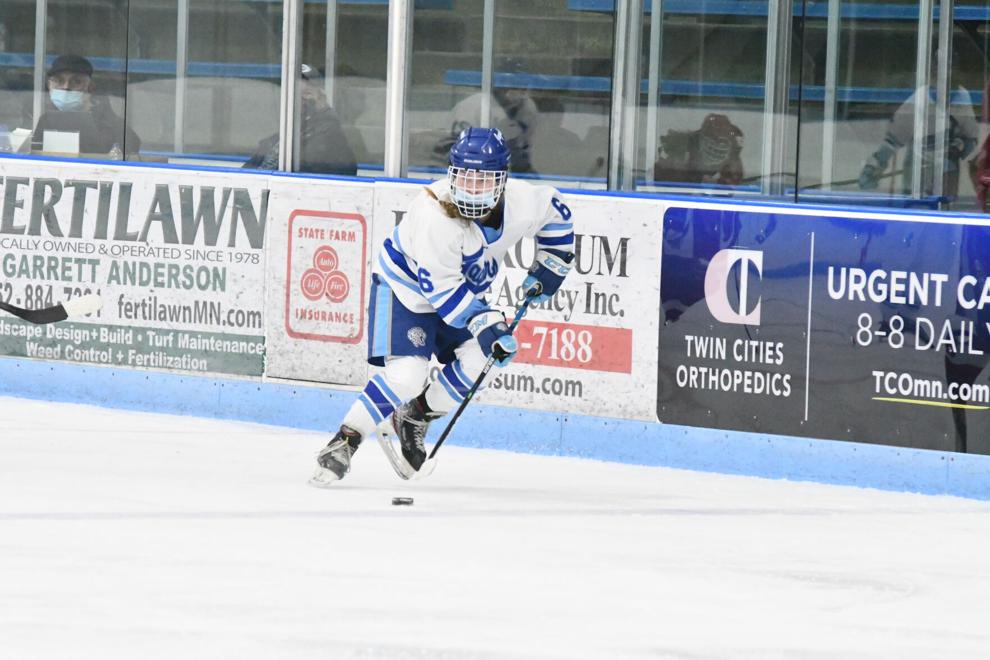 "Seriously, insane," Ryan said. "She comes to the bench, 'I think I broke my finger. No tears, no complaints. The trainer comes over, splints her two fingers and she misses one shift. Tough as nails."
Jefferson junior goaltender Chasity Anderson made 47 saves against Chaska/Chanhassen.
It only took 54 seconds into Saturday's contest for Jana Lesch to score for the Jaguars and Morgan Jones made 2-1 for the visitors with a power-play goal with 12 seconds left in the period. Seniors Cayla Jungwirth and Jordan Fasching assisted on the goal.
The StormHawks tied the game at 2-2 just 41 seconds into the second period as the score stood until the final five minutes of regulation.
Johnson set up Longhenry's winner and Jungiwrth closed it out with less than a minute to go.
The Red Knights peppered Anderson who stopped 38-of-39 saves in a 1-0 loss. 
"The best thing about this night was that we were at the rink playing a game," which Ryan said was long overdue. "The girls were so excited to be competing again."
After the game, Red Knights coach Shjon Podein told Ryan that Anderson's performance was the best by anyone in two seasons.
"To be at 0-0 midway into the third period having a couple of in-tight scoring chances we were right there," Ryan said. "Regardless of how we match up with a team on paper we never want to be out-competed. And we certainly were not against BSM. They are very skilled and relentless in the offensive zone."
The Red Knights boast a lineup with future NCAA Division I prospects and one of them broke through with the lone goal of the game coming with 4:20 remaining. Red Knights junior forward Mary Zavoral tucked the puck past Anderson on a partial breakaway.
The Jaguars only had six shots on goal through two periods as the veteran blueliners from BSM frustrated Jefferson's offensive chances. Jefferson managed to put seven shots on goal in the third period to make for a flurry of action over the final 11 minutes of the game. 
Jefferson hosts Minneapolis at BIG Thursday, Jan. 21 at 7:15 and travels to the Richfield Ice Arena to face Holy Angels Thursday, Jan. 28 for a 7 p.m. start.
Follow Jason Olson on Twitter @Jason0lson.
(Sun Newspapers staff photo by Jason Olson)
Jefferson's Abby Longhenry shields the puck from a Benilde-St. Margaret's player during the Jan. 14 season opener. She picked up her first goal of the season during Saturday's 4-2 win at Chaska/Chanhassen despite breaking four fingers earlier in the game.
Jefferson goaltender Chasity Anderson pounces on a puck in the crease during the third period of the season opener against BSM at BIG, Jan. 14. She made 38 saves in a 1-0 loss and rebounded with a 47-save performance in a 4-2 win at Chaska/Chanhassen Saturday.
Jefferson senior Jordan Fasching assisted on Morgan Jones' power play goal late in the first period Saturday at Chaska/Chanhassen.