Coach Mike Ryan calls this his strongest team in five seasons
A young and inexperienced Jefferson girls hockey team won seven games last season, taking a dip from double-digit wins each of the previous two seasons (12 wins in 2018-19 and 11 wins in 2017-18).
The 2020-21 campaign marks the 20th anniversary of the first state girls hockey title for a Bloomington high school program. That winning Jaguars team was coached by Dave Irvin. 
Entering his fifth season behind the bench, coach Mike Ryan believes this is the strongest team yet. "We have an extremely talented and dedicated senior group. All six of these players care a lot about this team and have been so important to our program's growth over the past four years."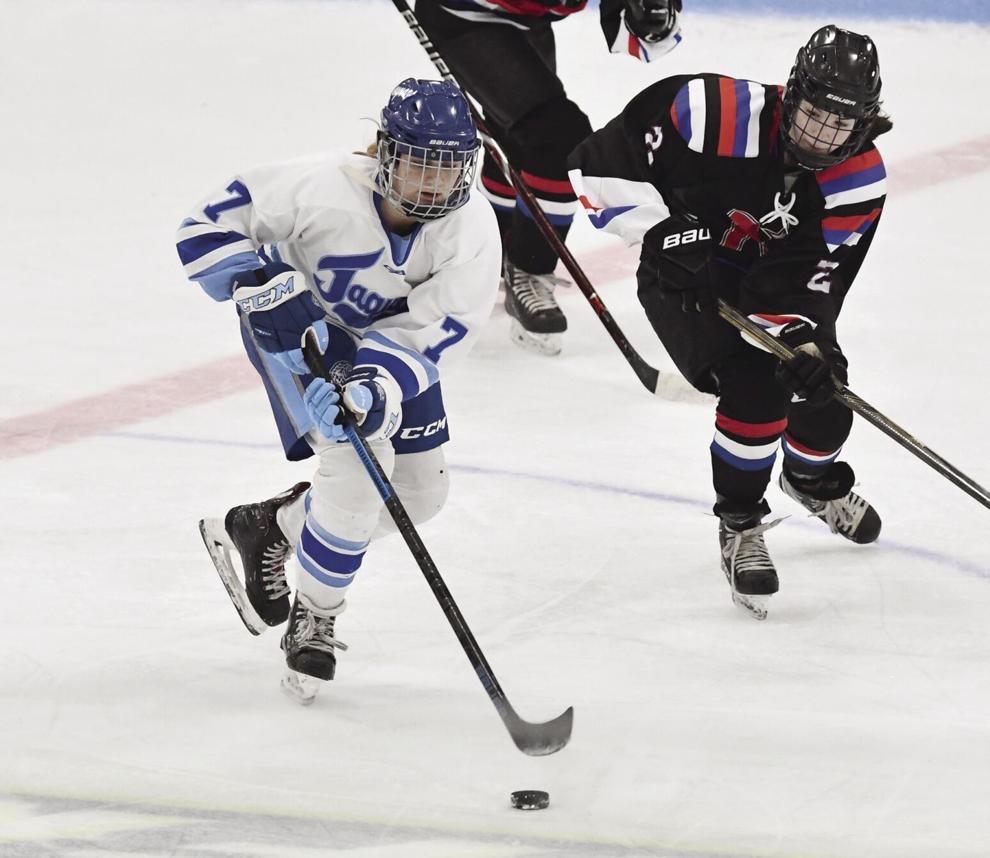 They include Morgan Jones, Cayla Jungwirth, Bella Grant, Meghan Wendorf, Jordan Fasching, and goaltender Becky St. George.
"The coaches will count on this group to set the tone and ultimately determine how much our team can achieve," Ryan said.
All five skaters were among the top nine point producers led by Wendorf with 11 points, Grant with nine points and Jungwirth with eight.
Joining Ryan once again on the bench is Josh Levine along with a familiar face making her coaching debut, Nikki Nightengale. 
Ryan said Nightengale will focus on defense and special teams as she was a two-time All-American at Augsburg, graduating in 2020. She is a 2016 Jefferson graduate, playing five seasons of varsity hockey before being one of the premier hockey players in the MIAC. 
"Nikki was not only a dynamic player for the Jaguars but a fantastic student and tremendous teammate," Ryan said. "She had opportunities at smaller schools at the D1 level. I respect that she decided to go somewhere where she knew she'd make an immediate impact and play a lot. Her career at Augsburg ended with her being a two-time All-American and Augsburg having their best season in program history. She most definitely made a lasting impact."
As for her coaching role, Ryan said: "We couldn't be more excited to have Nikki join us. She is humble, incredibly smart and has a wonderful way of connecting with young people."
Aaron Schram is back for his fourth season coaching the JV team along with another new member of the coaching staff — Alexandra Goedderz. She was a classmate of Nightengale's and MIAC opponent, playing for St. Thomas before graduating earlier this year. "Alex is awesome," Ryan said. "She has a passion for Jefferson hockey, is hilarious and we couldn't be more grateful to her helping us."
Current Minnesota Whitecaps goaltender and former Gophers great Amanda Leveille is back as the Jaguars goaltender coach. She is the head instructor for OS Hockey.   
The uncertainty of the 2020-21 season has meant more off-season training and conditioning for what should be a veteran group anchored by captain Fasching and assistant captains Jungwirth and Wendorf.
Ryan said the team has dealt with COVID-19 well, given the circumstances. "Our summer training went well. The girls were very grateful for the ability to be together, to skate and to get better. Protocols were in place and we were able to conduct a successful and safe camp for a group of young people who have had so much taken away.
This fall and winter the team took part in group Zoom meetings to stay sharp once given the go-ahead to begin the 2020-21 season.
"The series has focused on our program's core values of respect, connection and compete," Ryan said. They also had productive Zoom sessions with current Minnesota Gophers Taylor Heise and Lauren Bench. "It was very cool to hear them share their stories and encourage our group."
Jungwirth and Wendorf were a formidable pair on the blue line, combining for 19 points.
"Cayla is a force," Ryan said of one of the leaders on and off the ice. "She is relentless in the D-zone and can create offense at any time."
"Megan is strong and incredibly confident with the puck on her stick," he said. "She makes those around her better." 
The Jaguars have a large junior class which will be key to help drive the success on the ice with the top two scorers back in Abby Longhenry and Grace Schuck.
Longhenry led the way with 19 points (10 assists) and Schuck's 15 points included a team-best 10 goals. 
"Abby has a relentless drive to produce," Ryan said. "She is competitive and does not like to lose."
Schuck didn't slow down over the summer, playing on the top OS prospects summer team and continued playing into the fall High School Elite League. "She's a uber-talented skater and shooter," he said.
Juniors Jayda Johnson and Emily Wozniak gave the Jaguars another pair of defensemen to rely on last season. This year Johnson will remain on the blue line while Wozniak will move up to forward to fill the need for more offensive depth. "Jayda never gets tired, she is an athlete. Jayda is a wonderful skater and competes like crazy."
Ryan added that Wozniak was one of the top defensemen last season and hopes that translates to the other end of the ice this season, showing her selflessness. "She is strong, has our team's hardest shot, and will play our top forward line."
Senior Becky St. George and junior Chasity Anderson give Jefferson two capable goaltenders to rely on each game. Anderson made 473 saves in over 819 minutes for a 3.55 goals-against average. Anderson made 36, 39 and 36 saves in the final three games of the season against BSM, Chaska/Chan and Holy Family, respectively.
St. George made 124 saves in 527 minutes and picked up the lone shutout of the season, a 3-0 win over New Prague stopping 13 shots. She had a 1.84 goals-against average.
Anderson stayed busy over the summer while playing for the top junior Whitecaps OS team and was invited to multiple Division I program summer camps canceled due to COVID-19. She also played in the fall elite league.
"We are extremely excited for Chasity to have her best season to date," Ryan said. "She gives us a chance to win every time she takes the net.