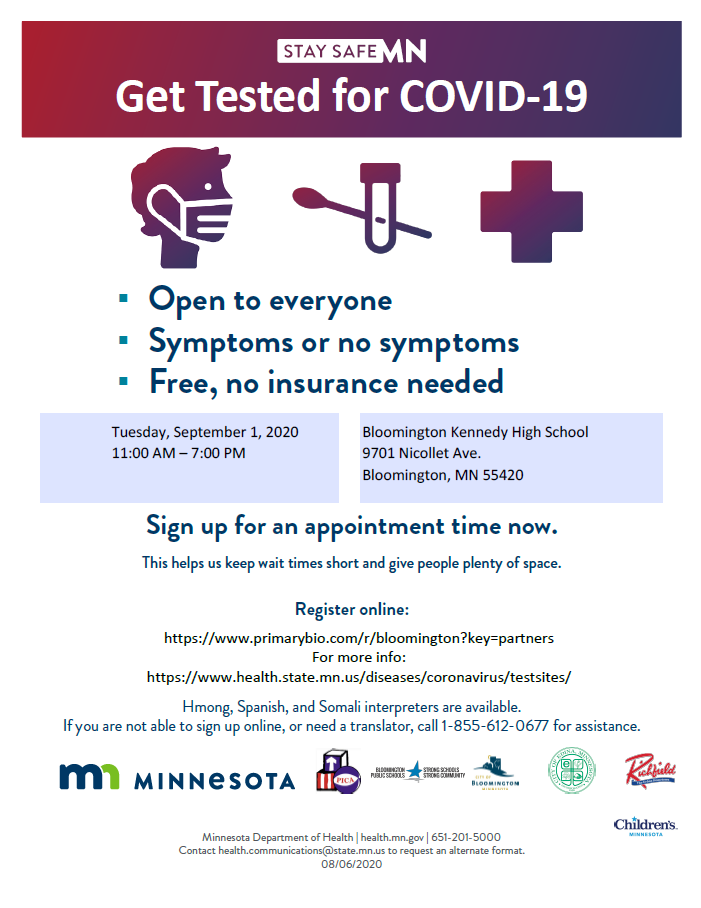 On Sept. 1, the communities of Richfield, Bloomington and Edina, are teaming up with the State of Minnesota and other local partners in an effort to test 1,200 area residents for COVID-19.
The event will be held on Tuesday, Sept. 1, from 11 am – 7 pm at Kennedy High School in Bloomington, located at 9701 Nicollet Ave.
Testing at the event is free, and is open to anyone regardless of whether they are experiencing symptoms of COVID-19. The event will be held in the school parking lot, and will feature drive-up testing where participants are not even required to exit their vehicles. Walk-up testing will also be available for pedestrians or those arriving via transit.
Event organizers are encouraging participants to register online. Register for the testing event at: https://www.primarybio.com/r/bloomington?key=partners. Those who are unable to sign up online or need interpretation can call 1-855-612-0677 for assistance.
Test results should be available 2-3 days following the event. Participants will be provided with follow-up information at the event.
More information about the event and COVID-19 testing can be found at:  https://www.health.state.mn.us/diseases/coronavirus/testsites/.