Johnson runs for 281 yards and five scores while young players step-up on both sides of the ball
Holy Angels improved to 3-1 on the season with perhaps its most impressive game, yet in a 35-29 win at Class 5A power Robbinsdale Cooper Oct. 30. 
The 4A Stars scored 15 points over the final quarter to pull ahead while the defense frustrated a potent Hawks team, which led 22-14 at halftime.
Holy Angels standout junior Emmett Johnson, "took charge behind the offensive line," Gunderson said. "Emmett is a great game player."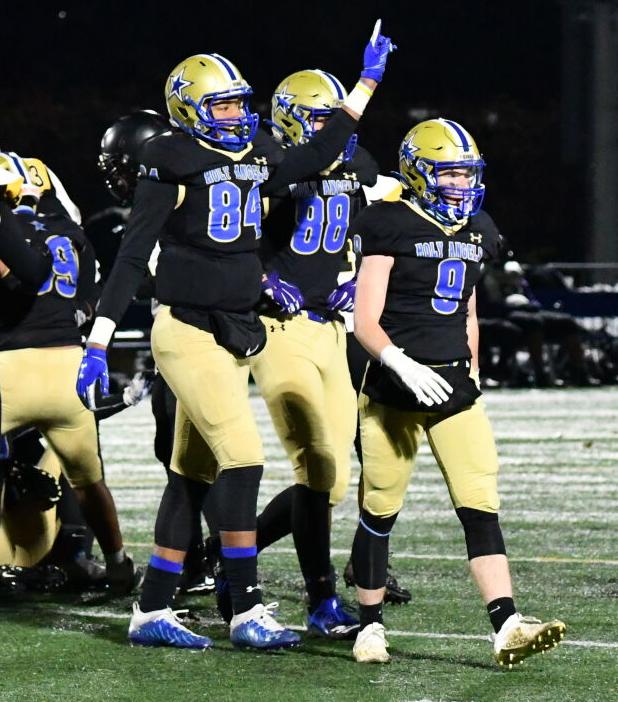 Johnson picked up 359 yards offense, including 281 yards from 28 carries with five touchdowns (2, 3, 3, 77 and 5 yards) and a catch on a 2-point conversion. He also caught two passes for 33 yards. As a defensive back, Johnson had 10 total tackles, including two for a loss.
In four games this season, Johnson has 756 rushing yards with 10 touchdowns plus 117 yards and one touchdown returning punts. He has five kick returns for 219 yards to go with 19 tackles and 16 solos. 
"Cooper is a really good team, and it was one of those games where we were battling adversity left and right," Stars coach Jim Gunderson said after losing three linebackers to injury, including Gavin Overholser, Joe Longo and Ryan Bercich. Sophomores Jacob Pung and Luke Cronin took over the opportunity.
"We talked about true character and how it would come out this game," Gunderson said of the pregame message. "And the kids kept battling and had the character to keep going and not give up."
Cooper led 29-14 after a 16-yard touchdown run by Cameron Royal with 3:03 left in the third quarter. Johnson would run for three more touchdowns including a 77-yard score with 8:27 to go to make it a one-point game, 29-28. Johnson capped off a four-minute drive with a 5-yard touchdown to retake the lead for good, 35-29 with 2:07 left.
Stars Bryce Boyd knocked down a pass on fourth down to secure the win. "It was a great team win," Gunderson said. "We had guys who weren't expecting to go in, offensive linemen went in on defensive linemen, guys stepped up and filled in. This was a character building-type game."
A defining moment of the season is how Gunderson described the road win. "We have young sophomores with great seniors coming of age," he said.
Junior Noah Hermanson converted all five extra-point kicks he attempted in his first start for the football team. He is an All-State soccer player, helping the soccer team to a consecutive section title run.
The win sets up a marquee matchup against Benilde-St. Margaret's at StarDome in Richfield, Friday, Nov. 6 with a kickoff set for 7 p.m. The Red Knights (2-2) picked up a 25-23 win at Jefferson on Friday. Holy Angels wraps up the regular season with a trip to Waconia scheduled for Friday, Nov. 11 at 7 p.m. 
Follow Jason Olson on Twitter @SunSportsJason.