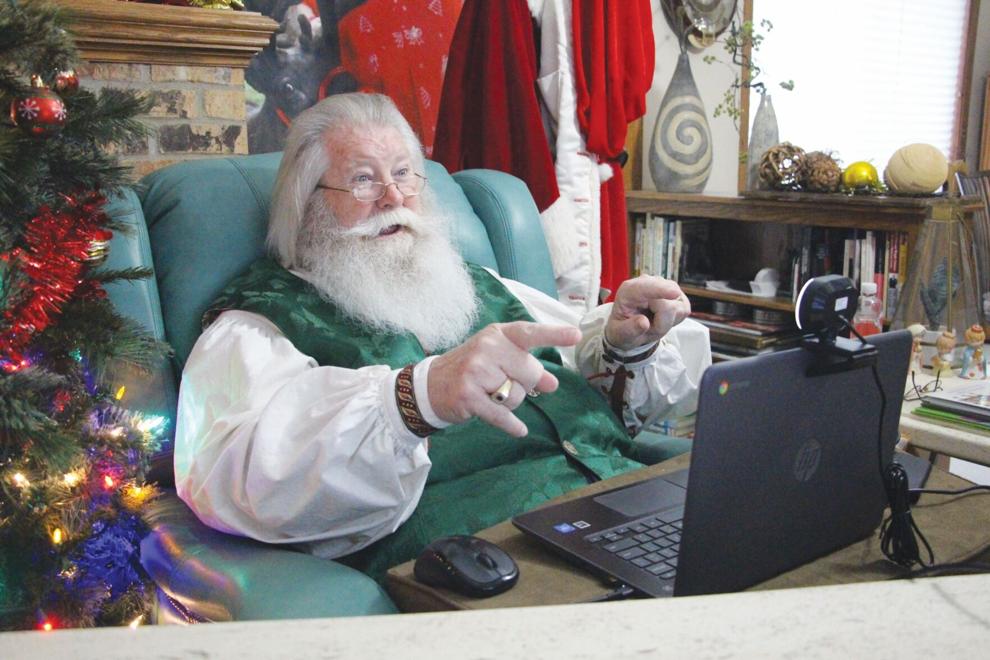 Santa Claus is coming to town, even during a pandemic.
Visits with Santa at shopping centers, community gatherings and holiday events have been hard to come by this year, but much like the rest of us, the jolly one has adapted to the limitations of 2020. Santa now meets with children through the most popular communication tool of the year: Zoom.
With social distancing reducing ways to spread holiday cheer, the Zooming Santa is among many ways people are filling the gaps this holiday season.
For more than a decade, Arlyn Grussing of Bloomington has been responsible for bringing the Christmas spirit to Twin Cities families. He wound up playing the part of Santa not by design, but by suggestion, and has made it his own.
It was 13 years ago when a friend through his church camp suggested Grussing could play the part, but Grussing didn't see it. He was in decent shape, and didn't have a beard. Nothing about his appearance suggested he was a candidate to play jolly old Saint Nick. But his friend saw something Grussing didn't see. "You have the personality for it, the twinkle in your eye," he was told.
Grussing grew a beard as an experiment, and sure enough, it turned out white and bushy. He took his friend's suggestion and donned a red suit for the upcoming holiday season, he explained.
As an inexperienced Santa, Grussing caught a break. He was hired by Brookdale Center in Brooklyn Center during his first Christmas season. What he didn't know was that his tenure would be a short one, or that he'd be the last Santa to preside over the mall. Holiday magic couldn't save the fading mall from suburban decay, closure and demolition.
So how did an inexperienced Santa land a seat inside a suburban shopping mall? Grussing isn't sure, but suspects mall representatives saw whatever it was they were looking for when they interviewed him. "It's like the modeling industry," he noted.
His time at Brookdale was short, but it was a learning experience that opened the door to a new opportunity closer to home. He spent the next five years at Eden Prairie Center.
He perfected his craft, but was disenchanted at the same time. Children line up to speak with Santa at shopping malls, and Santa and his elves need to keep the line moving. Grussing didn't like that. "When a kid needs to talk, I talk to them," he said.
With six years of experience, Grussing struck out on his own. Working with business partners, including the photographer who presided over his daily visits at Eden Prairie Center for five years, Grussing created Santa's North Pole Experience. Instead of lining up to visit with Santa at a mall, the partners rented Eden Prairie's Cummins House, a historic farm house near Flying Cloud Airport.
With a parlor for scheduled visits, the North Pole Experience has provided a variety of activities before and after a child sits with Santa, both indoors and outdoors, since 2013.
The pandemic made it impractical to host visitors to the North Pole Experience this year. But the partners realized in August that they could replicate the personalized visits with Santa the same way businesses around the world have been conducting meetings for most of the past year, through Zoom conferencing.
Instead of Eden Prairie, Grussing has worked out of his Bloomington living room for eight or nine hours per day, several days per week since Thanksgiving. Scheduling up to four calls per hour, he uses a laptop computer and extra monitor to replicate the in-person magic of the past decade.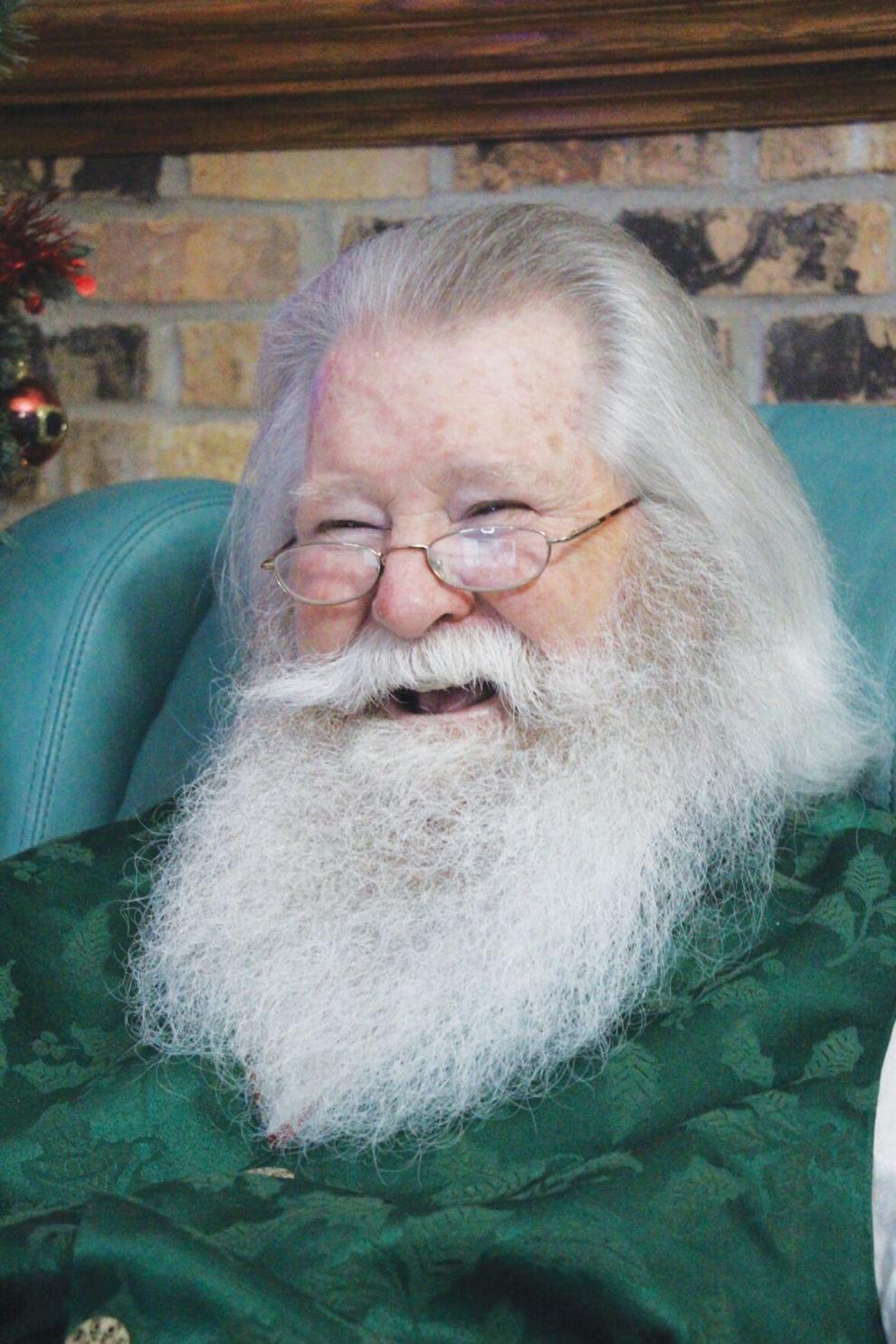 With a technical assistant off camera, ready to troubleshoot if the virtual connection isn't happening, wish lists from children and wisdom from Santa flow back and forth all the same. Santa asks children what they would like, not what they want. He explains to children who suggest they want a new puppy that pets are family decisions, therefore it's not up to Santa to fulfill that wish. He notes that the elves review Christmas lists, and like to include surprises in Santa's delivery.
"I try to play the old-fashioned Santa," he said.
With an established presence in Eden Prairie and a following through the North Pole Experience's Facebook page, Grussing didn't have to advertise or market the video calls. And long before Santa's final call on Dec. 23, the appointments were fully booked. He did more than 700 calls this holiday season, he noted.
Grussing doesn't bring up the pandemic, but it comes up in conversation periodically. He assures the children that Santa will still be visiting on Dec. 24, and expresses optimism about the future. The sentiment is always the same when it comes to visiting with Santa, he noted: "They all want to come back in person."
Musical and performing arts organizations typically plan a holiday show, and the NOTEable Singers are no exception.
The Bloomington-based women's show choir performs an annual holiday show 10-13 times per season. Most of those performances are at senior living communities, places where the residents have difficulty accessing live entertainment. And the group also performs as part of a larger community show at Redemption Lutheran Church in Bloomington each year.
In addition to the holiday show, the group puts together a spring showcase. That 2020 spring showcase fell by the wayside when the pandemic swept across the United States. By summer, it was clear that there would be no holiday show either, according to Liz Ziegler, the NOTEable Singers director.
The group held an outdoor meeting in early fall, the first and only time the members have gathered since mid-March, and discussed an alternate plan for the 2020 holiday season, a video concert, or as Ziegler calls it, "a big science experiment."
NOTEable Singers features "a vast range of ages and tech savviness in our group," Ziegler said. But the singers all have some level of technical expertise, in part because the group already disseminates choreography videos and rehearsal tracks for its members to practice with during their free time, Ziegler explained.
Without weekly rehearsals, NOTEable singers relied on familiar material for this year's concert. Using last year's "A Jazzy Kind of Christmas" concert, the group is replicating that setlist for 2020. The "A Jazzy – Socially Distant – Kind of Christmas" features new performances of many songs from last year, without the benefit of a concert stage, according to Ziegler.
The group members performed each song individually, accompanied by the musical track. The videos were then submitted to Ziegler, who along with her partner Kathy, edited the videos into a concert. The audio was extracted from each video and then mixed to create a group performance. Some songs feature the entire group, others feature small ensembles. Video of the singers performing in costume, as well as other video clips, still images and narration were added to the concert, a process Ziegler estimates took 100 hours of editing to complete.
"I'm personally very pleased with how it turned out," she said.
The finished concert features a handful of songs from the 2019 performances, and 15 edited songs from the 2020 recording sessions. The group is selling access to its concert at $10 per household, and has provided 38 senior communities with access to it through sponsorships and donations. It will also stream free on Bloomington's public access television channel on Christmas Eve and Christmas, Ziegler noted.
Holiday light displays are a time-honored holiday tradition, but have not been a priority at Martin Luther Campus of Bloomington.
The senior living community hosts an annual Oktoberfest event in the fall, but had to cancel it this year due to the pandemic. When the German-themed evening fell by the wayside, attention turned to finding an alternative event to benefit the residents at Martin Luther Campus and welcome the community. A holiday light display was the answer, according to Kate Blessing, the director of community relations at Martin Luther Campus.
Each night from 5-10 p.m., through Jan. 3, lights – strung throughout the front and back yards of the campus buildings, as well as in courtyards, on fences and anywhere else residents may be able to enjoy them – illuminate the grounds. And visitors have been invited to drive through the campus to see them as well.
Inside the buildings, where large gatherings of residents have ceased during the pandemic, photos of decorated areas that residents cannot see are available as a slideshow on an in-house TV channel, which residents can view in their rooms when they need holiday cheer, Blessing explained.
"I think that's the good thing about COVID. It's forcing us all – personally and professionally – to think outside of the box and to embrace more technology or new formats, because we have to," she said.
"We might not have thought to do this without COVID, and that would have been a shame as it has brought joy to all."
Martin Luther Campus is at 1401 E. 100th St., Bloomington.
Follow Bloomington community editor Mike Hanks on Twitter at @suncurrent and on Facebook at suncurrentcentral.