Firemen's moved to September, golf/tennis lessons in Park and Disc Golf at Hyland Hills
Just like many other area events, the Firemen's Softball Tournament originally scheduled for later in July appears to be rescheduled for September 18-20 at Valley View Playfields and surrounding softball fields. 
Tournament Director Jeff Barnes announced the decision Friday after trying to agree with the City of Bloomington and vendors to follow COVID-19 protocols in place.
Bloomington United
Bloomington United Soccer Club resumed practices June 8 with players from U9-U16 levels through COVID-19 guidelines. Managing Director Tim Forby said about 80 percent of the players registered for spring/summer participated with all sessions at Marsh Lake including no more than nine players plus one coach per group. Those numbers increased to groups of 11 with the next phase of reopening. Starting last week, United was allowed to have contact or scrimmage with the next phase of activity being allowed. "The kids and coaches loved having the chance to play," Forby said as they worked closely with the city to adhere to guidelines set in place by the Minnesota Department of Health to acquire field permits.
At the current phase, Forby said they will have player identifications for fall and spring/summer 2021 on July 27-28. See bloomingtonunited.org for the full schedule.
As for moving forward, Forrby spoke with Twin Cities Soccer League's Matt Tiano who is optimistic about a fall season. "So we are back to normal planning for fall which would mean teams formed that last week of July and training sessions for fall teams start mid-August," Forby said, as long as COVID-19 levels stay the same or drop.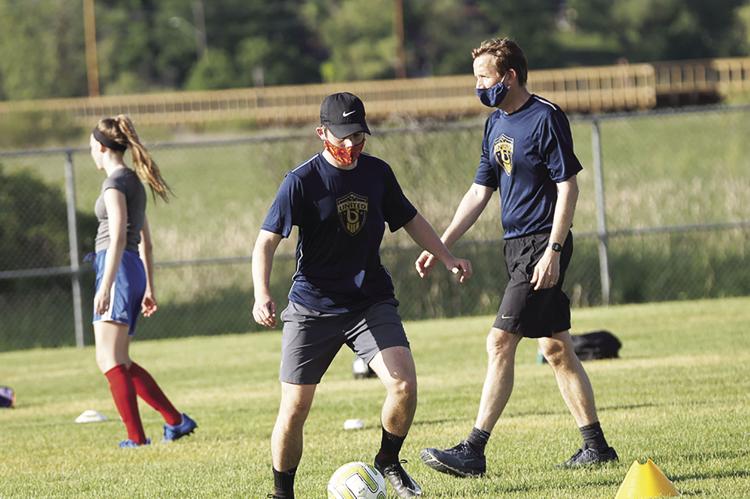 Raithel on the links
Kennedy's only girls lacrosse head coach, Sheryl Raithel, is also an accomplished golfer. She was tied through 18 holes of the Women's Senior Amateur Match Play 1st Flight Bracket Finals played at Pebble Creek Golf Club in Becker June 26-28. Playing out of Keller Golf Club in St. Paul, Raithel was even with Shelley Peterson of Monticello Country Club in the final match after two wins to set up the finals meeting. She defeated Kathy Hollenhorst 6&5 (up to six holes with five holes to play) in the quarterfinal before holding on against Wenmei Qi of Rush Creek Golf Club in the semifinals 2&1.
In the final, Raithel was 2 down after three holes but won three straight holes before holding a 1up lead to make the turn with a 3-over par 39. Peterson tied the match with a birdie on the par-3 121-yard Hole 12 and took a 1-up lead after a par on the 320-yard 15th hole. Needing to win one more hole with three to go, Raithel managed to par the 330-yard par-4 18th hole to go 46 on the back for a round of 85.
Disc golf at Hyland Hills
Three Rivers Park District will host a family disc golf at Hyland Hills Ski Area from 10-11:30 a.m. or 1-2:30 p.m. Tuesday, July 7. Learn to flip a disc and experience the fun of disc golfing with your own disc or use at Hyland Hills. Cost is $5 and reservations are required at 763-559-6700. The program is open to those 10-years-old and older.
Paddling programs
Three Rivers Park District will offer three upcoming paddling events. Baker Park Reserve will host a family kayaking course from 9:30-11:30 a.m. Tuesday, July 7. The cost is $20 and reservations are required. Equipment is provided. Carver Park Reserve will host a Morning Canoe on Lake Auburn from 9-11 a.m. Saturday, July 11. Equipment is available. Cost is $8, reservations are required and the event is open to those ages 5 and older. Fish Lake Regional Park will host a flatwater kayaking essentials for women course from 5:30-8:30 p.m. Saturday, July 11. The cost is $50 and reservations are required. The program is open to women ages 14 and older. Info: threeriversparks.org.
Cumulative marathon
Bloomington runners completed the first-ever cumulative marathon through June as a way to stay active with a bit of a competitive angle. Evyn Hubbard with Bloomington Parks and Rec said the program had 94 people take part in the goal to run 26.2 miles over 28 days in June.
A portion of the proceeds raised from the $10 fee was donated to VEAP. "We are super happy to be able to help out VEAP and we wanted to allow people to try and accomplish running 26.2 miles on their own time," Hubbard said, estimating the donation this year at $2,000. The plan is to make this an annual event.
The Urban Wildland 5K in Richfield, a fundraising event for Woodlake Nature Center, is going virtual this year. Runners have any time between July 25 through Aug. 1 to complete whatever race distance they chose – half marathon ($60 fee), 10-mile ($60), 10K ($32) or 5K ($32) after registering on urbanwildland.com. Finishers receive a T-shirt, branded wood finishers medal, E-bib and E-finishers certificate and results on the MTEC Results page.