By the time this edition hits mailboxes or newsstands, we might have a better idea about the state's plan for schools this fall. Once state guidelines are known, several pieces will fall into place in terms of the traditional fall sports.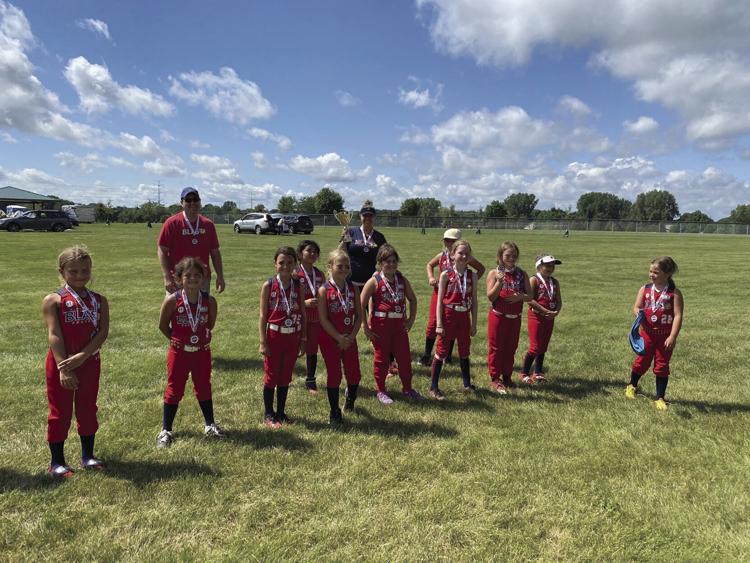 Until then, sports fans have limited opportunities to see live sports, including youth softball and baseball.
Less than a month ago our daughter's 8U softball team in Bloomington went from waiting to see if/when we would practice again to getting back to adding to the lifelong memories that come from being part of a team. Twice-a-week practices over the last month helped return a sense of normalcy to the schedule, which allowed the girls to focus on what should matter at 7- to 9-years-old – having fun while learning how to play a game as a team.
We were fortunate enough to find other communities willing to scrimmage to help the girls reclaim at least a portion of what was otherwise lost. The energy on the (appropriately spaced) bench from cheers to team chants was invigorating to experience. All aspects of the game were emotionally multiplied for us, from executing a ground ball out to beating the ball to first base or driving in a friend – this is what sports are all about. 
Yes, Farmington's fields were blazing hot for the Minnesota Softball 8U state tournament which originally scheduled to take place at Bloomington and last weekend's NAFA state tournament at Cottage Grove was equally hot and sticky. But that is part of the fun of playing fastpitch softball during the summer in Minnesota. I'll gladly pull a wagon full of a tent, cooler, snacks and chairs, if it means experiencing those smiles and memories over and over.
The determination on the faces at the plate to make contact with the pitch, followed by a full-out sprint to first base, isn't something I will forget anytime soon. 
Neither will the plays in the field not only to stop the ball but to make a strong play to get an out (or two – pop out then step on first for a double play). The girls even made a couple of outs over the last two weekends where they scooped the ball and sprinted to the nearest base to ensure we got the force out.
Slides were another welcome return to the game, as was eyeblack, which our daughter gladly applied to help out with the "game face" factor. No word if it did anything but made her look fierce. 
Instead of the traditional high-five lines after each game, teams lined the first or third baseline in front of the dugout, gave a wave, and 'good game' to the other team. 
I could fill up this page with observations from the ballfields over the last month including the tremendous dedication to the team by coach Megan Bernard, who recently lost her father (Michael Rowekamp), who was a huge part of Bloomington fastpitch for more than two decades. 
What are some of your highlights from this odd summer? I'd like to include a few of them (perhaps pictures, too) in this column over the coming weeks. Drop me a line at jason.olson@apgecm.com or on Twitter (@SunSportsJason).
Jamieson earns scholarship
Recent Jefferson graduate Sophia Jamieson joins Lydia Peterson (Minneapolis Southwest) and Anna Kittleson (Chisago Lakes) as recipients of the Jane Ring/Sue Ring-Jarvi Scholarship Award, presented by the Youth Hockey Hub recently. Ring and Ring-Jarvi are the mother-daughter duo who helped grow the game from its infancy and began the scholarship in 1997. 
Ring-Jarvi credits her mother with the idea after picking up the game at the age of 47, continuing to play until she was 81. Meanwhile, Ring-Jarvi's father was injured during World War II and received disability payments from the government. "He was not very disabled and felt a little guilty so he banked that money. As an educator wanted to pass that money on to an educational institute and made a scholarship for Macalester College," Ring-Jarvi said. "Mom, being in hockey, she wanted to do something similar to give some money out and got her hands on some of that money to start the Jane Ring and Sue Ring-Jarvi to keep it going."
Jane Ring was inducted into the first Minnesota Girls Hockey Coaches Hall of Fame class in 2013.
To be eligible for the $2,500 one-time scholarship, applicants had to be a graduating senior from a Minnesota high school, play varsity hockey, enroll as a full-time undergraduate student, and have a minimum 3.0-grade point average.
Jamieson plans to attend the University of Wisconsin, following her in brother Charlie's footsteps. She isn't decided on a major other than the sciences-area to pursue a physician's assistant career path.
NAHL draft
Former Kennedy 6-foot-5 forward Joey Dosan was selected by the Minot Minotauros in the second round of the NAHL Entry Draft July 21. Dosan played 32 games last season with the Steinbach (Manitoba, Canada) Pistons of the MJHL with one goal and five assists. The year before he played for the Northstar Christian Academy in Alexandria, picking up 74 points in 56 games as captain.
Cheerleading camp
SLAM Skyhawks Cheerleading Camp will be offered through Bloomington Community Education Aug. 3-7 from 9:15 a.m. to 12:15 p.m. Registration is open at bit.ly/3f5duVV through Friday, July 31.
Cadets win an academic state title
Saint Thomas Academy's baseball team picked up the Class 3A Academic All-State title with a team grade point average of 3.581, the highest in program history. The award is presented by the state baseball coaches association. Benilde-St. Margaret's earned a silver award in Class 3A. 
Eastview earned the Class 4A award with a 3.85 GPA; Perham earned the Class 2A award with a 3.71 GPA and Lac Qui Parle Valley earned the Class A award with a 3.70 GPA.