Richfield's own Jessica January signed a tryout contract with the Indianapolis Fever in March. 
As the quarantine continued, she never had a chance to workout but took part in many video and phone conference calls to be ready to go once the time came to start the 2020 season. Her bid to return to the WNBA court ended in mid-May after the Fever had to reduce the roster size ahead of training camp in Florida from 17 players to 12.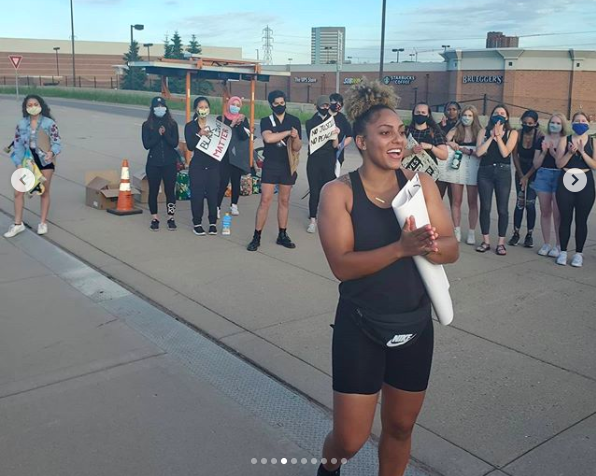 "It really, really sucks," January said in her initial reaction after some very successful seasons in Europe, including last season with Piestanske Cajky in Slovakia. "This timing and situation over here never happened before."
She hopes to find a spot on a European roster for the 2020-21 season.
But the timing did allow her to  take part in protests of the killing of George Floyd and plan a peaceful protest more recent with a large turnout along Penn Avenue.
January was able to use her platform to help rally more than 150 friends and family to show unity in the Black Lives Matter movement on the bridge spanning the Bloomington-Richfield border across 494.
After taking part in protests in Minneapolis and seeing the protests during a trip to Chicago, January  decided to see she could gather a small group by word of mouth to show their support for the movement peacefully in Richfield.
"I felt really moved when I was physically there [at the George Floyd Memorial at 38th Street and Chicago Avenue]," she said. "Part of my peers wanted to see change and express our frustration, sign petitions and donate but we wanted to do something else."
After talking plans over with friends and her parents, "we weren't trying to start a revolution but people can help and do something legal so we sent out a bunch of texts and passed it around by word of mouth because we didn't want to make it public."
The number grew after some coaches and teachers January had at Richfield High School learned about the plan. 
"I saw some people I haven't seen in years," she said, estimating the crowd at the peak was 150 strong taking up all of the available sidewalks on the Penn Avenue bridge crossing 494. January said the overwhelming reaction by drivers was support either by a honk, wave or thumb's up. "I'd say 99 percent of the time was amazing but a few drivers didn't support us," she said. "We had signs that said 'honk if you care.'"
Richfield slowpitch
Richfield slowpitch association director Andy May had an extremely positive outlook for the 2020 season, given registration numbers were up 25 percent for a second consecutive year.
Then came COVID-19 and the stay-at-home order, which combined with several factors, forced longtime association to cancel the season. "We chose to cancel for a couple of reasons," May said, and the challenges included how to social distance with sharing equipment. "We can do a certain amount of social distancing but with shared helmets and bats, we just started to do the math and if we get to where we are now, gathering outdoors... it just isn't realistic."
After another large increase in participation planned for this spring/summer, May said registrations promptly ended March 10, even after appealing to parents to continue to register later than what was scheduled without paying the regular fee.
While the number of kids playing in the association is up, parent volunteer participation is down, according to May. When he began, each team had three or four parents willing to help but that number has dried up to the regular volunteers who give generously of their time.
Another issue was the logistics of organizing fields and without the South Suburban League for this summer, it made the reality of a season even less likely. May said the prospects of a fall league is still to be decided. 
"We don't know what is going to be going on, will we have more testing or will people be back to work or will we have a spread of the virus by then," he said.
As for the number of participants growing, May said it has been a result of a lot of dedication. 
"We are working hard to rebuild this league," he said. The association included high school levels making the younger ages even more important to help sustain the association from t-ball through second grade. 
"How do we build that base and learn a sport they can play for the rest of their life? How do we get parents excited?" May said. "We have a friendly schedule that works on more skill-building and fun. It's been fun to see more kids join the program."
Maintaining those communication lines with parents has been a key to ensure they know what is coming up next in the annual cycle of the association from registration, team meetings, practices, games and other events.
"We want to make sure we aren't hitting them over the head," he said. "This is rec ball, we aren't going to turn your kid into a machine but they are going to have a good time and learn to play the game." 
New Magicians coach
Stu Bickel was recently named the new head coach for the Richfield-based Minnesota Magicians junior hockey team of the NAHL. 
Bickel spent last season as an assistant coach with the Minnesota Gophers. The Chanhassen native played 10 seasons of professional hockey including 75 games in the NHL for the New York Rangers and Minnesota Wild.
Bickel split his high school hockey days between Minnetonka and Eden Prairie from 2002-2005 before playing three seasons of junior hockey with the NAHL's Southern Minnesota Express and USHL's Green Bay and Sioux Falls organizations.
According to a press release from the Magicians, Bickel said the ownership, management and hockey staff made it an easy decision to step into the head coach role. "I am honored to coach in the NAHL," he said, noting the location is perhaps the best in the nation for exposure to college coaches and professional scouts. "There is a tremendous amount of potential here and I will do everything I can to help our players achieve their goals."
A.J. Bucchino served as head coach and general manager the last two seasons with Gavin Bickford as assistant coach. 
In addition to his assistant coaching duties, Bickford is the new director of player personnel. Buccino will remain general manager overseeing all aspects of hockey and business operations including managing the coaching staff and player personnel, generating sponsorship partners, operating off-season hockey programming and strategic planning for the overall growth of the organization.
Follow Jason Olson on Twitter @SunSportsJason.
(Submitted photo)
Richfield basketball and track standout Jessica January, front, helped organize a peaceful protest near the Penn Avenue bridge crossing 494. January plays basketball professionally in Europe and earned a tryout with the WNBA's Indiana Fever earlier this spring.