Losing their season last spring took away all of the momentum the boys established in the gym and weight room leading into the 2020 season.
Kennedy boys track and field coach Josh Coval said the return of the cross country in the fall, "helped in a big way for the distance side of things and we are up to 30 guys this year. Considering that not everyone is even back to school right now, we are pretty happy with the team we have."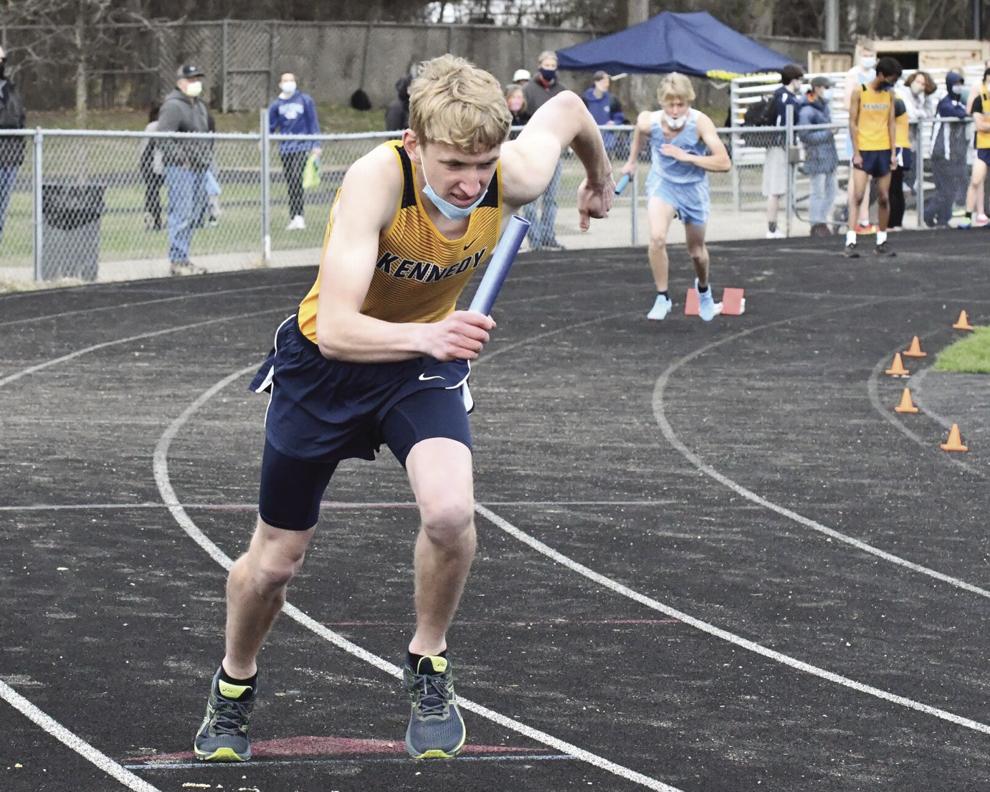 Coval, who is in his 10th season with the program, said the fun of being together on the track daily is back. "This is a great group of guys who bring their best every day. It's a lot of fun to be together and teach track stuff from the beginning, basically, because of the year off and all of the guys, we graduated from last year, too. There are a lot of fundamentals and basics to learn first."
Some of the comments he's overheard at practice so far this season run the range of thankfulness to be back on the track to figure out how to get back into shape to compete again.
He noted teammates saying: "'Coach, I think I'm gonna throw up!'; 'I don't remember it burning this much in my lungs.'; 'This is work!'; 'Track is back!'"
Captains this spring include seniors Kevin Olvera (sprints), Gannon Shilson (distance) and Emanuel Popoca Santana (sprints).
Shilson owns the top distance times in the 1,600, 800 and 400 events.
Olvera had a strong freshman season in the sprints (100 and 200) but injuries and COVID-19 hampered the last two seasons.
Popoca Santana's speed was on display bringing the 4x100 relay back from last to first during a conference meet two weeks ago and will be looked upon to anchor the sprint relays.
Junior distance specialist Thomas Siesennop is the top 1,600 and 3,200 runner for the Eagles and is quickly approaching a sub-5:00 time in the 1,600. "I always love to see that breakthrough for the kids," Coval said.
Junior Elijah Craft-Baidoo had a busy start to the season, finishing his leg on a relay then immediately competing in his first triple jump of the season going 37-feet, 4-inches.
"Given he had no practice at it, that is promising to say the least," Coval said.
Junior Aaron Blasingame is a top middle-distance runner focusing in the 400 and 800 runs who they hope to contribute team points in the relays and open events.
Freshman Sam Keefe is looking to build on a successful rookie cross country season as he ran into a spot on the varsity lineup in the fall. So far this spring he ran a sub-2:20 in the 800, "not really knowing what to expect, so that was promising," Coval said as Keefe ran a 5:57 over the first mile of the 3,200.
Kennedy hosted a Metro West Conference quadrangular meet on the high school track on April 21, coming away with 35.5 points to place fourth. Chaska won it with 139 points ahead of second-place Benilde-St. Margaret's with 49 points and third-place Cooper with 47.5 points.
Kennedy's 4x100 relay posted the winning time of 49.67 seconds ahead of Chaska's 49.98. In the 4x200 the Hawks edged Kennedy 1:41.84 to 1:48.07.
Popoca Santana was third in the 100 (12.34) and 200 (25.19) while Shilson was third in the 400 (56.52) and discus (102-10). Erick Johnson also earned a third-place finish clearing the high jump bar at 5-4.