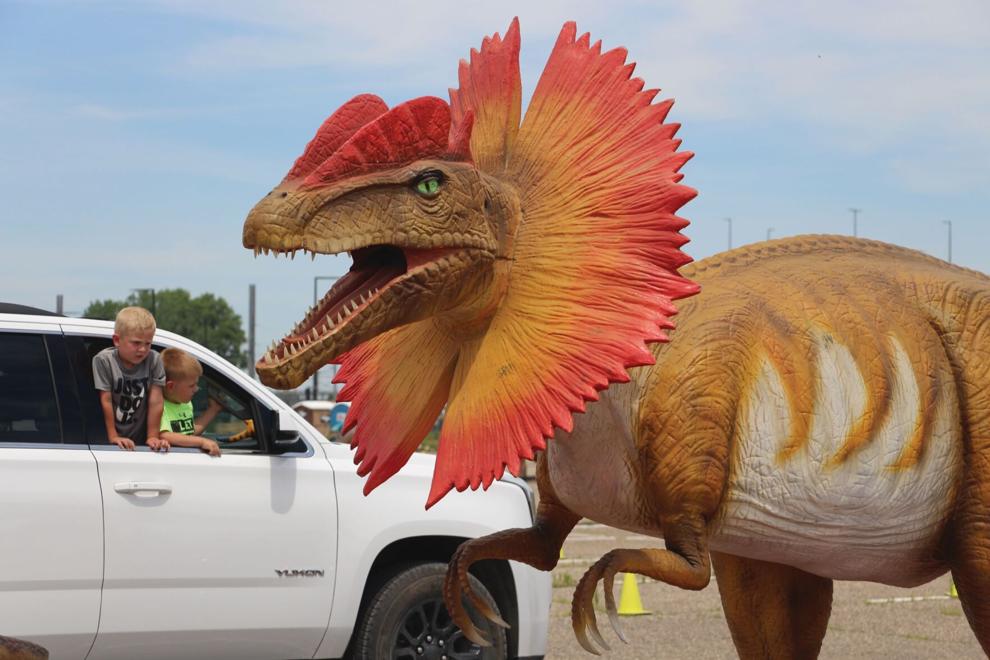 It doesn't take a DeLorean time machine to visit the dinosaurs of Bloomington.
Mall of America is hosting Dinosaur Drive-Thru, a colorful display of prehistoric creatures in varying shapes and sizes. With 60 animatronic dinosaurs, visitors navigate the mall's east parking lot for an up-close look at creatures as tall as 30 feet.
The 45-minute trek back in time came to life last fall after Dinosaur Drive-Thru President Troy Diskin visited a similar attraction in Illinois last summer. Diskin, looking for a business opportunity, saw the potential in developing a similar attraction that reflected his creative vision for the experience.
With a group of business partners, an emptied savings account and a business loan, Dinosaur Drive-Thru had its animatronic dinosaurs custom manufactured to fit Diskin's vision. From the dinosaur variety to their features and colors, each dinosaur was chosen to match Diskin's imagination. Much like the lizards of today – which range from colorful to shades of green that blend into the surrounding environment – Dinosaur Drive-Thru's creatures feature both bright colors and muted tones, Diskin explained.
Blinking eyes, waving arms, swiveling heads and gaping jaws await visitors as they pass clusters of dinosaurs, as well as a tyrannosaurus rex, which measures 40 feet from head to tail.
It took approximately three months to manufacture the dinosaur collection, and it made its debut last fall in Phoenix. The show has been on the road plenty since then, with stops in Texas and Atlanta before working its way north for the summer.
The drive-thru display has been successful in part because visitors don't leave their vehicles during the tour. With each state having different COVID-19 protocols, the drive-thru model has worked in each state the display has traveled to, Diskin noted.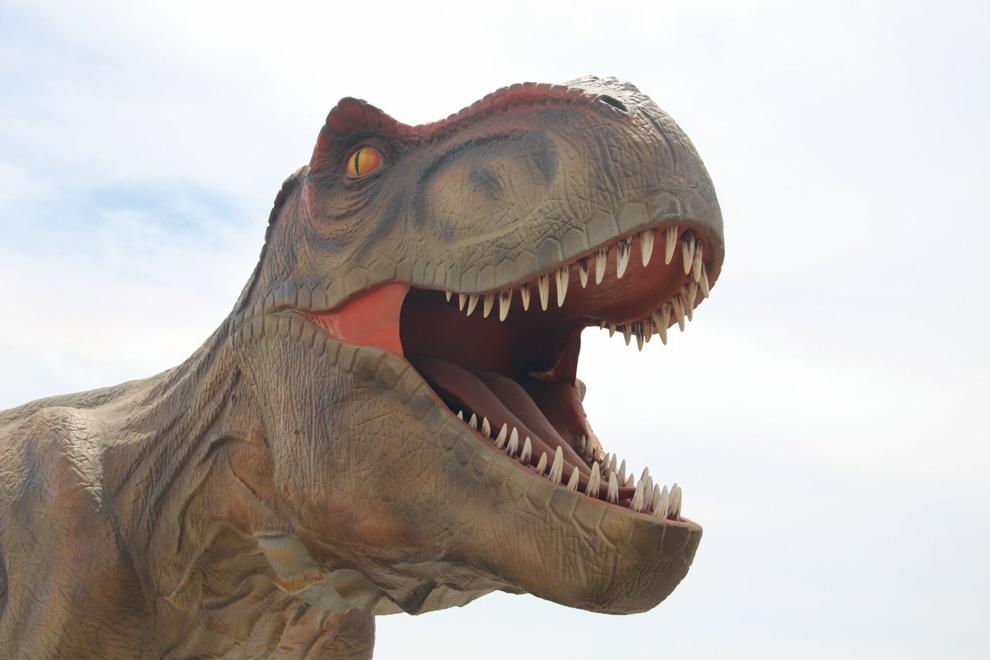 Although the display continues to be a drive-thru experience, Diskin will have the option to bring the dinosaurs indoors in the future, he said. Indoors or outdoors, the collection takes multiple semi-trailers to transport from city to city, and takes up to three days to assemble at each destination, he explained.
Beyond the growls of the dinosaurs, there's an audio tour that narrates the scenes, with jokes sprinkled into the script. Available in both English and Spanish, the tour's narration is available for download in advance of a visit to the drive-thru.
A trivia quiz is incorporated into the narration, and scorecards are provided to each vehicle. A commemorative certificate is available to the quiz winner of each group, Diskin noted.
Traffic lanes are marked along both sides of the displays to maximize efficiency through the displays. The drive-thru caps its ticket sales per hour to minimize backups along the route. Advance tickets for hourly blocks are available, and tickets may be purchased at the drive-thru for any remaining capacity during the hour, according to Diskin.
A gift shop at the end of the tour also includes an opportunity to take a picture with one of the dinosaurs. Exiting vehicles during the route is otherwise prohibited, and all visitors must have a vehicle in order to navigate the route, he noted.
The drive-thru is open 2-8 p.m. Thursdays, 2-9 p.m. Fridays, 10 a.m. to 9 p.m. Saturdays and 10 a.m. to 7 p.m. Sundays. The drive-thru will close at 5 p.m. July 4, and its final day at Mall of America is Sunday, July 11.
Tickets are $49 per vehicle, for up to eight people, and $75 for vehicles of 9-15 people. Thursday tickets are $35 per vehicle.
Follow Bloomington community editor Mike Hanks on Twitter at @suncurrent and on Facebook at suncurrentcentral.