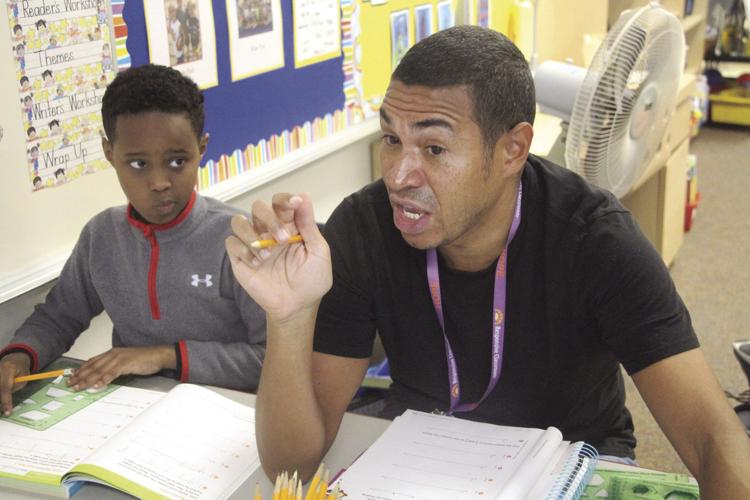 Of the many influences Cory Wade speaks about when discussing his career as an elementary school teacher, a job as a young adult – working at a bank – isn't one you would expect to make the list.
That job isn't the reason he teaches third grade at Bloomington's Hillcrest Community School, but it provides a guiding principle that he follows in his classroom each day.
Working at a bank, Wade noticed how "crazy" people are about their money. He views the 25 students he works with in his Hillcrest classroom as assets that are more valuable than money to their parents. He uses that analogy as a daily reminder of his role in the lives of those students and parents.
"I'm honored to teach their children," he said.
Wade, 37, is among nine finalists for the 2019 Minnesota Teacher of the Year award. The annual award is presented by Education Minnesota, the statewide union of teachers. He was among 168 candidates considered for the award in January, following his nomination and completion of the application process offered to nominees. The winner will be announced at a banquet May 5 in St. Paul.
Wade taught first and second grade at Bloomington's Westwood Elementary for a decade before moving to Hillcrest, the school where he got his start as a student-teacher. He was happy to be hired to the district and has fond memories from Westwood, but he wanted a different challenge and a change of scenery after a decade at the school. With the school's principal, Carolyn Hartwigsen, retiring at the end of the 2015-16 school year, an opportunity to return to Hillcrest was hard to resist, he said.
Moving to Hillcrest brought significant change. In addition to teaching a third-grade curriculum, Hillcrest is an artful learning school, meaning arts education is integrated into classroom instruction. In math, for example, the work of Piet Mondrian – considered a pioneer of 20th-century abstract art – might be used to teach about lines and angles, as well as introducing Mondrian's work to his students, Wade explained.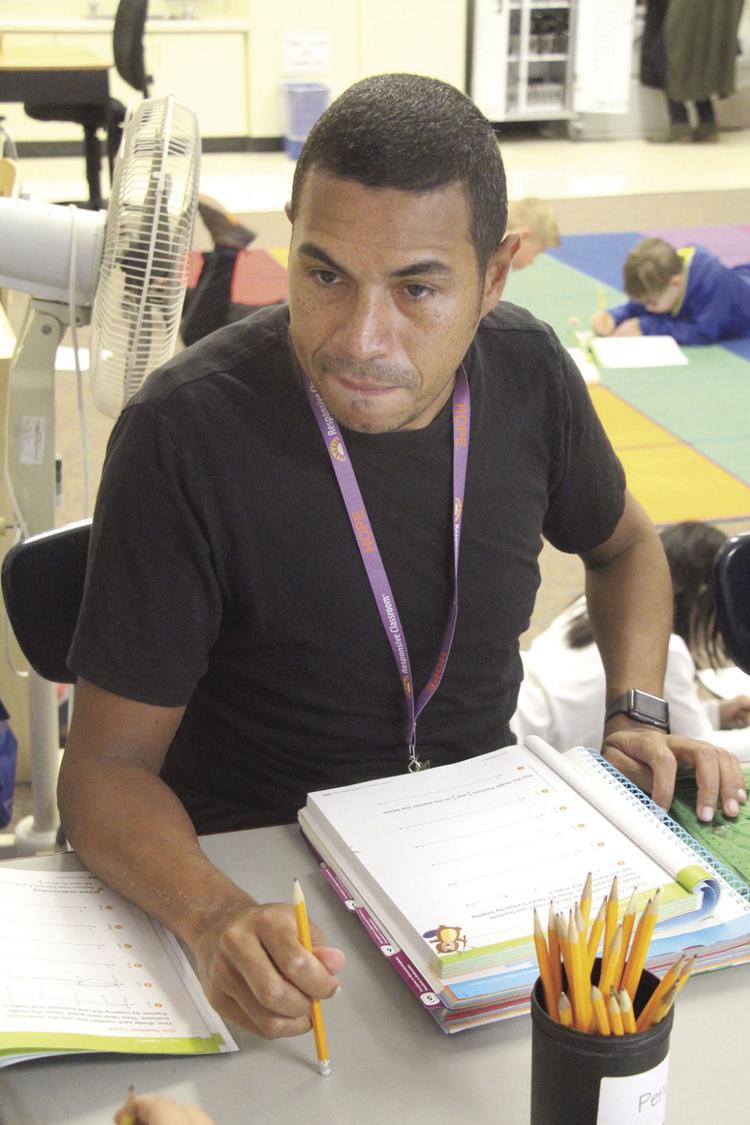 "Artful learning gives me permission to think that way," he said.
Wade's connection with his students and compassion for teaching hasn't escaped the notice of Hillcrest parents, and two parents of students from his classroom last year nominated him for the teacher of the year award. That nomination almost escaped his attention, however, as Wade received an announcement letter at the school, and thought it was simply a form letter with information from Education Minnesota. But Wade opened it to be sure before depositing it in a recycling bin, he admitted.
To qualify for the award, Wade assembled a portfolio that included an explanation of his philosophy of education and where he stands on an educational issue, for which he chose closing the achievement gap. Upon completing his portfolio, which included five letters of recommendation, Wade became one of 168 nominees announced in January. That group was narrowed down to 40 semifinalists in February, with the nine finalists being named last week.
Josh Coval and Katie Juul, language arts teachers at Kennedy High School, were also named semifinalists. Kris Goodwin, who also teaches third grade at Hillcrest, and Lisa Leary, who teaches mentally impaired students at Jefferson High School, were among the 168 nominees for the 2019 award.
Wade didn't grow up in Bloomington, but his mother's influence helped steer him to the district.
His mother, Dinna Wade-Ardley, is the district's director of educational equity and has worked for the district for more than 25 years. Her career and influence is the reason Wade wanted to be a teacher, but he wasn't determined to follow his mother to Bloomington. Likewise, she advised her son not to assume that his career would lead him to Bloomington, despite his natural interest in the district.
Having worked for the district's Kids' SAFARI program – a program for elementary age children before and after school – while attending college, Wade knew Bloomington was his preferred choice. Taking his mother's advice, he applied for jobs at other districts in addition to Bloomington and was able to begin his career in the district he knew best, he explained.
Wade has always been drawn to teaching at the elementary level. He enjoys watching the development of young students who aren't faced with peer pressure or influenced by society and social media, he said.
"My heart is for the development of K-1-2-3," he said.
After more than a decade of elementary education, Wade has no doubt about his career choice and thinks he would be happy spending his entire career as a teacher. But he is considering administrative options in the future and is in the process of earning his principal licensure requirements through the Twin Cities campus of Saint Mary's University of Minnesota. He will have his license in June, but, "I'm not ready yet," he said.
With or without the teacher of the year award, Wade knows he'll be back in the classroom this fall and hopes to see other Bloomington teachers in the running for the award next year. He never realized that being considered for the award begins with a simple nomination, and he wants to encourage district leaders and community members to nominate his colleagues for inspiring Bloomington students, he explained.
Hillcrest Principal Calvin Keasling praised Wade for the sense of excitement he brings to the classroom.
"Cory makes that a priority every day," Keasling said.
Beyond their excitement for learning, Wade's students believe in themselves, according to Keasling, and that has resulted in an almost non-existent achievement gap in Wade's diverse classroom, he noted.
"He builds relationships like very few teachers do. Parents and kids love him for it," Keasling said.
Information about the annual award is available online at soo.gd/teacher19.
Follow Bloomington community editor Mike Hanks on Twitter at @suncurrent and on Facebook at suncurrentcentral.