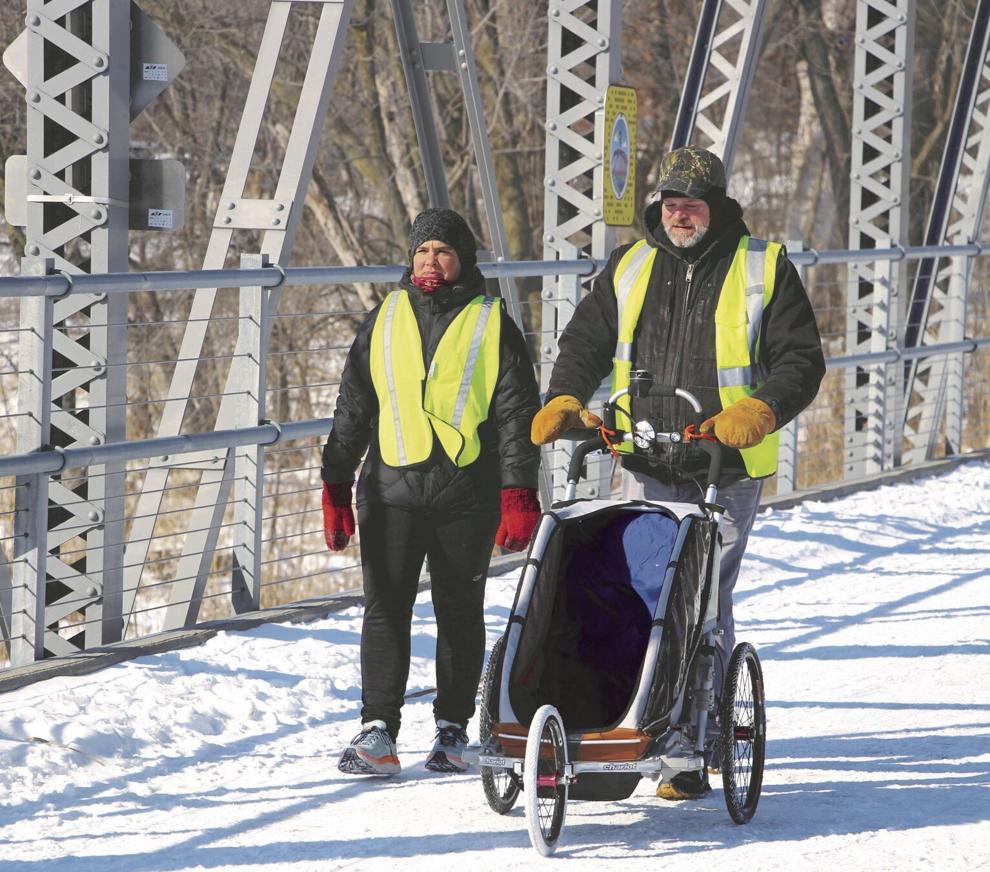 A Bloomington couple is about to live out the American dream, quitting their jobs and exploring the country.
Erin Dietrich and her husband Chris Rea have cities mapped out from coast to coast in preparation for their days of traveling across America during the next eight months. And they'll do it all on foot.
Dietrich, 42, became fascinated with the idea of hiking across the country 15 years ago, as a single mother of a 3-year-old child. She didn't dismiss the idea, but instead pondered how she could do that with a child in tow. She knew there was no practical way to do it, so she shelved the idea. Unlike other hopes and dreams that fade with time, "this one just never did," she said.
With her daughter now 19 and attending college, the idea is not so far-fetched. As a hospice volunteer, Dietrich thought about the day when she might be lying on her death bed, wondering what it would have been like to hike across the country. "I don't want that regret on my death bed," she said.
Some people spend a year driving across America, visiting all 48 contiguous states. Others bicycle across the country. Hiking across the country provides a slower pace that provides a better look at the landscape than crossing the country on wheels, Dietrich explained. And she likes the idea of odd, unique endeavors. In her view, hiking across America is quirky, interesting, challenging and funny, all rolled into one.
It was not a rash decision. Dietrich began contemplating the hike in the fall of 2019. That meant researching how to do it successfully. Facebook groups provided a network of experienced hikers that could educate her on the challenges ahead, and she had two long conversations with hikers who had completed the challenge.
By the following spring, as the coronavirus pandemic was bringing the country to a halt, Dietrich was formulating a plan for where and when she would hike, and the gear she would need in order to live off the land for eight months.
The chosen path of travel, in part, is the American Discovery Trail, a network of scenic and historic trails connecting Delaware and California. Incorporating trails designed for hiking, bicycle and equestrian use, the network splits off into two routes between Denver and western Ohio. Dietrich's and Rea's route will use the trail system at the beginning and end of their hike, but they have their own route planned for the split in the middle, Dietrich noted.
The uncertainty of the pandemic raised questions about the viability of the hike in 2021 as planning continued last year, but it otherwise seemed as if the time was right, Dietrich determined, bringing an attitude of, "I'm doing this. Who's coming with me?"
As it turned out, both her husband and her mother answered the call.
When Dietrich and Rea, 48, started dating several years ago, Rea quickly learned that Dietrich's dream of crossing the country on foot was still important to her. She told him that at some point she would disappear for a year in order to live out her dream, and she told him that in no uncertain terms, saying, "This is going to happen whether you like it or not," Rea recalled.
Although he was never obligated to share her dream, as the end of last year approached and it became evident that Dietrich was going to pursue the dream in 2021, he agreed to join her.
As did Dietrich's mother.
At 72, Linnea Dietrich of Hackensack will be out on the trail alongside her daughter and son-in-law. As an avid mountain bicyclist, the physical challenge of daily walking didn't intimidate her, but she wasn't sure she could withstand months on the trail.
She initially committed to walking the first 30 days of the hike, and then reconsidered, saying she would head out as long as possible, until her body tells her no. Having a chance to spend every day with one of her children for nearly eight months was a gift she couldn't say not to, her daughter explained.
The trio will depart from the Delaware trail head on March 3 and expects to walk 15-20 miles most days. Initially the group will target 15-mile days, eventually stretching that out to approximately 20 per day. There are occasional rest days built into the itinerary, and most of the trip will be unsupported, according to Dietrich.
Each hiker will be responsible for their own gear. Layers of clothing, making it easy to adapt to changing weather conditions, will be important, Dietrich explained.
Dietrich and Rea chose to push their gear, and each will have a modified baby stroller for their possessions. "I do not enjoy the experience of having things on my back," she said.
The elder Dietrich plans to pull her own gear in a cart attached by a waist belt, allowing her to use walking poles as she crosses the country.
The trio won't be carrying a lot of food on a day-to-day basis, so they anticipate a lot of their meals will come from gas stations and convenience stores along the way. Knowing where and when they can find food is important, as they can't afford long detours off their route in search of sustenance, Rea said.
At night they plan to use public lands to camp, tucked far enough off a trail to avoid notice during the night, as they won't have immediate access to many campgrounds. If they're near a residence or church, they'll ask for permission to set up their tents in the grass. Based upon the experience of her mentors, folks associated with area churches are generally helpful in finding a place for long-distance hikers to set up camp, Dietrich explained.
Occasionally the group will check into a motel for a night, particularly if weather necessitates doing so. Hotel nights may also double as their laundry day, Rea noted.
Although their hike is unsupported, the trio will have help along the way. Dietrich's father is staying behind in Minnesota, and will have boxes of gear ready to ship out by general delivery, if necessary, to a town the hikers will be approaching, Dietrich said.
As they cross Nevada, they'll be doing so via U.S. Route 50, known as the loneliest road in America. Access to food and water will be limited during that three-week stretch, so the hikers have lined up friends who will provide daily support by automobile, according to Dietrich.
Long walks, particularly on the weekends, have been part of their preparation for eight months of hiking. The winter weather has been favorable, up until recently. Only then did Dietrich and Rea seek the warmth of Mall of America for their training regimen.
Weekend walks are 12-15 miles each day, with shorter walks scheduled for weeknights.
They are leaving their jobs in order to make the hike, which required financial planning. There will be food and lodging expenses along the way, and house payments back home while they are gone. For the money they're spending to make the trek, Dietrich estimates they could spend eight months on the beach in Mexico.
Perhaps more intimidating than the daily walking is the mental challenge of completing the hike. Dietrich expects there will be moments when calling it off may seem like a good idea.
Rea takes inspiration from another hiker they have corresponded with, who is planning a similar trek next month. Determined that he will hike across the county, the fellow hiker told Dietrich and Rea that death is the only thing that will keep him from accomplishing his goal.
It's a mindset that resonates with Rea. "Everything else is just going to slow us down," he said.
They expect weather to slow them down occasionally, but they'll have incentive to reach the California coast by mid-October. Their trek takes them through the Sierra Nevada mountain range at Donner Pass, and they need to get through the mountains in September to ensure they beat the first snowfall of the season, according to Dietrich.
Their calculations say the hike will span 3,276 miles, an average of nearly 15 miles per day if they walk every single day and arrive at the coast by mid-October.
The trek is a physical challenge and financial commitment, and one they are eager to undertake and share. At the same time, Dietrich recalls a time when opportunities were harder to come by, especially for her daughter.
As a single parent, there were times when Dietrich couldn't afford an activity she would have chosen for her daughter. "It's important for everybody to have that opportunity," Dietrich said.
The Ann Bancroft Foundation, founded by Minnesota's renowned polar explorer, provides grants, mentorship and ongoing development opportunities to Minnesota girls pursuing their dreams. Hiking across the United States may not rival some of Bancroft's historic firsts as a global explorer, but the trio has chosen the foundation as the beneficiary of its journey across the country.
Had she known about the foundation years ago, it may have provided an opportunity for her daughter, Dietrich noted.
Dietrich didn't envision the hike serving as a fundraising and awareness campaign for any particular cause. But she was encouraged by one of her mentors to attach her journey to an organization, as the trio will be asked repeatedly about their hike and why they're doing it. If there are times that Dietrich doesn't want to retell her personal story, she can simply point to the organization that is benefiting from the hike, she learned.
Determining the beneficiary wasn't an automatic choice. Many long-distance endeavors are attached to health and wellness causes, supporting research or services related to cancer or chronic diseases.
Dietrich didn't have an organization that immediately came to mind, however, and sought recommendations from friends. When a friend suggested the foundation, it proved to be the logical choice, Dietrich explained.
Their fundraising goal for the foundation is $32,760, $10 for every mile. The trio has business cards to hand out promoting the foundation and pointing to its information page on the foundation's website, available at tr.im/2021hike.
Those who will not cross paths with the hikers will have access to status updates through a Facebook page, facebook.com/MNcrossers.
Follow Bloomington community editor Mike Hanks on Twitter at @suncurrent and on Facebook at suncurrentcentral.