Retired group still having fun after decades
It doesn't take much for a group of retirement-aged guys to put life on hold – at least for a couple of hours – for weekly softball games at Valley View Playfields.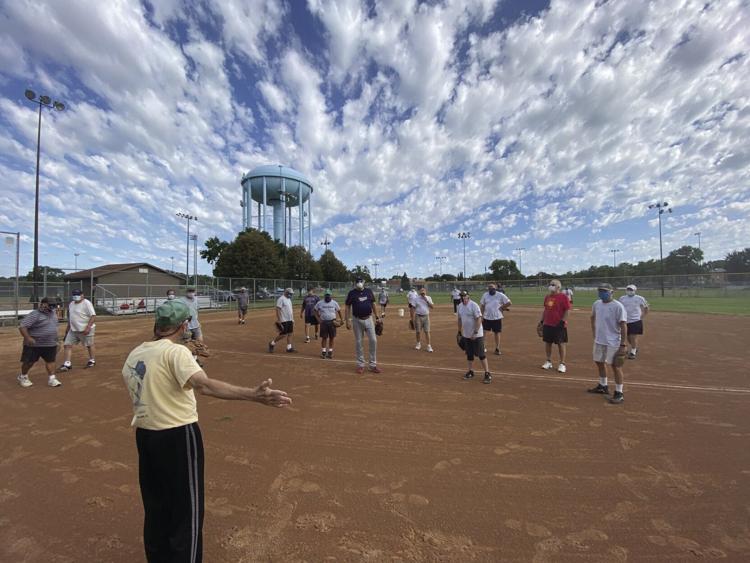 Known as the Born Again Jocks, or BAJs for short, the group made up a couple of dozen ballplayers is a more formal version of a sandlot or pickup game but the intention is the same – to have some fun while playing softball.
With COVID-19 concerns around staying safe and meeting the necessary guidelines to stay healthy, everyone added a facemask to the uniform.
"They want to be out here," Bob Wandberg said about the desire to play softball is great enough that the guys showing up gladly wear a facemask. Some regular softball players are holding off with returning to the field out of an abundance of concern for their health.
Wandberg is a longtime BAJ member and is on the softball leadership team. 
Scores are kept and an inning ends once everyone on the team steps up to the plate. The pitcher is protected by a batting-practice net to help minimize injuries from a hard-comebacker up the middle. While the typical softball game has 10 fielders, the BAJs might have an extra couple outfielders to help reach fly balls. 
"We only have a couple of guys play regularly at third [base] and short because those balls come at you pretty hard, plus it's a longer throw," Wandberg said.
Scores aren't kept on the scoreboard over the outfield fence. Instead, success is measured in the cheers from the dugout or fielders with a glove – depending on the play.
Wandberg, a retired educator, serves as the group organizer to make sure the games run smoothly and everyone has a good time.
Enjoying themselves is a key facet of the get-togethers, not just for the opportunity to get out of the house for a couple of hours but the camaraderie and bond developed over the years remain. 
Wandberg began playing with the BAJ's in 1999 and continues to play volleyball or softball, depending on the season.
Paul Johnson, one of the catchers during last Tuesday's game, might have Wandberg beat for the longest BAJ career but not by much. 
Wandberg was the original cross country coach when Jefferson High School opened in 1970 and continued to substitute teach until recently. 
"A lot of us have been doing this for 15-20 years," Wandberg said. "It's fun to yell at each other and harass each other but at the end of the day we can't remember if we won or lost."
That passion to get out there and have a little fun is the motivator to come back to the ballpark.
Each game-day begins with some stretching and throwing. Then it is on to a little batting practice, which resembles the game minus running the bases before teams are drawn up and players head out into the field or find a socially-distanced way to spread apart in the dugout.
Rule modifications to keep everyone upright and safe are a big draw for the weekly games. Base runners have the freedom to overrun a base without being tagged out, courtesy runners are available at any time and base runners heading for home need to tag a small square of artificial turf near home plate to prevent any collisions. Slides are grounds for being called out and a base runner is ruled out if they collide with a fielder.
Balls and strikes aren't called and pitchers can rotate if they need a breather.
To keep it interesting, batting lineups are reversed each inning so the last batter of one inning is the first up to bat to begin the next, which can make it tricky to remember when to step up to take some hacks at the plate.
The pitching screen was added seven or eight years ago, which is a safe alternative to dressing in protective gear like a catcher.
Close plays at home are called by the first base coach. 
Wandberg praised the effort by the city parks and rec staff to not only ensure they have a spot to play but that the diamond is lined and groomed ahead of time.
Players do the additional lining including arrows to indicate which dugout to come onto the field and leave the field – one way in and one way out. Plus extra lines to signify where a pinch-runner begins and another line for the catcher to stand behind.
Wandberg said there has been interest from other communities to try and replicate what has worked so well for so long in Bloomington.
"For other leagues, there seems to be an ability cutoff," he said. "For our volleyball and softball leagues, it is everyone is welcome and we will do everything we can to make your time here just what you need it to be with pinch runners if you just want to bat for whatever reason."
Bill Borchers is another group veteran who serves on the softball leadership group with Wandberg. In a typical season, they would have five teams playing at various times, and those who cannot commit to a particular time join a player pool.
"Basically if you show up you are going to play," Borchers said. "But this season is different and we are playing more pickup games."
The group wasn't permitted to play until June 7 and, "since then we've had games going on and we all missed it when we couldn't play," Borchers said. The mix of guys ranges from lifetime baseball/softball players to those who haven't picked up a bat in 20-30 years.
Each winter the BAJs play volleyball at various times during the week at the Jefferson or Kennedy Activity Center, sometimes taking on the best-of-the-best of the school's physical education classes. 
The opportunity to face the gym classes at Jefferson earlier this spring was something Wandberg and the BAJs volleyball group missed out on after schools were closed in March. 
For those interested in joining the Born Again Jocks, check out bornagainjocks.com for the latest information.
Follow Jason Olson on Twitter @SunSportsJason.
(Sun Newspapers staff photo by Jason Olson)
Twice a week members of the Born Again Jocks gather at Valley View Playfields to share the good times had by all over a game of softball. 
Players come prepared with more than a bat and glove these days. Add a facemask and hand sanitizer to the tools which allowed them to resume regular play June 7.
Arrows indicate which dugout to leave and enter the ball field to help maintain social distance.