Burkstrand, Schuck, Monson and Caron highlight outstanding careers in the classroom, community and competition
The Athena Award honors one senior girl from each Minneapolis-area high school for not only their athletic performance during their high school career but contributions made in the classroom and the community through a nomination and interview process.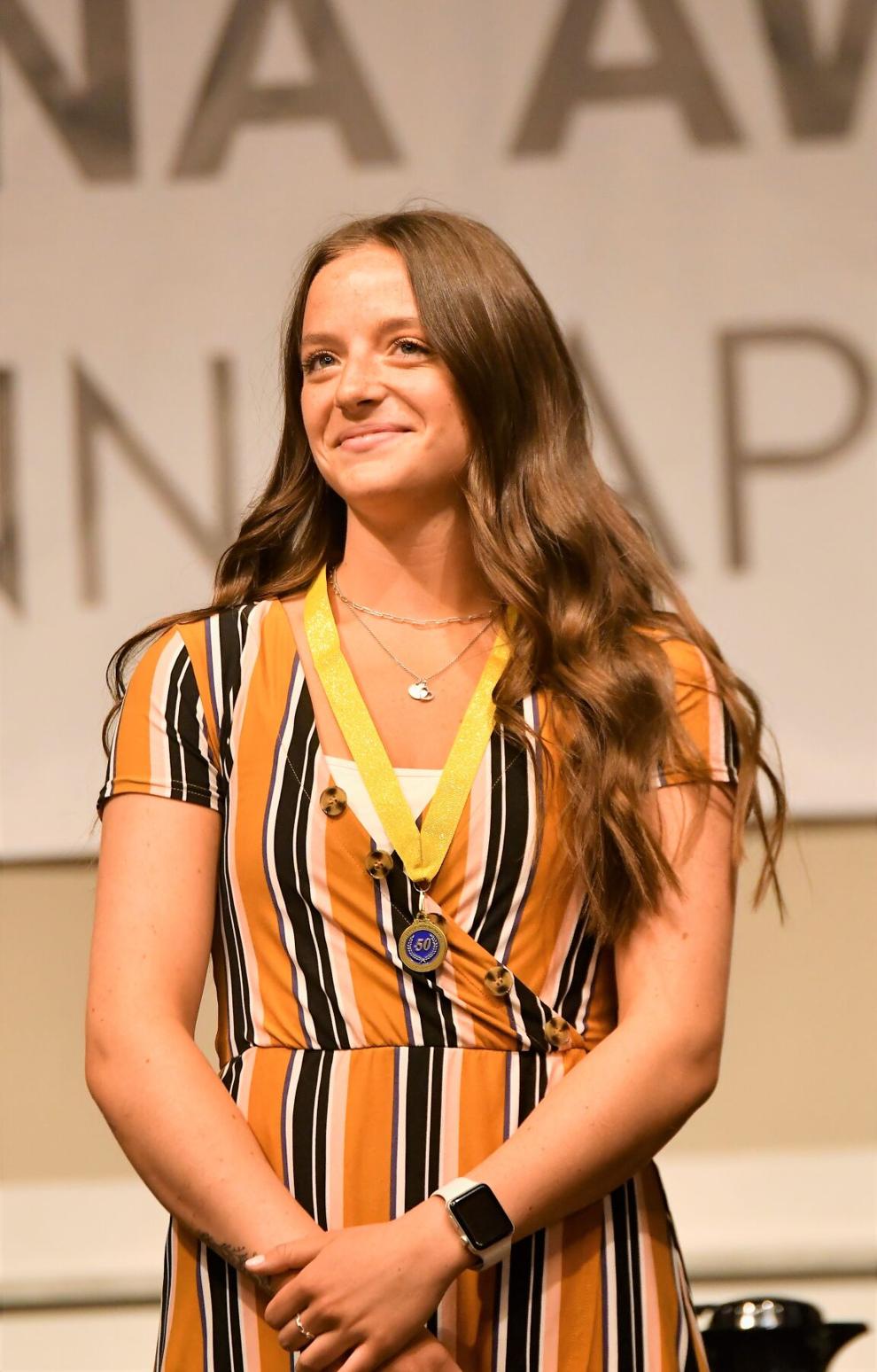 This year marks the 50th Athena Awards luncheon, which began the same year Title IX was enacted to allow girls the same opportunities as their male counterparts.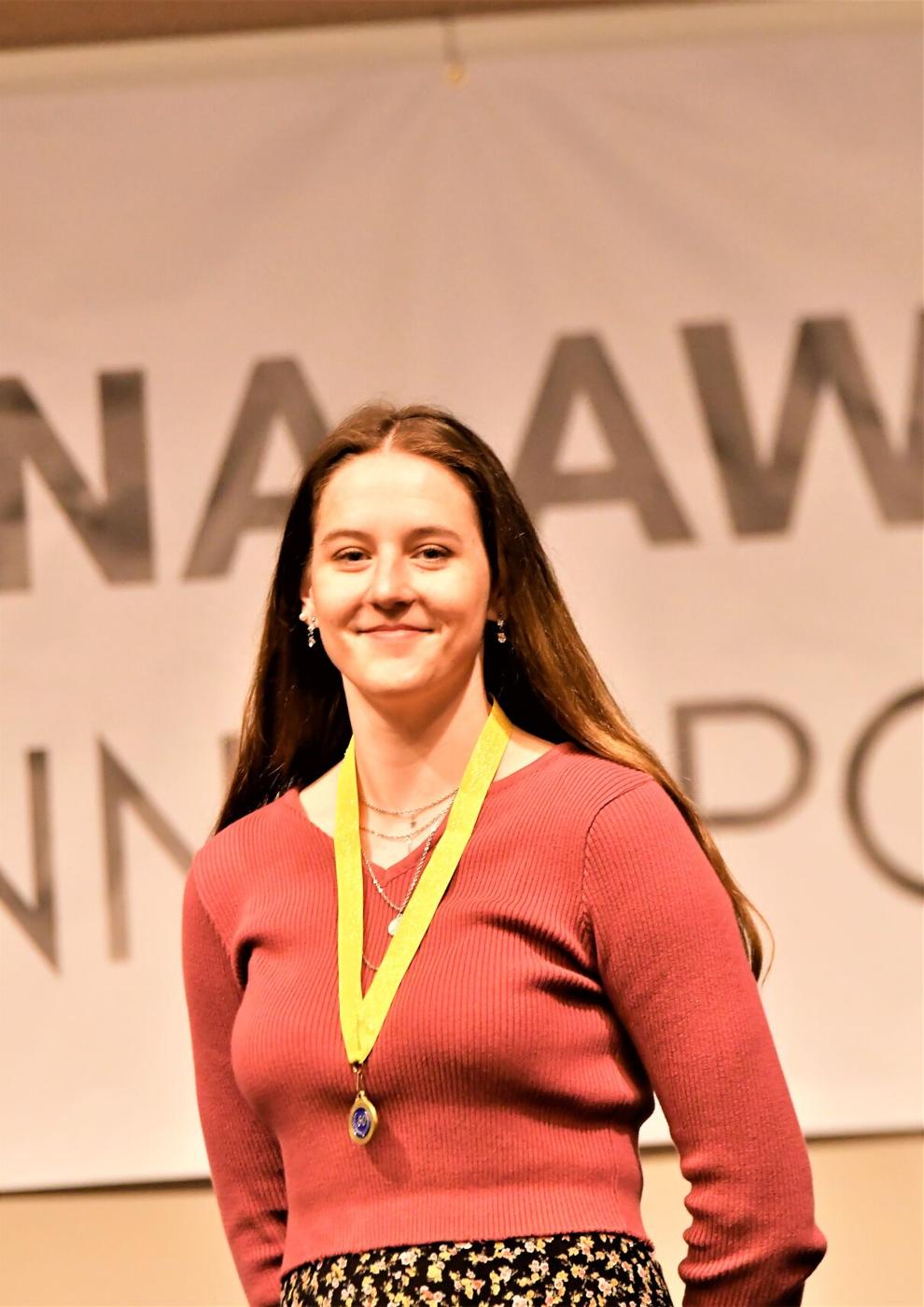 The luncheon at the Earle Brown Heritage Center in Brooklyn Center brought together 55 senior girls from around the Minneapolis area from St. Francis in the north to Jordan in the south. 
This year's recipients from the Bloomington Richfield Sun Current area include Kassie Caron (Holy Angels), Maya Burkstrand (Richfield), Susie Monson (Kennedy) and Grace Schuck (Jefferson).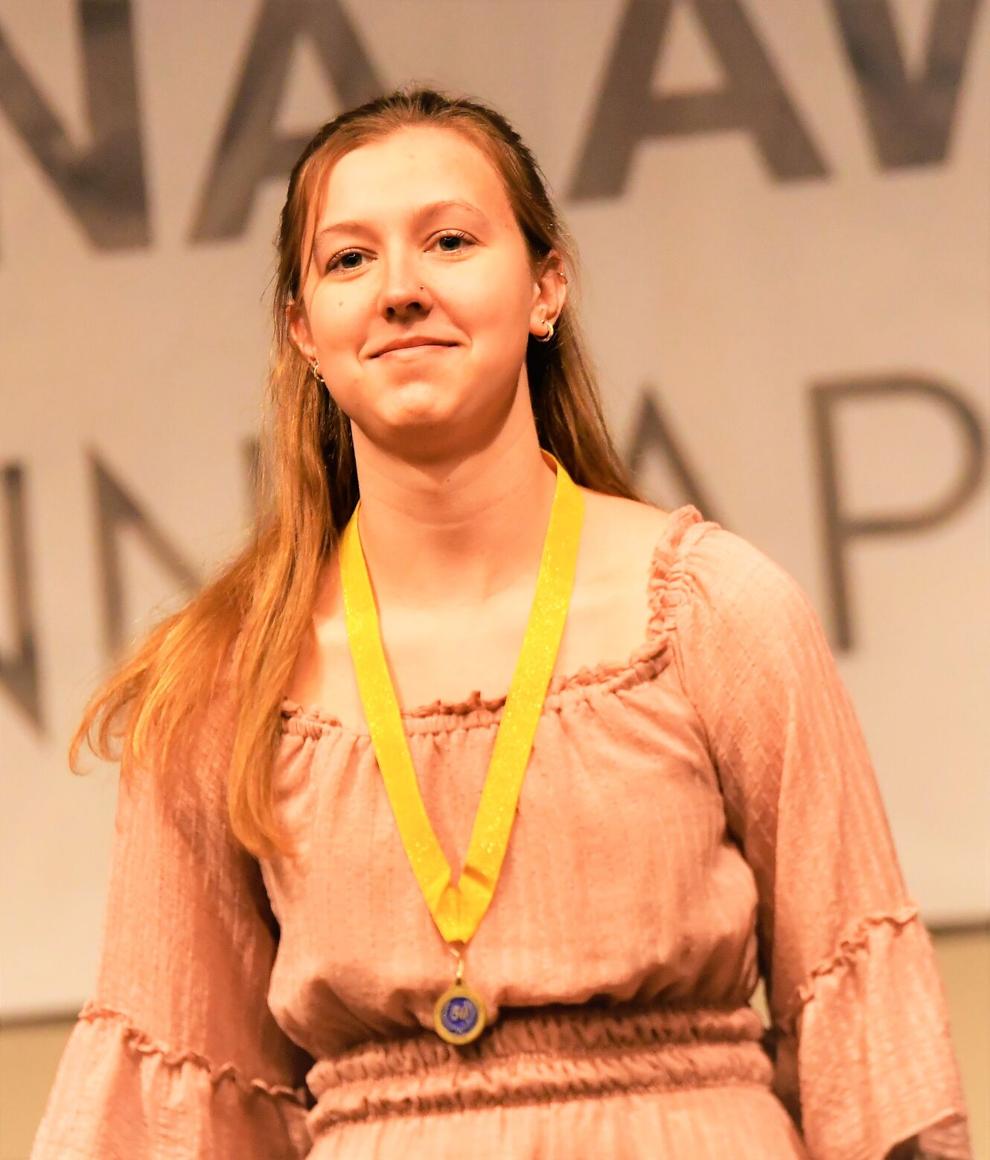 Their collective accomplishments are remarkable given the challenges  faced over the last two years as these four continue to shine on the court, field, pool, classroom and community.
One of the most prolific students to ever come through the doors at Holy Angels, Caron is a four-time captain recording 12 varsity letters as a three-sport standout in volleyball, basketball and softball. 
Caron became the 14th Stars basketball player to surpass the 1,000-point milestone. A Miss Basketball Award finalist, Caron plans to continue to play basketball at Missouri Western State University while majoring in physical education or pre-law. 
She led the softball team in home runs as a sophomore and junior and led the volleyball program in blocks and sets for consecutive seasons. She also has seven Tri-Metro Conference awards including three All-Conference basketball honors.
In addition to her athletic achievements, Caron is active in the Holy Angels campus ministry team in addition to volunteer opportunities at St. Vincent de Paul and has coached basketball (second-third grades) and volleyball (seventh-eighth grades).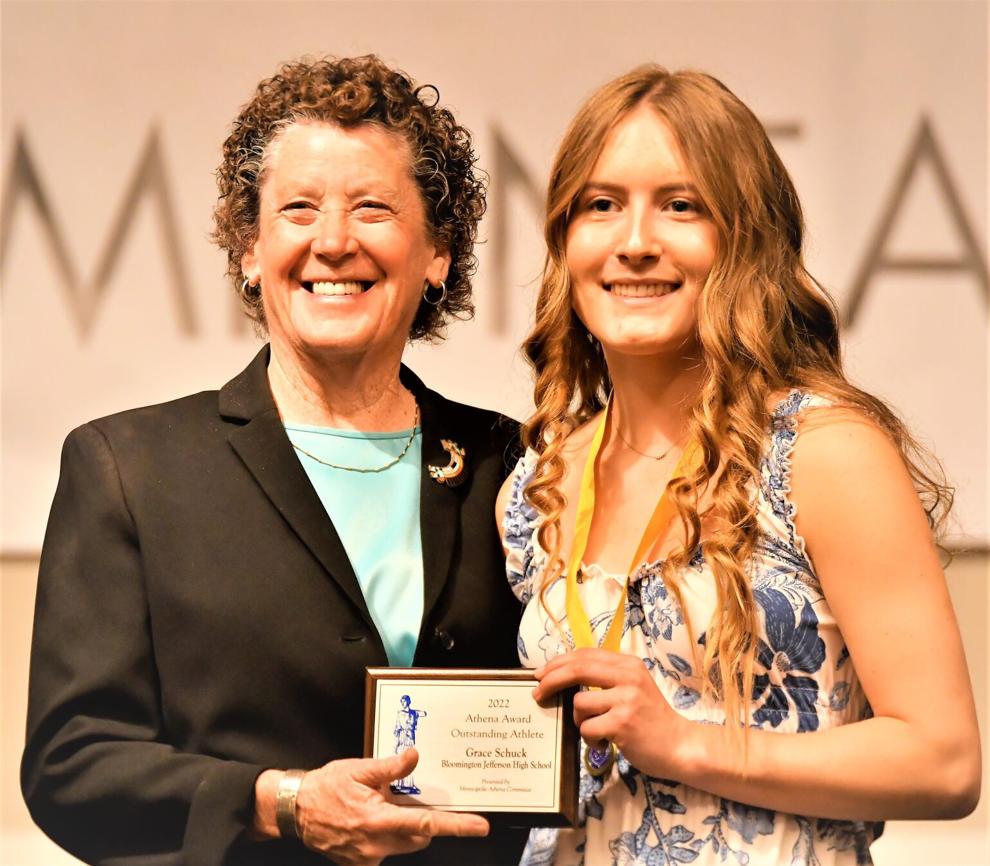 Caron is also an academic letter recipient and is on track to earn a STEM diploma in June.
One of Caron's earliest sports memories came on the basketball court where she was invited to play in a tournament as a third grader. Her team not only won each game, including the championship, but was never invited back.
Kennedy senior Susie Monson became a varsity starter for the lacrosse and soccer programs as an eighth-grader while earning 10 varsity letters as a six-time captain.
During the last three winters, she served as a manager for the boys hockey program. 
A two-time Spirit Award winner, she is a two-time academic letter recipient in addition to an Ignite mentor.
Monson volunteers at Children's Hospital and is part of the Kennedy Rock Climbing Club.
She plans to follow the footsteps of older sister Julia Monson to play lacrosse at Division II Concordia University St. Paul in the fall while working on a degree in business/biology.
Monson is off to another strong lacrosse season with 37 points on 32 goals through four games. She had 59 points on 51 goals in 12 games in 2021 after missing out on her sophomore season in 2020 due to the pandemic, in addition to a back injury that took her nine months to recover from.
According to a press release from the Bloomington Public School District about the Athena Award, Monson credited her sisters for helping her get back on the field. "Both of them suggested ways to ease the pain and make smart and healthy decisions to recover," Monson said. "Ever since I was a freshman I've had my eyes on this award. To be recognized as a competitive athlete by my peers means a lot to me."
One of the all-time great swimmers to come from Richfield High School, Maya Burkstrand plans to swim at Illinois State University in the fall.
A four-year All-State swimmer with five varsity letters, Burkstrand was the Section 2A Swimmer of the Year in 2020 while setting the meet record in the 500 freestyle in 5:05.97. A four-time section champion in the 500 to go along with the 200 free in 2020. She was a finalist for the Class A State Swimmer of the Year in 2020 after capturing state titles in the 200-and 500 free.
As a member of the Piranhas Swim Club, she continues to lower her times during the club season including a personal-best time in the 50-yard freestyle of 25.28 coming at the Minnesota Senior State meet on March 12 at the University of Minnesota.
Last summer she was fifth in the 800 free at the Minnesota Long Course Senior State Championship in July at the University of Minnesota at 9:19.59.
She was 10th in the 500 free at the 2021 Speedo Sectionals in Fargo in March 2021 at 5:02.28. She also posted a 10th place finish in the 400 free at the Speedo Sectionals in Minneapolis in July 2021 at 4:30.93. 
For the 2021-22 club season she scored the second-most points for the Piranhas scoring 626.30 points, trailing only Washburn's Paige Moreen, who scored 681.80 points.
She is a four-time Academic All-State honoree, including an AP Scholar, a top-10 ranking in her graduating class and earned the Platinum Seal in bilingual literacy. She plans to double major in biology and Spanish with a minor in women's studies.
A Girl Scout for 13 years, Burkstrand coaches younger swimmers and is the Piranhas Swim Club Team representative for Minnesota Swimming, Inc. 
She also co-organized the book drive serving the Richfield Dual Language School, which gives each student three books to keep to help with literacy.
A three-sport standout at Jefferson, if there was an offensive rush up the hockey rink, soccer or lacrosse field over the last five seasons, most likely Grace Schuck was a part of it. 
She tallied 88 points including 55 goals for the varsity hockey program over the last five seasons. She scored all four goals in a 4-3 win over Simley as a sophomore in 2019.
She plans to play hockey at Division I Franklin Pierce University in New Hampshire, where she will be joined by Jaguars teammate and standout goaltender Chasity Anderson.
Schuck earned 11 varsity letters (five in hockey, two in soccer and four in lacrosse). She captained the hockey and lacrosse teams as a senior and is a three-time Metro West Conference All-Conference honoree.
One of Schuck's earliest memories came as a 3-year-old skating on the lake outside her grandfather's house in Pelican Rapids. "My [twin] brother [Garrett], older cousins, parents and grandpa took the four-wheeler to the edge of the lake where we all laced up our skates and boots. This was my first time skating outside. It was sure to be a treat. In a blink of an eye my brother and I are flying all over the ice using our little one-foot sticks to shoot the tennis ball and pucks into the trash bins," she wrote in her Athena Award questionnaire. "Our giggles could be heard across the lake. The joy could be seen on our little faces as our noses were all pink and our cheeks squished into a frozen smile. This memory of skating outside with my family is a moment I will forever be grateful for."
When asked why she continues to play sports the typical response is, "Because it's fun. Other days I answer it wholeheartedly and honestly. The real reason I play sports is that when you feel that wind blowing in your face from your stride or your sprint, you can feel your heart beating in your chest. It feels like that first time on the lake. It's just as if I'm that little kid zooming around giggling up a storm surrounded by the people I love."
Part of the Athena Award process is to list other endeavors outside of sports or volunteer opportunities. Schuck was in Jag Corps for one year, a youth hockey volunteer coach for five years and BAA baseball volunteer coach. 
She also volunteered at Feed My Starving Children, adding up to 10 hours of service with numerous teams where they help make food to be shipped to those in need around the world.
Schuck helped run lemonade stands to raise funds for several causes over the years, including Alzheimer's support, oil spill relief and animal hospitals to name a few.
With a cumulative 3.1 GPA, Schuck plans to major in marketing in addition to something in the coaching field, like a sports psychologist path, after possibly taking a gap year to allow for more space on the roster at Franklin Pierce.