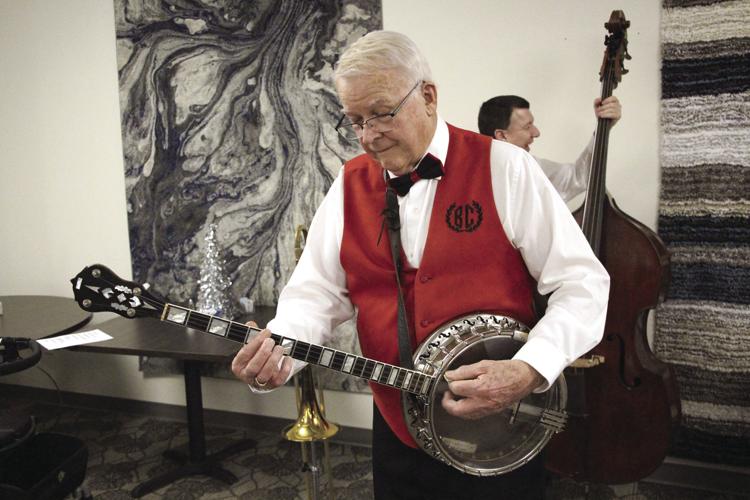 If there had been a greater demand for ukulele players, perhaps Dick Petersen's music career would have turned out much different.
The 80-year-old Bloomington musician has spent more than five decades performing nights and weekends, near and far, as the leader of the Barbary Coast Dixieland Band. And with a pair of performances in Richfield last week, that long chapter of his musical life ended.
Petersen is the last original member of a band that formed in 1967 and featured multiple banjo players. A few name changes and tweaks to the musical focus of the band notwithstanding, Petersen concluded a 52-year musical odyssey that saw his band perform for President Ronald Reagan in 1983 and earned the band induction into the Minnesota Music Hall of Fame in 2001.
Petersen's life changed forever thanks in large part to a decision by his wife Carol.
In 1962, Petersen was learning to play the ukulele and sought lessons. As a left-handed player, his self-taught style was wrong, as the strings of the instrument had not been reversed to account for his left-handed play. But the ukulele instructor was impressed with Petersen's ability. Petersen's attention soon turned to the banjo, an instrument he had long been fascinated by and was similar in performance style to a ukulele.
"I loved the sound of a banjo," he said.
His instructor offered Petersen a chance to try a banjo, using an instrument configured for his left-handed play. As a young adult who was just starting his career in the insurance industry, Petersen couldn't afford the $350 instrument and was hesitant to even take it home. But, his instructor insisted.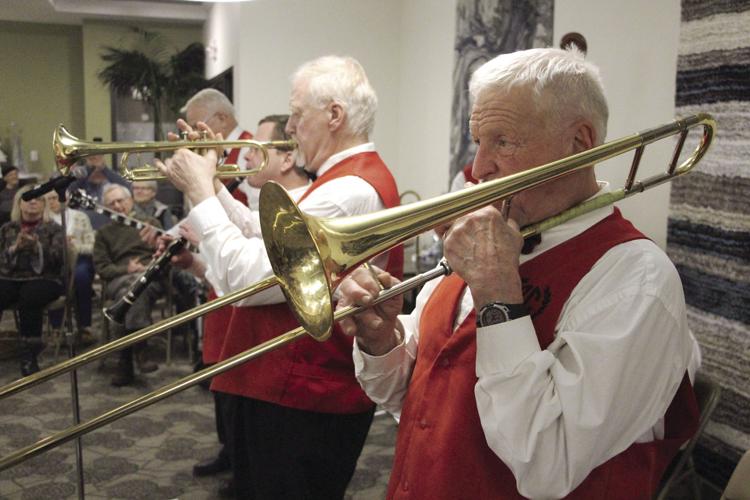 Petersen agreed and soon learned that the banjo was a gift from his wife, who borrowed the money to pay for it. The gift would change their lives, Petersen recalled.
By 1964, Petersen was playing in a Twin Cities band, the Riverboat Ramblers, that performed regularly at the Golden Garter, an island restaurant overlooking the Mississippi River in St. Paul. The gig was short lived, as the legendary floods of 1965 shut the restaurant down, according to Petersen.
By 1967, Petersen was back on stage on a regular basis, at the invitation of Dave Wesley, a banjo-playing dentist. Wesley was a bandleader who had performed at the Golden Garter prior to Petersen's tenure and was forming a new band for the re-emergence of the island restaurant. Wesley and Petersen didn't know each other well, but Wesley was looking for a banjo player who could serve as the lead player of his new band when Wesley wasn't able to perform. He knew Petersen was capable, and in November 1967, Doc Wesley's Barbary Coast Banjo Band played its first show at the new restaurant, Jimmy's on the Levee, Petersen explained.
The band featured five banjo players, playing weekends only. The band's name was shortened within its first year, and the name would evolve several times through the decades. The band's regular gigs at Jimmy's ended in 1972, and Wesley bowed out in 1974, turning the reigns of the band over to Petersen. As a bandleader, Petersen put his personal stamp on the band.
"We started to do a little more Dixieland," he noted. As the band evolved, Petersen was its sole banjo player by the early 1980s, but the gigs remained plentiful, he recalled.
The band members had full-time careers, and evening gigs kept Petersen and company busy, but they found another outlet for their musicianship in 1984 when they started playing Sunday church services. What started with one performance at a local Lutheran convention and a performance at St. James Lutheran Church in Burnsville turned into a regular weekend gig at Sunday services around the metro, and occasionally out of state. Petersen estimates that the band has played for more than 2,000 services during the past 35 years, performing on average of 40 Sundays per year. The band played its final church service on Nov. 17, back at St. James Lutheran, Petersen noted.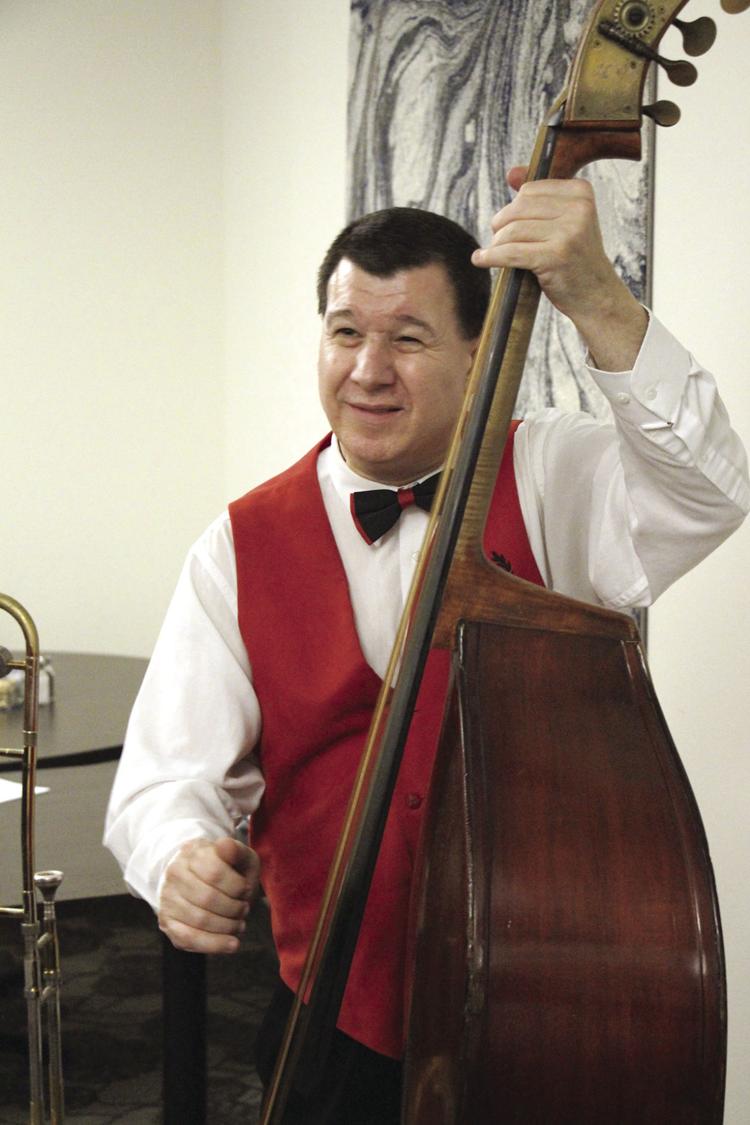 When Petersen retired in 2000, he was able to devote more time to the band and had already been coordinating out-of-state tours, including winter tours in Florida, which were an easy sell to other members of the band, he said. And through the years, the band has released 18 CDs of their music, he added.
Although Petersen has been the band leader since Wesley handed over the reins in 1974, he couldn't take on the administrative work associated with running a part-time business. And, that's how Carol's gift of a banjo changed both of their lives, as she took on the administrative work when Petersen became the bandleader.
"We could not do it without her," he said.
So why stop now? The couple has had its fill of running the band. Petersen plans to continue playing, but the couple doesn't want the added responsibilities that come before or after a performance, he explained.
Petersen's retirement spells the end of the six-piece band as its fans have known it. The end of the band doesn't mean anyone is retiring, and some of the band members are planning to continue working together in a new band. It will be a new band, and not the continuation of their current band, in part because they won't necessarily be doing the same things that the Barbary Coast Dixieland Band has done for the past several decades, according to Petersen.
He has been working with his band members on the transition and expects to continue performing as a hired player, he noted. "I love to play."
Three of Petersen's five band members have been with him since 1976, including Russ Peterson of New Prague, who plays the saxophone, bass, clarinet, flute, valve trumpet and trombone. "It has been a long, happy journey celebrating music and friendship," he said. "I wish Dick the very best in retirement."
Jim ten Bensel of Minneapolis has known Petersen since 1968, and joined the band in 1970, playing the cornet and trombone. He described Petersen as "a very fair man who relies on his team of musicians to provide that rare blend of good old music and humor that makes our presentations successful. Dick likes to keep it simple yet fun. We like the way he subtlety shapes our shows to present all the members of this band in a good light. He is a good leader and promoter."
Information about the band's history, including photos through the decades, is available online at barbary-coast.com.
Follow Bloomington community editor Mike Hanks on Twitter at @suncurrent and on Facebook at suncurrentcentral.