Despite coach Jamin Cook not on the bench, Kennedy kept its composure to find a third win this season
Waiting nearly three weeks between games didn't seem to slow Kennedy (3-2) down as the Eagles' boys basketball team scored a season-high 73 points in a 73-64 win Jan. 4.
The Metro West Conference road win came without head coach Jamin Cook, who was on the sideline due to COVID protocols.
Cook spoke to the team before the game by phone, according to junior Marques Monroe who finished with 14 points.
"Our chemistry is too good," Monroe said, which helped them build a 28-18 halftime lead. "We just don't give up. We keep fighting."
Both teams scored quick baskets in the second half, combining to put up 91 points. 
"It's good we were conditioned or at least looked like we were," Monroe said, adding it felt great to get back into a varsity game for the first time in 18 days. "I drank enough water. Coach told us before the game 'Focus and effort,' that's all we have because we've been off for three weeks."
Park outscored Kennedy 46-45 in the half, taking brief leads midway through the half thanks to persistent defensive pressure when Kennedy tried to bring the ball up the court.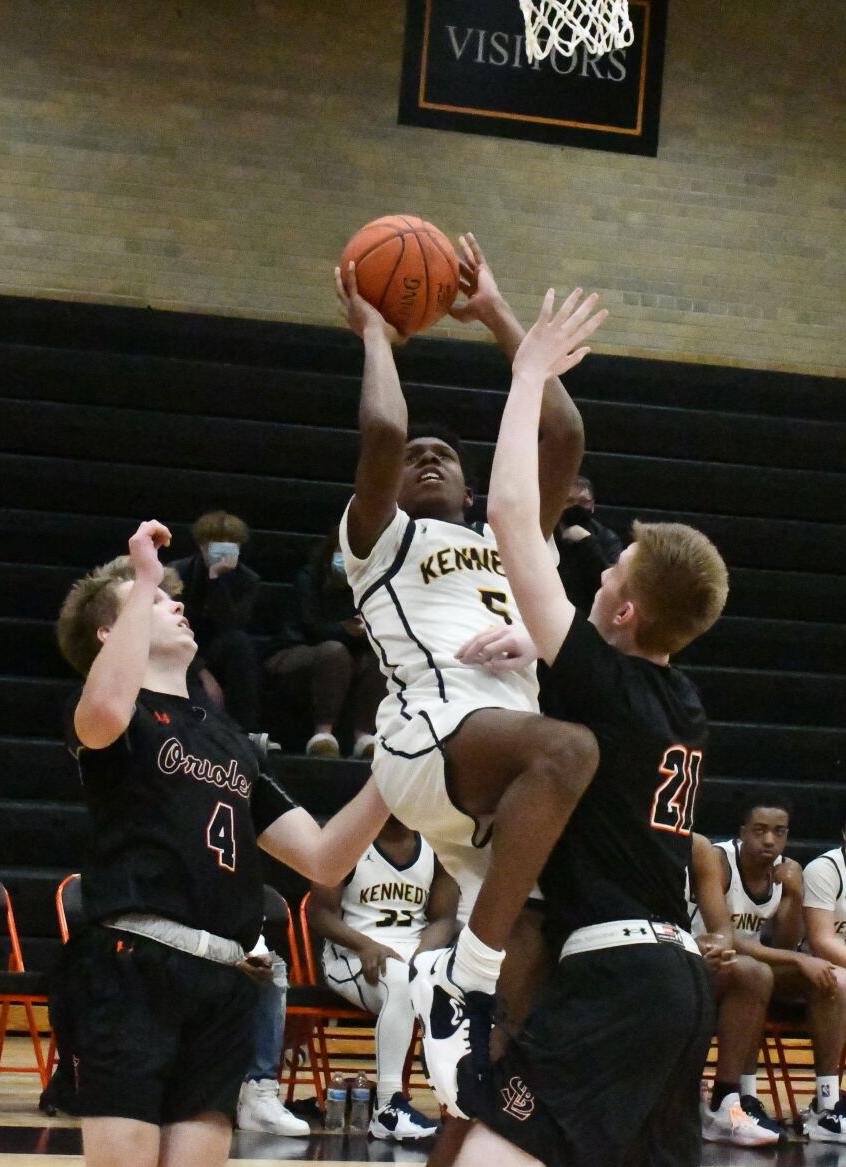 Kennedy 6-foot-4 senior Ramone Walker worked hard inside the paint in the final minutes of the game for contested rebounds and baskets, finishing with a game-high 25 points. He had 16 points in a 65-57 loss at Richfield Dec. 11. Senior Dalton Smazal continued to find his shooting touch from the outside, scoring 15 points. He made multiple clutch baskets in pressure situations with either a hand in his face or at the end of long half-court possession.
"That's our shooter, I'm surprised if he misses," Monroe said of his confidence in his teammate. "That midrange shot off the dribble is his shot."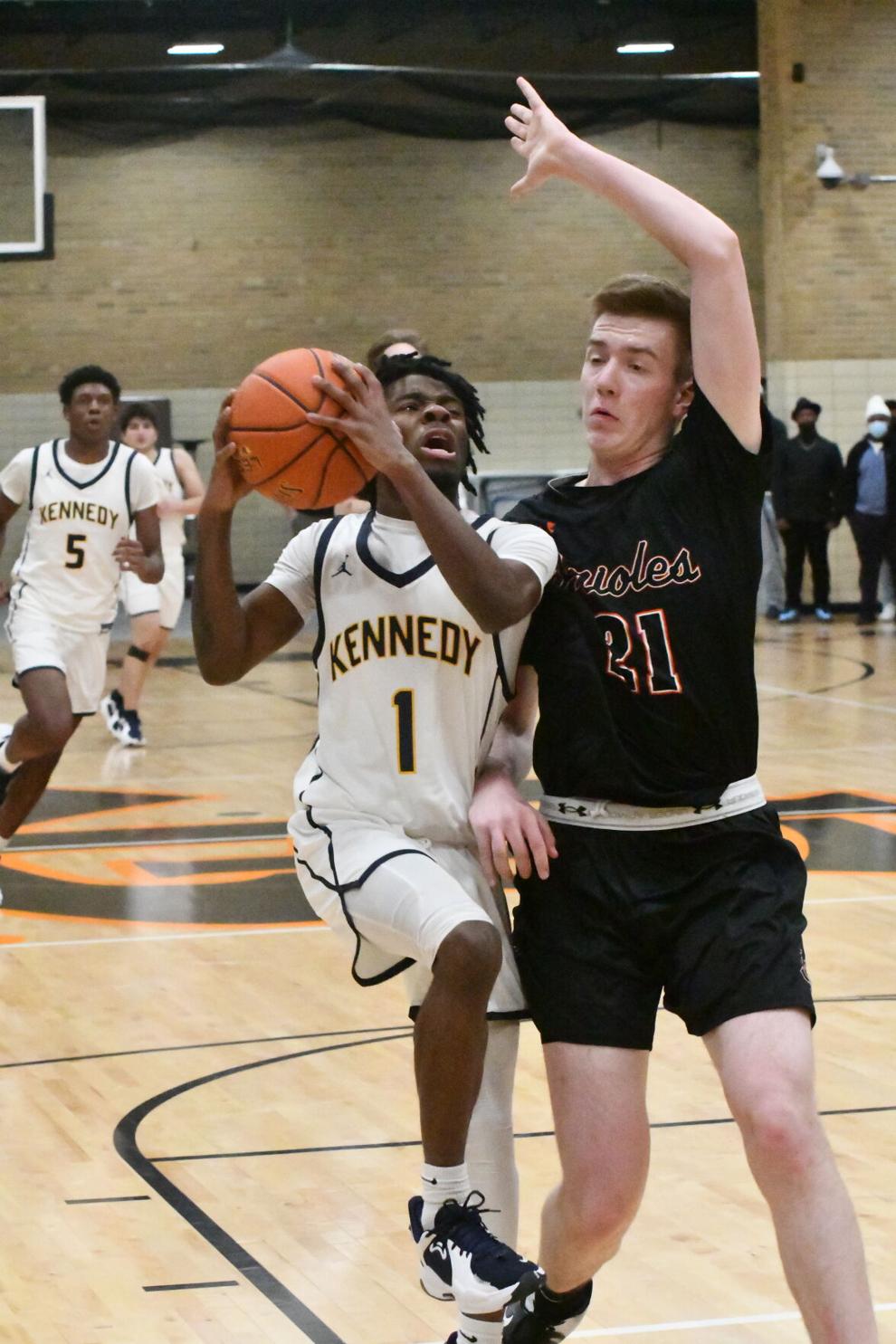 Walker isn't known as a shooter in games, but Monroe said he makes baskets. "He can do everything." Walker had a chase-down block along the Orioles baseline against 6-foot-6 Blake Anderson at a crucial point late in the contest. He added a dunk moments later on the opposite end of the floor to rally the Eagles. "He gave the crowd and us some energy off the dunk," Monroe said.
Park's defense sparked the comeback in the second half as Deontez Ross' 3-pointer tied the game at 50-50 with 6:40 left to ignite the student section along the baseline the Orioles shot at during the second half.
Dealing with Park's pressure caused turnovers which the home team used to get back into the game.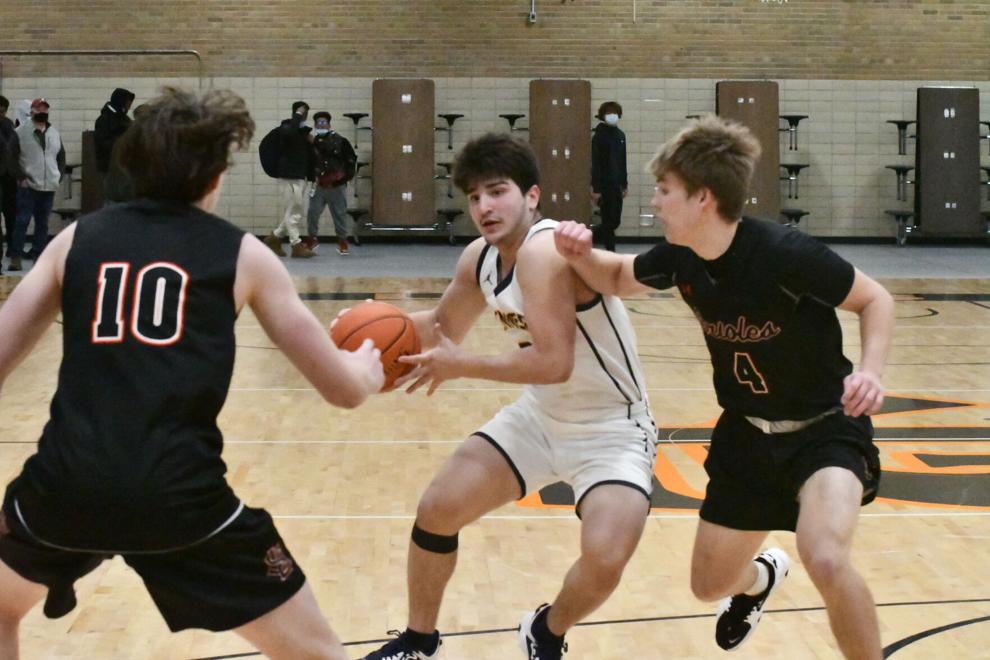 "Sometimes we need to slow down and look at what we've got," Monroe said. "The good thing is we have speed and athleticism so steals lead to transition baskets." 
Monroe closed out the game by making both free throws with nine seconds on the clock for the final 73-64 score.
The previous game was a 63-54 win over Apple Valley back in Bloomington on Dec. 17. "It was a close game but at the end, we took off and wanted it more," Monroe said. "Plus it was at home so we didn't want to lose."
Kennedy followed that game up with a 69-52 loss to Metro West Conference newcomer Waconia on Thursday, Jan. 6.
The schedule doesn't lighten up for Kennedy with four games in nine days, culminating with the first of two meetings with Jefferson. The Jaguars swept the matchups in 2020-21 but split two very close games the previous season, won by the visiting team. Kennedy won 52-51 Jan. 23, while Jefferson won 54-51 Feb. 21.
The Eagles host Jefferson at 7 p.m. Thursday, Jan. 20 and the return trip to Jefferson is set for 7 p.m. Tuesday, Feb. 22.
Follow Jason Olson on Twitter @Jason0lson or @SunSportsJason.
7 p.m. start unless noted
Jan. 25 at Benilde-St. Margaret's
Feb. 3 vs. St. Louis Park
Feb. 24 vs. Benilde-St. Margaret's