Legion cancels 2020 baseball season
Minnesota's American Legion Baseball season has been canceled over concerns about the COVID-19 pandemic. 
"As much as we wanted to play this year, we cannot take chances with the players, coaches and fans we oversee," Randy Schaub, director of Minnesota American Legion Baseball, said in announcing the 2020 season's cancellation May 9.
Minnesota had 366 American Legion teams last year, making Minnesota the largest state in the nation for American Legion baseball. A total of 357 teams were signed up for this year.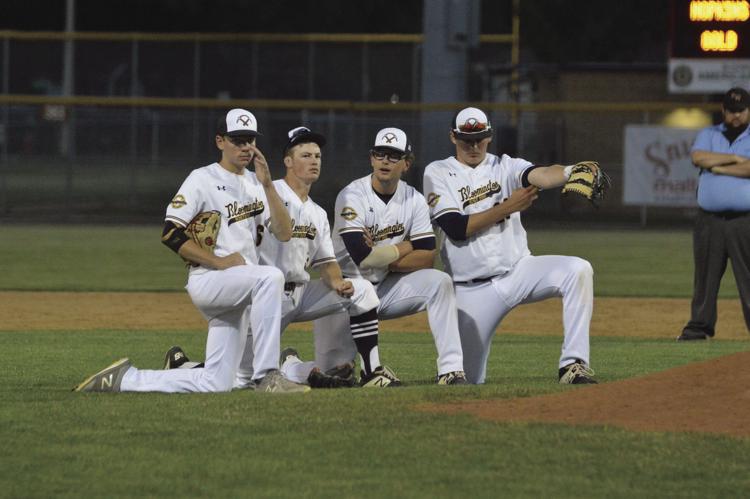 Legion baseball in Minnesota dates to 1923, with the first tournament being held in Mankato in 1926, the Star Tribune reported. The state tournament has been held every year since then.
All eight American Legion Baseball national tournaments were canceled April 7.
Bloomington Gold coach Zach Horn also works for Starters as a coach for the Shakopee-based baseball club. No doubt the summer was going to be different from the typical Legion baseball season at Red Haddox Field and the South Hennepin League. But erring on the side of safety is the reality now.
"The focus we have is on the safety for the kids and fans and we're following [Major League Baseball] now making sure students and fans are safe," he said. "It's disappointing and we hope they open up practices or training sessions may be 1-on-1 at some point this summer. We're looking at what we can do to give them baseball but to make sure they are safe. It's that safety piece that is resonating."
Bloomington's two Legion programs (Gold and Blue) planned tryouts for Mother's Day weekend, so the season wasn't anticipated to begin for a few more weeks. Now the reality of summer without baseball is setting in.
"I have a group of guys pretty upset without baseball," Horn said of the rightfully disappointed players on his squad. "This is the perfect opportunity if we are about teaching life lessons."
Among those lessons is a way to rethink youth sports. Perhaps the private clubs will be able to add teams, coaches, or virtual training sessions to meet an increase in demand once given the all-clear to resume activity. 
"I think this is going to revolutionize how we attack sports," said Horn, who is a big proponent of continuing education seminars and classes to help improve teaching and training methods. "Ultimately sports are an avenue to grow relationships." 
Staying positive about the situation is one way Horn hopes to see his players take advantage of the opportunity with three of the five current seniors planning to play baseball in college. "The goal is to get back out there because those guys need to prep for college," he said.
The NCAA issued an extra year of eligibility for those seniors who would've run out of eligibility this year, which raises the issue of those incoming freshman perhaps not being able to step into a program and immediately contribute on the field.
Without games or practices like those they have done in the past, Horn is hoping for virtual training sessions until the government relaxes restrictions. "I'm for it if we can do it safely," he said as the Minnesota Youth Athletic Services gave an outline on how to return to the field safely for younger levels of baseball and softball.
Legion baseball is unique in that those college freshmen 19-years-old are eligible to return to play for their hometown Legion team, meaning the return to the field for Nico Lohman (Gustavus Adolphus) and Jake Ekholm (Hamline University) for one final summer. 
"It's sad," Horn said. "It is not how anyone would've planned it."
Tyvan Klinger is one of those five members of the class of 2020 preparing for a final summer before college. "I miss the energy he brings," Horn said of Klinger, who he runs into working at a local Starbucks.
Horn said frustrations are growing from players and families "'Why can't we open this up? We don't have 1,000 people coming to it. We'll do social distancing,'" he said of concerns expressed. Sharing the ball, touching the same fence posts, using the same dugout, giving high-fives, and being closer than the 6-feet are a few of the reasons given. "If you read the Legion baseball bylaws, safety is one of the primary things needed to come back and unfortunately we lose a season and some lose the last summer baseball season."
What Horn has found he misses the most isn't necessarily the actual aspects of the game as much as the relationships developed in the dugout. 
"I go to an insane number of virtual clinics and the one thing everyone misses the most is the guys. It's not so much the game as it is the people and fans," Horn said.
Holding off
The Minnesota committee met April 11 and held off canceling the season at the time. But input from state and national legal advisers helped result in Saturday's decision, as did a self-imposed June 1 deadline by the board of directors to decide about the season.
"It would be great to just be able to give a straight answer to if-or-not we will have a season. Just like the MSHSL did, we are trying to hold off on making anything official until we have exhausted our options," Schaub said in an April 25 press release.
The Minnesota Department of Health reported 20 new deaths and 481 new confirmed cases of COVID-19 on Sunday, May 10, raising Minnesota's death toll to 578 with 11,271 confirmed cases.  
Follow Jason Olson on Twitter @SunSportsJason.
(Sun Newspapers staff photo by Jason Olson)
Members of the Bloomington Gold Legion baseball team take a knee during the 2019 season at Red Haddox Field. Pictured from left: Jack Tiemann, Joe Jeans, Justin Ekholm and Nico Lohman.