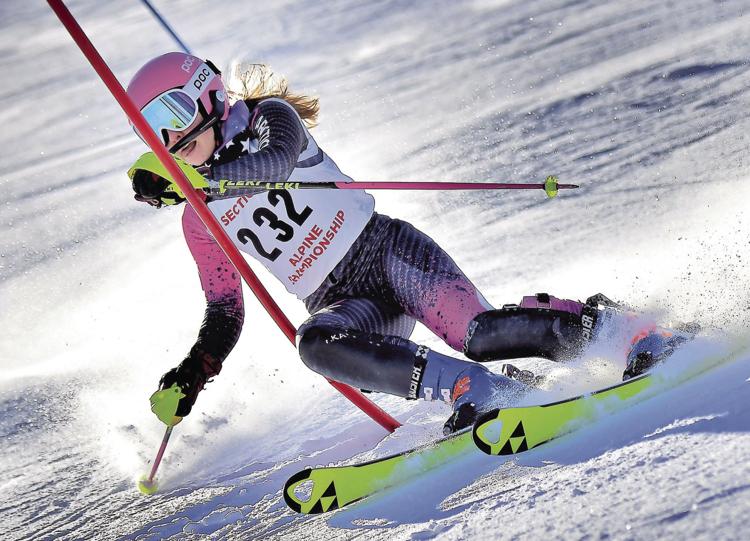 Lake Conference champion Minnetonka leads the selections for the all-conference girls Alpine skiing team.
Those selections are senior captains Lily Mellby and Kendra Lawrance, plus junior Lucia Loosbrock and sophomores Bella Kelly and Stella Pachmayer.
Minnetonka had an outstanding season in 2019-20, winning a section championship, and then placing fourth in the State Meet at Giants Ridge in Biwabik.
Lawrance was All-State, earning a 15th-place finish in 1:21.49 for her two runs. Next for Tonka was Mellby in 1:23.35. Kelly was third for the Skippers in 1:25.16. Olivia Callister, Loosbrock and Pachmayer rounded out the Skippers' state team.
"I am very proud of our girls," Minnetonka head coach Dave Gartner said. "The team combined good senior leaders and young skiers who will make the team competitive again next season."
Edina is also looking forward to the 2020-21 season with the return of three all-conference skiers - Ali Anselmo, Anna Busyn and Sophie Schuster.
Following are the all-conference selections, provided by Lake coordinator Barb Beise, the associate athletic director at Wayzata High.
All-Lake Girls Team
Minnetonka: Seniors Lily Mellby and Kendra Lawrance, junior Lucia Loosbrock and sophomores Bella Kelly and Stella Pachmayer.
Edina: Senior Allie Hoy, juniors Sophie Schuster and Anna Busyn and sophomore Ali Anselmo.
Hopkins: Junior Eliza Polyak and ninth-grader Marty Jenson.
Wayzata: Junior Marta Pendergast.
Eden Prairie: Senior Madison Cullen.
Honorable Mention
Minnetonka: Senior Olivia Callister, sophomore Abby Weigel and ninth-grader Lily Monson.
Edina: Senior Michelle Andruss and sophomore Elsie Engman.
Hopkins: Senior Serena Swenson and ninth-graders Marit Erickson and Megan Roesler.
Wayzata: Seniors LeeAnn Qie and Ella Ross and ninth-grader Annika Pendergast.
Eden Prairie: Junior Ava Schroeder and sophomore Renee Turtle.
Follow the Sun sports writers on Twitter @MNSunSports and on Facebook at facebook.com/SunSportsStaff.