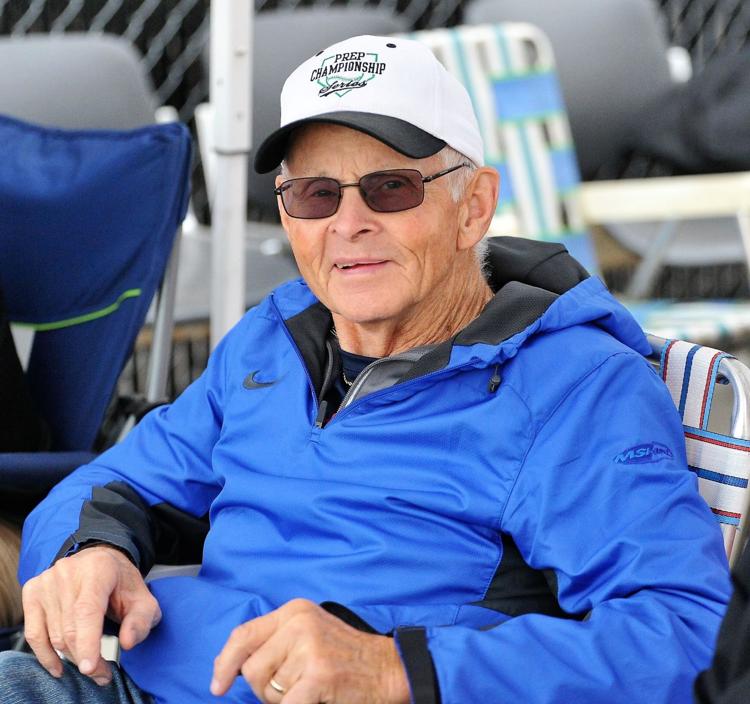 The dean of Northwest Umpires Association, Larry Gallagher, has announced his retirement after 59 seasons behind the plate.
Gallagher, who recently turned 80, had been umpiring for Northwest ever since 1961, the year he played his last game as a catcher for Augsburg College.
An umpire working one of Augsburg's games that season thought Gallagher would be a good ump, based on the fact the Auggie senior had been a catcher his whole life. That suggestion made sense to Gallagher, who had a teaching degree and a passion for the game.
"My first high school game was the Monday after Augsburg beat St. Thomas for the MIAC title," said Gallagher of his 1961 debut. "I can't remember if it was a varsity game or a JV game. I am sure I have worked more than 5,000 games since then, but I don't think I made it to 6,000. Twenty-five different years, I worked more than 100 games, and there were some years when I worked 150. Other years, it might have been 60 here or 70 there."
There was no question that Gallagher is serious about umpiring. Sometimes, between games of a doubleheader, he would sit where the trunk opened on the rear of his car and study the rule book.
Along the way, Gallagher acquired the nickname "Dr. Balk."
There was a day in 1995, when he talked about the many ways there are for a pitcher to commit a balk.
"Twenty-seven, right?" one of the umpires present volunteered.
"No, 28," Gallagher said. "I found a new one last night."
In addition to umpiring, Gallagher was the player-coach and starting catcher for the Columbia Heights town team for many years. Catching with a round mitt, he helped his team win five state titles in six years, beginning in 1967.
"Jerry Wickman was the best pitcher I ever caught," Gallagher said. "And he had a lot to do with those championships."
During his long tenure as an umpire, Gallagher earned universal respect.
In an interview after the 2017 season, the late Gene Berg, Tenth District Legion Baseball Director from St. Louis Park, said, "When Larry does a game, you are going to get his best. That's the way it has always been, from the time he started to now."
"What made Larry a good umpire?" asked Apple Valley Legion baseball manager Bruce Young. "The main thing is that he has respect for the game and for the rules of the game. When he stepped on the field, you knew he was in charge."
Jim Peck, long-time manager and general manager of the Excelsior American Legion team concurred. "Larry is very serious. He is known and respected by baseball people throughout the state. The thing that makes him a great umpire is that he cares so much, not only about the game, but also about the people playing the game. Even at 80, Larry is still a very good umpire."
Gallagher said his favorite partner was the late Phil Abalan, a teacher in the Hopkins schools.
"Phil and I were both teachers," Gallagher said. "And we had daughters who were the same age. He was by far the most consistent umpire I worked with. Phil was more hot-tempered than I was."
Because he was a respected umpire, Gallagher worked many championship games in high school, college and amateur baseball. He worked hard to get those prime assignments, and he saw the game from not only an umpire's perspective, but from a player's and coach's perspective, as well.
"When I coached, I would teach my teams to overcome calls that didn't go our way," he said. "There are times to argue a play, but I never wanted it to become personal. Most of us are good guys who love baseball."
Now that he has retired as an umpire, Gallagher doesn't plan to retire from the game. He is in high demand as a mentor to young umpires and coordinates the State Class A Amateur Baseball Hall of Fame.
Watching baseball has always been a passion for the Crystal resident. Now that he's not behind the plate anymore, his wife Barb finds more chores for him around the house, which he cheerfully completes. But he still gets out to the ball diamond whenever he can.
The round catcher's mitt that Gallagher used during his amateur baseball career is never out of sight.
"It's sitting in my trophy case at home," he said. The mitt is one of Gallagher's prized possessions. He bought it used for $10 in 1967.
Looking back on his umpiring career, Gallagher has few regrets. The main one has to do with his recent retirement.
"I can't run anymore," he said.
Follow the Sun sports writers on Twitter @MNSunSports and on Facebook at facebook.com/SunSportsStaff.