Over the past 10 years, the cities of Champlin and Dayton have experienced lots of change, in the form of large-scale development and redevelopment projects, new community groups, new leadership, and Champlin Park volleyball team's historic state championship. Below is a list of events, projects, programs and people that have shaped the communities of Champlin and Dayton each year of the past decade.
2010: Dayton Parkway Interchange
A Dayton improvement project that's encountered developments in 2019, has roots in the first year of the decade. In 2010, the Dayton City Council considered the first significant financial investment towards the Dayton Parkway Interchange, formerly known as the Brockton Lane Interchange, which will provide access to I-94 from Dayton via Brockton Lane.
After the city linked up with the Beard Group and former Mayor Doug Anderson took two trips to Washington, D.C., in 2009, $800,000 in federal transportation funds were allocated toward the project for preliminary engineering work. In early 2010, Anderson and the city council at the time also agreed to lobbying efforts to make way for more funding. During the Jan. 12, 2010, meeting Anderson said the interchange was Dayton's top transportation priority. In the spring of 2010, Dayton teamed up with the city of Rogers to invest nearly $30,000 each.
Now, the list of project partners includes city of Dayton, city of Rogers, city of Maple Grove, city of Corcoran, Minnesota Department of Transportation, Hennepin County Federal Highway Administration, Metropolitan Council and Three Rivers Park District. In a mid-year hearing on the improvement project in July 2019, city staff said the total cost for the construction of the interchange is $26 million (plus or minus $3 million) — Corcoran will fund $0.25 million, Rogers will fund $1.5 million, Minnesota Department of Transportation will fund $1.2 million, Dayton will fund $4 million, $7 million will be funded by federal funds and $13 million will be funded by State GO bonds. Construction is expected to begin this year and be completed in 2021. In addition to connecting the city to I-94, the interchange will also improve safety and emergency response, reduce congestion on other I-94 interchanges, prevent future congestion on local arterials, and address planned growth in Dayton.
2011: Environmental Education
Environmental education efforts were initiated at Champlin schools in 2011. After the closing of Riverview Elementary School for Math and Environmental Science in Brooklyn Park in 2010, the Junior Master Gardener program was transplanted to Champlin-Brooklyn Park Academy for Math and Environmental Science in Champlin. Through the program, fourth and fifth grade students not only learn about planting and gardening through hands-on projects at the school's greenhouse, but also learn how to be leaders through community service efforts assigned outside of school. The program is still part of the specialty school's curriculum with support from Hennepin County Master Gardeners.
In spring 2011, Jackson Middle School students helped with the second annual Arbor Day tree-planting event by packing and passing out 600 bare-root trees to be planted in the yards of area residents. The project was a collaboration with Champlin Environmental Resources Commission, and a grant from the Minnesota Department of Natural Resources made it possible. In April 2019, the same project partners coordinated tree sapling giveaway program at Jackson Middle School to distribute another 600 trees.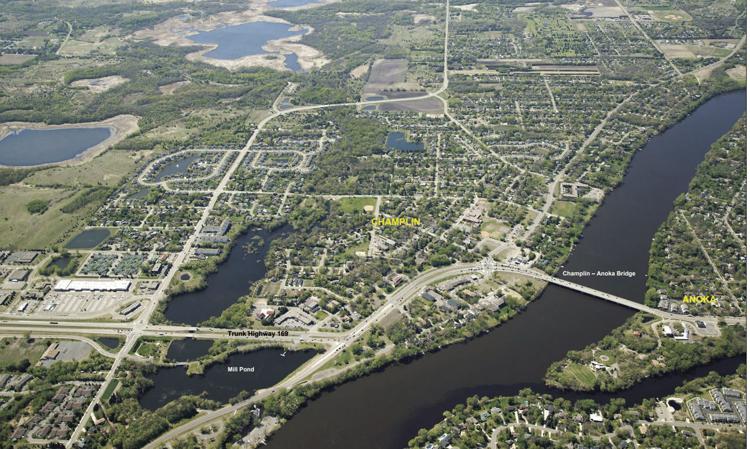 2012: Mississippi Crossings
Similar to the Dayton Parkway Interchange project in Dayton, the Mississippi Crossings redevelopment project in Champlin has steadily been on the Champlin City Council's docket over throughout the past decade. In 2012, the city secured a $1 million Livable Communities grant through the Metropolitan Council, which was meant to support a two-story restaurant/event center, a 3.5 acre open green space and riverfront amphitheater, and a 120-unit market rate apartment.
In July 2019, the project progress has come full circle since the 2012 grant was accepted. While the master plan, including a housing development, mixed restaurant/event center/hotel and public improvements including a pavilion and riverfront amphitheater, is still under review, the Champlin City council unanimously approved preliminary plans for Greco to develop a 4-story, 214-unit market rate apartment complex within 4.2 acres of the master plan site in December 2019.
2013: New Dayton Mayor
In 2013, Mayor Tim McNeil was sworn in as the new mayor of Dayton. McNeil has gone on to win each election since he was first sworn in.
Prior to the 2018 election, Dayton resident and former council member who served alongside Mayor McNeil, Scott Salonek, made a public forum comment on behalf of the Dayton Heritage Day Committee at a routine Dayton Council Meeting. In Salonek's statement, he asked if the mayor would address missing money from the Dayton Heritage Day festival fund that the mayor had access to. Shortly after the public comment was made, a claim was filed with the Hennepin County Sheriff's Office.
Consequently, Hennepin County Attorney Mike Freeman announced in February 2019, theft by swindle charges were filed against the mayor of Dayton for embezzling more than $5,000 from the Dayton Heritage Day Committee account. McNeil is scheduled to face a jury trial on Jan. 6. Theft by swindle is a felony offense, and the maximum sentence is 10 years in prison and/or a $20,000 fine, according to the criminal complaint.
2014: Cullen's Ice Cream
Cullen's Ice Cream, 10905 Douglas Drive North, opened in Champlin the summer of 2014. The ice cream, popcorn, soda and vintage candy shop is locally-owned by Owen Cullen who grew up in Champlin. "I want this to be a place for people to have fun and be happy," Cullen told The Press in 2014.
The seasonal business has quickly become a community staple, from drawing in students from nearby schools once the dismissal bell sounds to hosting Champlin Police Department's Cones with a Cop event the past couple of summers. Since 2014, the shop has expanded from 32 to 48 flavors, including dairy-free options.
2015: Beyond Yellow Ribbon
In September 2015, Champlin was proclaimed a Beyond the Yellow (BTYR) Ribbon City. Five years later, the comprehensive program is still used to create awareness for the purpose of connecting service members and their families with community support, training, services and resources. "It's a very important resource to our veterans, active and returning, and to their families," Park Facilities Manager Charlie Lehn said when the proclamation was carried out in 2015.
During the summer of 2019, Champlin Beyond the Yellow Ribbon was contacted by the Air Force National Guard to help a Dayton family. The husband and father of two children under the age of 5 was scheduled to be deployed mid-June through February 2020. In September 2019, the Champlin Park Youth Lacrosse Association (CPYLA) presented a $750 check to help the local family with lawn care and snow removal.
Prior to the local service member's deployment, CPYLA reached out to Champlin BTYR looking for an opportunity to give back to the community. The youth lacrosse players were gearing up to host a two-day, season kickoff tournament with 58 teams and a few thousand attendees.
Due to high attendance and the desire to give back, CPYLA infused a fund-raiser into the tournament.
2016: Dayton Warm Hearts Club
A Warm Hearts Club was established in Dayton in 2016. The Dayton Firefighters Auxiliary, made up of current and retired spouses of the Dayton Fire Department, created a local chapter of the Warm Hearts club in an effort to give back to the community. The club makes fleece blankets to donate to area charities, facilities and organizations.
The club continues warming efforts to this day, and Facebook posts by the organization highlight two recent projects completed by volunteers. Last month, 16 blanket kits were supplied by the Warm Hearts Club to Champlin Park High School's Leo Club. The student volunteers made the blankets and donated them to the Alexandra House in Blaine, which provides domestic and sexual violence services to those in need. Student volunteers at Dayton Elementary school also completed nine blanket kits. According to a Dayton Warm Hearts Club Facebook post, three blankets were donated to a deserving family and six will stay at the school and be used by students who need "a little extra something to brighten their day."
2017: Mill Pond Restoration
In 2017, the city of Champlin was awarded a $2 million grant from the Legislative-Citizen Commission on Minnesota Resources for the restoration of the Mill Pond and applied and received a $3.3 million grant from a bonding bill.
In 2014, the city of Champlin secured $2.5 million from a bonding bill and various grants to reconstruct the Elm Creek Dam. Since the Mill Pond is an impoundment of Elm Creek, or creates a body of water that backs up Elm Creek, once the dam restoration was complete in 2016 city staff began seeking ways to improve the Mill Pond, Assistant City Engineer Todd Tuominen said during a Mill Pond reopening event on June 22, 2019.
Once the project was completed in June 2019, about 42 acres of shoreland area and aquatic habitat were restored. According to the city's website, the project restored native upland, riparian, and aquatic zones. Consequently, the restoration will reduce erosion and improve water quality, and improved riparian and upland habitats will help support migratory and resident wildlife populations.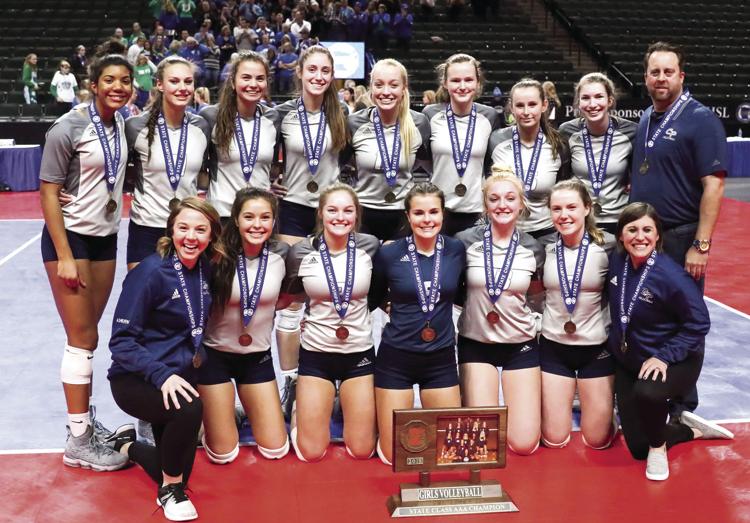 2018: Volleyball Wins State
In November 2018, Champlin Park High School won its first team state championship. On Nov. 10, 2018, the third-ranked Rebels volleyball squad defeated top-ranked Eagan during the final at Xcel Energy Center.
"It is the first team banner for the school in 27 years, so it is not just a big deal for these girls and the volleyball program, but it is a big deal for the school," coach John Yunker said after the victory.
Prior to the 2018 state championship, the Rebels volleyball team appeared in four straight state competitions. Although the team didn't win a section title this past season, eight seniors graduated from the program that's achieved many accolades this decade.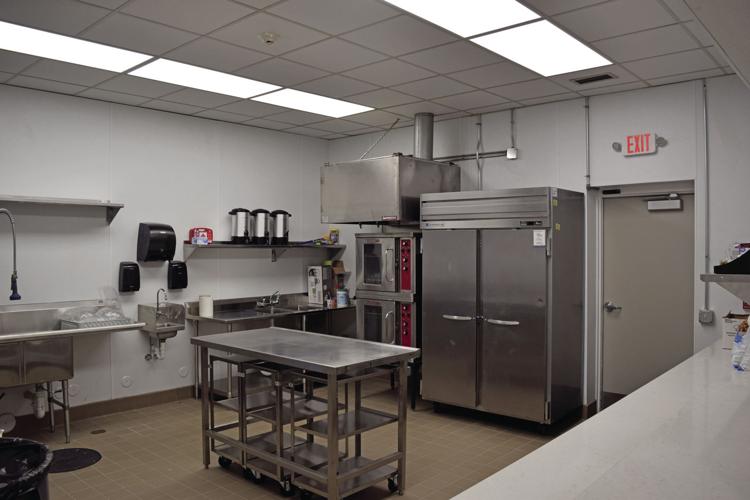 2019: Dayton Activity Center
In mid-November of last year, the Dayton Activity Center reopened after an internal remodel.
In March 2018, the senior activity coordinator resigned and city staff and council decided to hold off on filling the position, keep the center open for routine group use, allow reservations and hire a cleaning service to maintain the space.
From early 2018 to the summer of 2019, conversations for the activity center continued and resulted in a plan to both renovate the kitchen, bathrooms and floors to meet current building codes and standards and hire a new activity coordinator. Construction began in mid-August and finished in early November. Activity Center Coordinator Teresa Schmiedlin was hired in September to lead programming, right before the recently revamped space opened to the community again.
Schmiedlin said a new programming schedule will begin Jan. 6. "On Mondays, 8:30 to 11:30 a.m. we will host Coffee & Cards as a drop-in style event for those in the 55+ crowd to gather at the activity center to enjoy coffee, community, and card games, and on Wednesdays, 10:30 to 11:30 a.m. we will host a Toddler & Me time that is an opportunity for littles (4 & under) and their adults to participate in active play, crafts, story time, and science experiments together, while being able to socialize with others," she said. Additional programming, including a senior fitness class, is also in the works for spring if there is enough demand, Schmiedlin added.