When Jack Bryngelson and his girlfriend Karly Jensen were recently introduced as part of the 2019 Rockford Homecoming royalty, the cheering and applause was concert level loud. 
Making sure Bryngelson and Jensen were crowned king and queen is one of the multiple ways the Rocket students, staff and community rallied to bring positivity in a time of unknown for Bryngelson and his family. The Rockford senior was diagnosed with a rare and aggressive form of bone cancer, Chondrosarcoma, on his first day of school this fall.
"I had leg pain that started sophomore year, and it just got progressively worse," Bryngelson said. Attempts to treat and heal his leg from chiropractor visits and physical therapy were carried out. When pain continued, an MRI, magnetic resonance imaging, scan was performed and revealed a large tumor in his lower spine.
According to a GoFundMe page set up Bryngelson's aunt, Christy Grimmius, the tumor couldn't be completely removed during his Aug. 13 surgery, because that could have resulted in causing permanent disabilities.
The tumor removal was followed up with a reconstruction surgery Sept. 24. Since, he'd be cooped up healing in a hospital bed on his 18th birthday, Rockford students dedicated the home volleyball game the evening of Sept. 26 to celebrate Bryngelson and wore yellow to symbolize cancer awareness.
"The kids have really loved him up, that's for sure," Rockford High School Principal Rhonda Dean said.
A sea of yellow also filled the "Tackle Cancer" home football game stands Sept. 20. All proceeds of the game were donated to the Randy Shaver Cancer Research and Community Fund. The evening was special because Bryngelson played football for Rockford up until this season. He has also been involved in trapshooting since seventh grade.
"It wasn't just cancer awareness night, but it was cancer awareness for Jack night," Dean said. Beyond students wearing yellow, staff, community members and parents also showed out to recent football games and homecoming events in yellow.
Through every effort to shed light in the midst of a bleak circumstance where Bryngelson's prognosis is uncertain, Dean and school staff have checked in to see if the students' efforts meet the family's comfort level.
"It's just been kind of a roller coaster, and once we found out everyone's been really supportive," Bryngelson said as homecoming festivities were winding down last week.
Most seniors are able to participate in sports, attend after school events of their liking and go to class in-person. Meanwhile, Bryngelson has been in and out of hospitals and gearing up for both inpatient chemotherapy and radiation. "I'm just trying to stay in school as much as I can. It's going to be hard with chemo and radiation, but I'll cherish the time I get to be here," he said.
Area Chondrosarcoma survivor, Amy Burgoyne of Forest Lake, caught wind of Bryngelson's story through Facebook. She was diagnosed in 1998 when her son was only four-years-old.
Similar to the Rockford senior, Burgoyne was experiencing soreness. Her back was aching and X-ray scans revealed a large tumor on her 11th rib.
Once Burgoyne's tumor was detected as cancerous, she had three rounds of chemotherapy. She also opted for radiation, which was administered for three months following her chemotherapy. The first eight years after the surgery, scans showed no signs of cancer and she hasn't had a scan in over 10 years, she said.
Through the treatment process Burgoyne and her husband David were told they probably wouldn't be able to have another child. However, they defied odds and had a daughter in 2000. "The interesting part was that I went through all of the menopause symptoms, I lost my hair and lost everything," Burgoyne recalled.
As an elementary school teacher, Burgoyne did her best to teach through the treatment track and only called on a designated substitute teacher when absolutely necessary.
Bryngelson also plans to not miss a beat while he is out for treatment, and has set up accommodations to do work remotely when he can't attend class.
Burgoyne and her husband did their best to stay strong for their son, but David vividly remembers kneeling at church with their four-year-old-son and crying. "I thought I was going to be a single dad," he recalled, with tears in his eyes.
"The part of cancer that is so hard is the unknown," Burgoyne said. She said you can stay positive for your family and community, but "inside you have all this turbulence." Some details she spared her family were the metallic aftertaste of chemo and overall exhaustion it caused.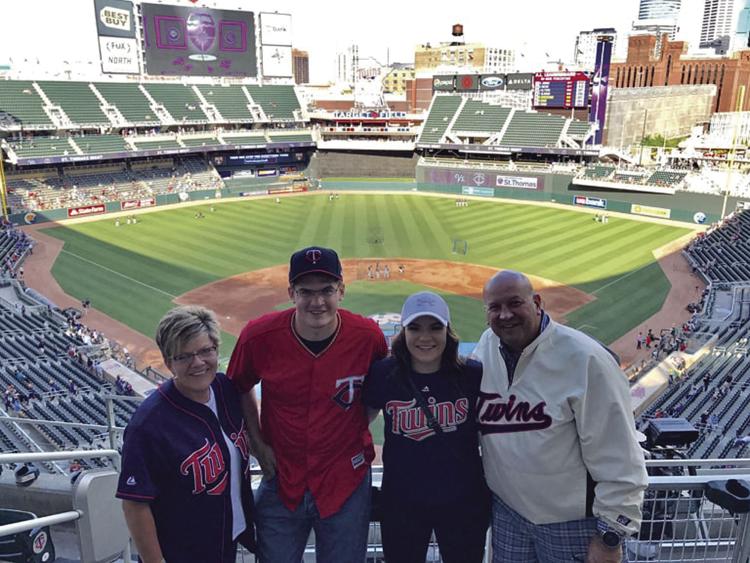 "Watching Amy, attitude is huge," her husband added.
To anyone going through a tough time, whether it be an illness or just uncertainty, Burgoyne recommends keeping a journal for yourself and constant communication with loved ones in addition to having a positive outlook.
Staying strong and having an upbeat mentality for his parents, 14-year-old brother and girlfriend is exactly where Bryngelson's head is at. After the Friday, Oct. 4 homecoming pep fest and powderpuff football game, he said, "Every step that we've found out what's been bad, they've taken it harder than I have — I just try to stay strong for them, so they don't break down."
One of his goals is to feel like a "normal senior" at some point this year.
"Attitude is everything," he said. "I mean that for anything in life that hits you like a brick. If you go in thinking that your chemo is going to be the worst thing in your life, you're not going to get through this, and this is going to be the worst thing ever, then it's gonna be, what you say goes. But if you if you go in every day and you think you got this and you'll be okay whatever happens, then you should be fine."
Check out the GoFundMe page made by Bryngelson's aunt here: bit.ly/31ZGEzI