For those working at Litke's Veterinary Service in Pierz, no day is the same. That is one of the many things Dr. Craig Gapinski likes about working there.
    "The nice thing about the job is that each day is different. I like working here. It's a nice atmosphere," he said.
    Some mornings he begins the day with making calls to local farms. Other days start with performing a variety of surgeries or serving clients and helping them with their animal needs.
    Gapinski started working at Litke's Veterinary Service as a veterinarian, March 9. He graduated from the University of Minnesota in 2019 with a doctor of veterinary medicine degree.
    What inspired him to become a veterinarian was his desire to work with animals. Growing up on a farm in the Foley area, he really enjoyed the animal part of agricultural. Recognizing the difficulty to start farming on his own after he graduated Sauk Rapids High School in 2012, Gapinski decided to look at other options that would allow him to still do what he loves.
    "I knew I wanted to find something where I could work with animals and farmers," he said.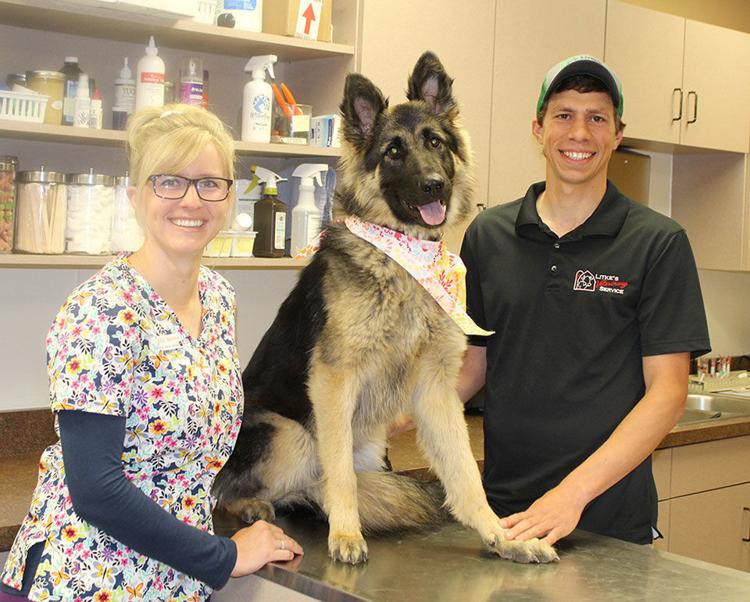 Gapinski said the best part about working as a veterinarian is working with the farmers and clients and being able to help them with whatever veterinary need they may have. Sometimes just having a veterinarian's input can help clients make decisions, some of which may be difficult for owners to make, he said.     
    Throughout his career as a veterinarian, Gapinski has seen a variety of animals, such as cattle, horses, pigs, cats, dogs, chickens and more.
    The job comes with a few challenges, too. For Gapinski, the hardest is to deliver bad news to an owner about their animal, whether it is a cancerous result or other dire diagnoses that usually results in euthanization. For farmers, that also often means a loss of income in some form,
    "You want to be able to fix things for them, but you aren't always able to do that. It isn't always possible, so that is kind of the hardest," he said.
    While many surgeries are performed inside the clinic, Gapinski said some are done at the location, such as on a farm where a cow is need of a c-section because her calf is breeched or she is having a hard time calving for some reason.
    Gapinski said c-sections on cows are performed while the cow is standing up. Local anesthesia is applied to where the incision is made and eventually the calf is carefully removed. The cow is aware of her surroundings, but is unable to feel the actual procedure.
    While many cows have already started the calving process by the time he arrives, Gapinski said some cows may get a little confused at first to suddenly have a calf.
    "It kind of depends on the situation," he said.
    Gapinski also farms with his parents and brothers and raises mostly Holstein steers. Being a veterinarian has helped, not only in costs, but it has also allowed him to try new things and different treatments in response to various diseases and more at times.
    When he is not working, Gapinski enjoys helping out on the farm, hunting and fishing.
    Besides enjoying his work at Litke's Veterinary Service, Gapinski said it is nice to be back in the Pierz area, too, as he has some distant relatives with last names such as Przybilla, Mischke and Britz, living in the area.
    Certified Veterinary Technician, Stephanie Petron, started working at Litke's Veterinary Service in mid-May. Since she lives in the Foley area, she enjoys being closer to where she lives. She also likes the small town atmosphere Pierz brings.
    Petron graduated from Ridgewater College in Willmar in 2015 with a degree in veterinary technology. It was her love and passion for animals and helping them that drew her to the profession. Growing up on a pig farm in Rice, Petron said she was surrounded by animals on the farm. Besides the pigs, they also had horses, cats, dogs and more.
    "It was fun growing up on a pig farm," she said.
    Much like a nurse assists a surgeon and performs a large number of tasks while caring for patients, Petron assists the veterinarians at the clinic when they're in surgery. She also performs a variety of duties, interacting with the clients.
    Before Petron started working at the clinic in Pierz, she worked at Boysen Animal Hospital in Waite Park. Throughout her career as a veterinary technician, she has seen a variety of animals, such as cats, dogs, calves, rabbits and more. The smallest animal she cared for was a ferret whose owner brought him in because he wasn't eating, she said.
    While mostly cats and dogs are seen at the clinic, she recalls a couple of calves who were brought in — one with a trailer and the other in the back of a truck.
    "A calf is easy enough to bring in if the doctor can't make it out on a farm call," she said.
     When she isn't working, she enjoys spending time with her fiancé, Ryan Pekarek. High school sweethearts, they are set to get married Sept. 19 after the COVID-19 pandemic delayed their May 30 wedding plans.
    She also enjoys going to her family's cabin, fishing, hunting, four-wheeling, flower gardening and caring for her four dogs, two cats and chickens.