Being named September Employee of the Month by the Little Falls Area Chamber of Commerce came as a total shock to Karen Winscher, who works as a cook at the Little Falls Community Middle School in Little Falls.
    "I never expected that. It was never that ever crossed my mind. I didn't know what to say or do when they told me," she said.
    That Winscher is appreciated and loved by many is evident by her nomination and the comments made by her supervisors and co-workers.
    Winscher was nominated by several people, including one who chose to be anonymous. In her nomination of Winscher, Elizabeth Duscher said, "Karen has worked for the Little Falls School District for over 21 years and through that time she has risen to the role of first cook. Because of her years of dedication to the students of the middle school and her employers, she is widely recognized and appreciated by many students she serves and the employees she oversees.
    "One of her greatest attributes is the ability to adapt to and overcome the many challenges that are required of the kitchen staff, especially under the current guidelines in place due to the COVID pandemic. Throughout all of the unknowns, Karen had laid a clear path for overcoming each obstacle and implementing measures and guidelines to ensure the safety of her employees and students.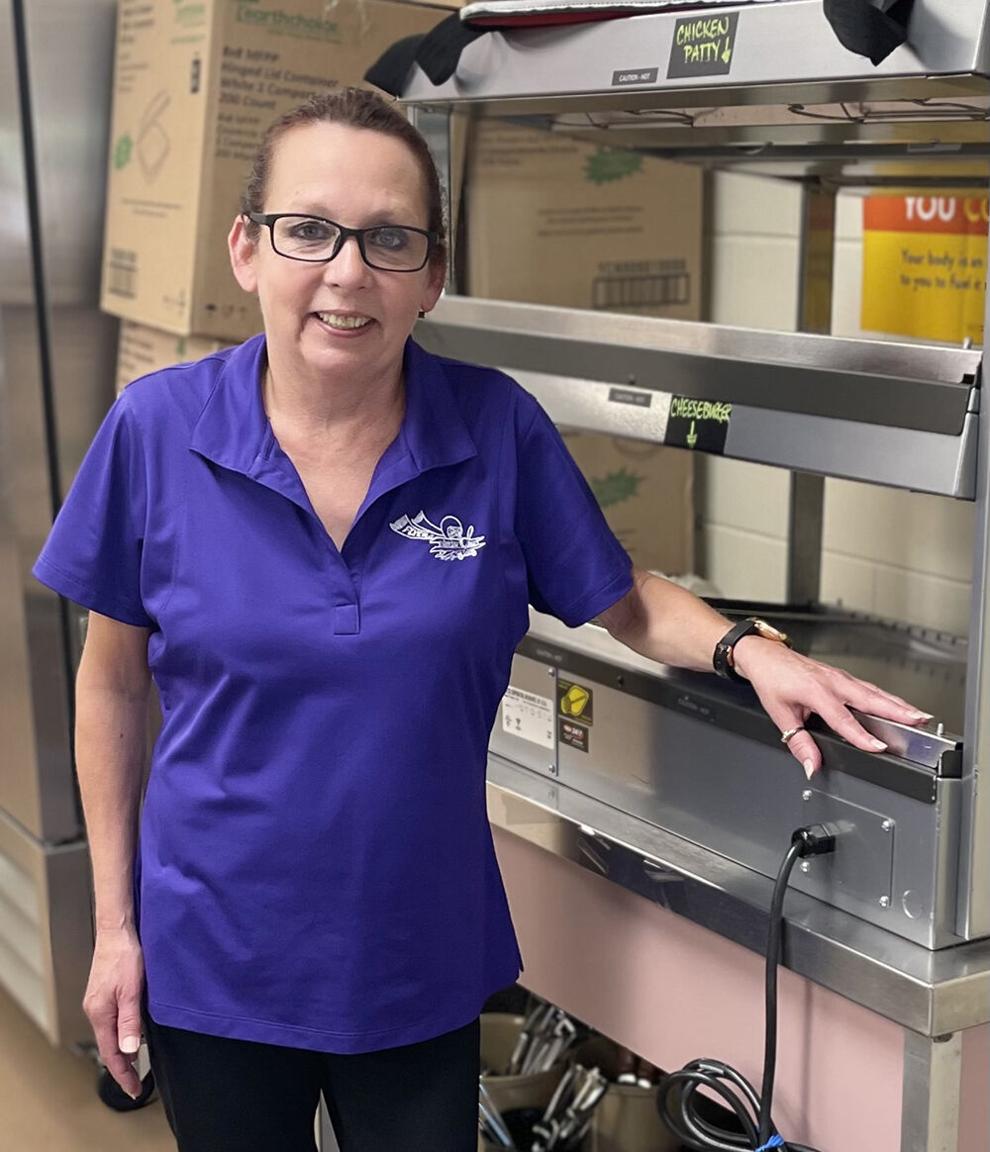 "Under her leadership, the kitchen at the middle school has earned the respect of the middle school staff and the appreciation of the students and is a valuable asset to the entire Little Falls School District. Her goal is to do whatever it takes to feed the students nutritious meals safely and on time," the nomination said.
    Bonnie Thoeln Saariu said in her nomination of Winscher, "She is always full of fun, has a great sense of humor and a smile on her face. She is always friendly, giving everyone a 'good morning' each morning. Her positive attitude sets the tone for all of us to follow, even on days when it would be easier to be grumpy. Karen is always willing to help others. In addition to being a very hard worker, she makes sure to spend time with her family."
    Heidi Bartos echoed a positive experience of working with Winscher. Nominating Winscher for the recognition, she said, "During the four years that I have worked beside Karen in the middle school kitchen, I have personally witnessed her dedication and commitment to her job as head cook. Karen strives for perfection in all aspects of her position, whether it be production, records, communication or food service. Her many years of service are a testament to her commitment. Each day, Karen runs an efficient and effective kitchen, focused on high standards of production and service. Thank you, Karen."
    Patti Ploof praised Winscher for her dedication to her job as head cook. In the nomination, she wrote, "She is always willing to help you when extra help is needed and will also answer any question or find the answer, you may have for her. She enjoys meeting and getting to know the students and they enjoy doing the same with her. I enjoy working with Karen and to me she is more than just the head cook, but a person with a great personality and a fabulous friend."
    Nichole Lorentzen Bohnen said, "Karen is always fun to work with. She has a positive outlook and sets and upbeat work environment for everyone."
    The person who nominated Winscher anonymously said, "Karen is a hard worker and team player. She is a great person and friend."
    Winscher said that when the nominations were read to her when she was notified she had been chosen as Employee of the Month, all of them touched her deeply. In many ways, it is a perfect example of that a person may not always know how truly appreciated they are. To her, she is just being herself, treating others as she would like to be treated and knowing the value of hard work.
    "I never realized that was how they felt," she said.
    Winscher started working for the Little Falls School District in 1998 and has been a cook at three different schools — first at Lincoln Elementary School, then Little Falls Community High School and eventually Little Falls Community Middle School.
    "I just love working with the people here and the students are wonderful," she said.
    "Karen is the perfect person to receive Employee of the Month recognition. She is always willing to go the extra mile to get things done. Karen is a wonderful leader to her food service team. She truly cares about them and always has time to listen to their questions or concerns. They work together to prepare and serve quality meals that the students will enjoy. Karen takes time to get to know her students and enjoys interacting with them," said Mary Bartlett, food service director for the Little Falls Community Schools.
    One thing that has stood out to Middle School Principal Wade Mathers when it comes to Winscher is her solid patience.
    "Karen is an absolute joy to work with. She always has a positive attitude, is flexible to meet ever changing needs, and you may meet people that are as patient as she is, but you will never meet anyone with more patience," he said.
    Mathers said that he finds it incredible how more than 500 middle school students can be fed daily in such a smooth, orderly fashion as done at the school.
    "We try to instill and model Flyer Pride at the middle school and Karen exhibits Flyer Pride at the highest level," he said.
    "Karen symbolizes everything that an Employee of the Month should possess. She absolutely models 'customer service' to each and every student who is lucky enough to go through the middle school line. Her colleagues love with Karen as she treats everyone with kindness, compassion and grace. Little Falls Community Middle School is a great place to be because of people like Karen Winscher," said Supt. Stephen Jones.
    Looking back, Winscher said that it was a friend, who worked at Lincoln Elementary School, who initially inspired her to start working in food service.
    Winscher never imagined at the time that she would remain working as a cook for as long as she has. However, it is a job she loves and is glad she stayed with.
    When she isn't working, she enjoys spending time with her children, Savannah and Blake, riding ATVs, relaxing at home and more.
    As Employee of the Month, Winscher received gift certificates from Coborn's Marketplace, Heartland Tire, Papa Murphy's, Reality Roaster, Subway and West Side Liquor.