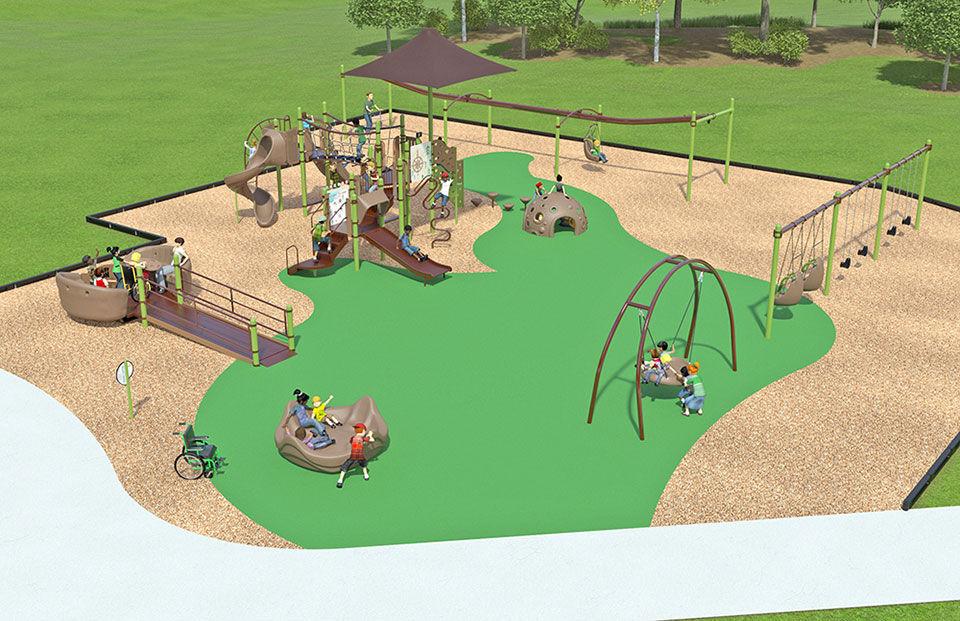 About two years ago, Desiree Bengtson, a first grade teacher at Upsala Elementary School in Upsala, started to notice the deterioration of the elementary school's playground. Several pieces were broken or caution tape had been placed around different equipment. The playground was also not friendly to those who are disabled.
    "At the time, I had a student in a wheelchair and noticed that the playground wasn't accessible to all students," she said.
    Bengtson then spoke with the school administration and the Upsala School Board about looking into ways to replace the playground. It was a go-ahead right from the start and as a result, the school has been raising funds. Bengtson estimates it will cost about $150,000 to $200,000 to build a new playground that is handicapped accessible.
    "The more pieces you add to the playground, the more it costs. It's not just the playground itself, but also the preparation work of the ground, getting rid of the pea rock and getting a solid surface," she said.
    At first, Bengtson started spearheading the project on her own. However, it didn't take long before she realized she could not do it alone. The playground committee was formed, which Bengtson, Anna Wolbeck, Chelsea Fuchs and Kennedy Echers are currently members of. A community committee was formed, as well, made up of parents of students to get their perspective, as well.
    Bengtson said recently they found out that Lions International has awarded the school a $75,000 matching grant for replacing the playground. She and the others are very thankful to Upsala Lions Club Member Charlie Gunderson who applied for the grant.
    "I was just ecstatic when I found out. We have a lot of local support from the Upsala Lions Club for our school that we are very appreciative of and not just for the playground," she said.
    At this time, the school has raised about $40,000. Initially, the plan was to raise funds through a variety of events last year. However, the COVID-19 pandemic along with the added restrictions and guidelines made it difficult.
    "For the safety of the kids, we didn't want them out fundraising at the time, so we are now just gearing up," Bengtson said.
    The students recently finished a basket raffle ticket sale where students had put together a variety of baskets in different themes, such as camping, beach day, kitchen, sports, boy's school supply, girl's school supply, family fun night, movie night and a spa basket. The Upsala Lions Club also donated a grand prize for $500, Bengtson said.
    The different classes also had a "Penny War" where coins were collected in the different classrooms. While the ultimate goal is to raise funds, it was done in a fun way by collecting pennies. Students were able to place silver-colored coins in other classrooms' collection jars, which deducted penny points from that classroom. It was a fun game that was carried out in a safe manner,
    One thing the school and its students appreciate greatly is the tremendous community support for the new playground. Together, one dollar at a time, they are slowly reaching their goal.
    Wanting to give the students an opportunity to give back to the community, Bengtson said they plan to arrange different service projects for the students, such as raking leaves, playing bingo with seniors and if unable to visit senior homes due to restrictions, to have them mail cards to nursing homes and other people, to brighten someone's day.
    The current playground is more than 20 years old and according to the playground manufacturer has well reached its life expectancy. Wolbeck, who works at the school as a kindergarten teacher, was once a student at Upsala Elementary School and recalls playing on the old playground.
    "It's kind of fun to get the community to raise funds for it, so they have a sense of ownership of it. The kids are pretty excited for it. It will be nice to have something that would be accessible for all of our kids," Wolbeck said.
    While the school does not have a solid blueprint of what the new playground would look like — as it depends on how much is raised — they have an idea for what they would like to see at the new playground in terms of equipment and ground. To make it easier for wheelchairs and strollers to be pushed to different playground equipment, Bengtson said having a solid ground would be ideal.
    Some of the playground equipment the school would like to see installed includes a regular swing set and one for those who are disabled, an arch swing, regular and inclusive zip lines, permanent basketball hoops, benches, picnic tables and more.
    Bengtson said the goal is to have the new playground installed by summer 2022. They are hoping for a community build in hope to save money on the construction of it.
    "Our students are worth it. That's our philosophy," she said.
    In the commons area at Upsala Area Schools, a thermometer banner hangs on one of the pillars, letting bypassers know how much of the $200,000 goal has been raised. Nearby also hangs two banners which names those who have donated. Depending on how much is given each is placed into the specific category, such as Cardinals ($10,000), platinum ($5,000), gold ($1,000), silver ($250), bronze ($100) and additional sponsorships.
    There are many benefits to students having a playground, especially one that is inclusive so all children can play. Play stimulates the brain and activates all seven senses, such as tactile, visual, auditory, vestibular, proprioception, motor planning, social and imaginative. Besides building muscles and fine motor skills, play also helps children develop balance, speed, agility and coordination.
    "It keeps kids fit and healthy and they learn the fundamentals about sharing and friendship through play," Bengtson said.     
    Finally, it enables children's cognitive development, and problem solving skills and allows them to think creatively. It also helps with stress and boredom and is a healthy way of dealing with emotions, Bengtson said.
    Those who want to donate to the new playground can do so by making out a check to "Upsala Area Schools" with "Playground Fundraiser" written in the memo and mailing it to Upsala Area Schools, 415 South Main Street, Upsala, MN 56384.