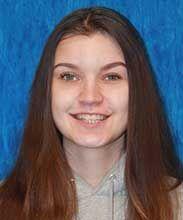 Swanville Public School announced that the May Senior High student of the month, junior Tyra Powell. She is the daughter of Steph and Russ Powell.
Powell stays busy with many school activities. She has participated in basketball for two years and also served as the girls' basketball manager for three years. She participated in softball for four years and has played volleyball for six years. She serves on student council. She also has been in band for seven years and recently was a member of the Junior Prom Committee.
Her achievements include consistently being on the A honor roll, the President's List at St. Cloud Technical both fall and spring semesters, and the Bulldog Award in volleyball during her sophomore year.
Powell said her favorite thing about school has been spending time with her classmates.
She advises other students "Having good grades is fine, but don't forget to take of yourself and be a teenager."
"Tyra is an extremely dedicated and hardworking student at Swanville High School. Whether it is taking college classes or putting together events for the school, Tyra puts in the time and effort to succeed. She is always looking to take the initiative instead of waiting around for something to happen," said science instructor Jason Lee. "Whatever goals Tyra decides to pursue after high school, she will be successful. I look forward to seeing the results of her dedication."
"Tyra is an ideal student in so many ways. She works very hard to learn and understand each and every topic presented. She is able to prioritize her time to be sure that every assignment is done in a timely manner," said math instructor Liza Hasse. "Tyra works very hard to meet the high expectations that she sets for herself. Tyra strives to always do the right thing for herself and for others, integrity is important to her. Tyra has worked as my TA this last year. She is a self-motivated and organized worker who always shows up and shows up on time to do her job. I thoroughly appreciate all of the work Tyra does for me as a TA. I believe that Tyra will be successful in life. She has the ability to work hard and set high goals for herself."
Powell has many interests including painting, gardening, working, shopping and spending time with her friends. She plans to attend Saint Cloud Technical and Community College to become an ultra-sound technician.