When Todd County Chaplain Dave Greaver went prairie dog hunting with some friends in North Dakota, July 27, he never anticipated that one of them would save his life. But it is something he is extremely grateful for.
    "If he wouldn't have come back the same route and found me, I wouldn't be here. Steve Thomas saved my life," Greaver said.
    The friendship with several people who at D & D Auto Repairs and Petrie's Towing in Long Prairie began several years ago. They met through his work as a chaplain for the Todd County Sheriff's Office (TCSO) and as TCSO uses Petrie's Towing for towing services, Greaver said it was inevitably for their paths to cross.
    When the Thomas family found out he grew up in Los Angeles and had never hunted before, they decided to take him with on their adventures.
    "Last year, they took me with them and we had a wonderful time prairie dog hunting," he said.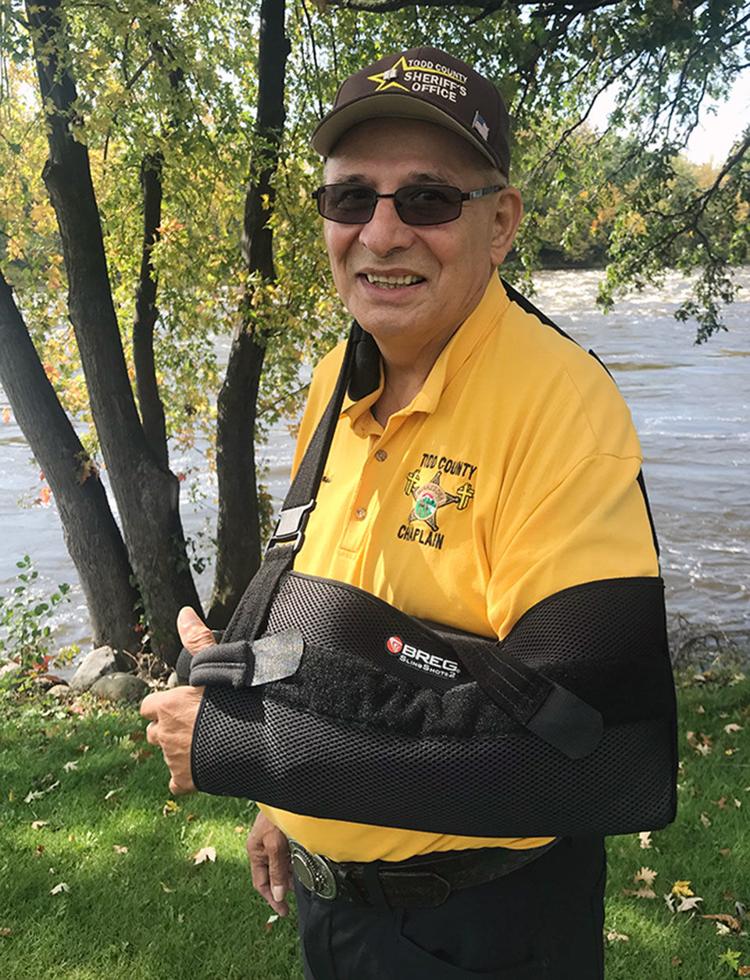 Greaver said he and the others were riding four-wheelers when the accident happened. At one point, they decided to split up and while two headed back to camp, another stopped because he finally had cell service to call his sweetheart.
    Steve Thomas went off-road to go to another prairie dog location and unknown to him, Greaver decided to follow him.
    Greaver said the last thing he remembers from the accident was seeing Steve go around a hill. It is believed he passed out shortly after and somehow flipped the four-wheeler at 20 miles per hour (mph).
    "It was 92 degrees outside with the wind blowing, so you couldn't really feel how hot it really was," he said.
    Greaver suspects he may have passed out from the heat or from being dehydrated.
    Because Thomas returned the same way and found Greaver, he was able to get him help right away.
    As they were waiting for help to arrive, Greaver said Josh Thomas kept him alert. He was then brought to an emergency room in Bowman, N.D., for triage and then airlifted to the CHI St. Alexis Health in Bismarck, N.D.
    Greaver suffered several severe injuries in the accident. He broke nine ribs, both front and back, on his left side, punctured a lung, broke his left shoulder blade and broke his left collar bone in five different places. He also had a concussion and a brain bleed.
    Greaver said after Steve had called 911, he called Greaver's wife, Pearl, and let her know what happened. Before long, she and their daughter, Emily, drove to Bismarck, N.D. to see him.
    Pearl and Emily stayed in a motel during the five days Greaver was hospitalized. During this time, he received 15 liters of oxygen.
    "It was so forceful that it was burning the back of my throat. I was just pleading with them to turn it down," he said.
    After two days, as his oxygen level improved, he was able to be transferred to a medical center closer to home — to Lakewood Health System in Staples. He stayed there for 11 days.
    Greaver said during his time in Bismarck, N.D., a metal plate had been inserted into his shoulder to help heal the collar bone. However, it was discovered at a return checkup in Bismarck that several of the screws had come undone.
    But rather than having the surgery done in Bismarck and risk having the extra expense of his family having to stay in a motel or having to return for a checkup, he opted to get the surgery done closer to home.
    "It was a good thing. I found out they had this new technique that would allow the bone to heal well," he said.
    As the new technique also reattached two ligaments that had detached from the collarbone, Greaver is expected to be able to use his left arm like before.
    To help Greaver cover some of his uninsured medical expenses, a benefit fundraiser will be held, Friday, Oct. 11, at 5 p.m. at the First Baptist Church in Long Prairie. A spaghetti and Alfredo sauce meal, country gospel music and a silent auction will be held at the event.
    Special speakers for the event are Todd County Sheriff Steve Och and Morrison County Chaplain Gregg Valentine.
    Some of the items in the silent auction are a trampoline, quilts, afghans, gift baskets, gift certificates from various business and more.
    To donate an item for the silent auction, contact Fran Thomas at (218) 851-2377 or Lorilie Zellman at (320) 808-6597.
    One thing that has amazed Greaver is the tremendous support people have shown him since the accident. Not only from Och, the other deputies and the community, but also from Sheriff Shawn Larsen with the Morrison County Sheriff's Office (MCSO) and their deputies.
    Greaver is on-call for Morrison County when Valentine is unavailable.
    The two chaplains support family members and others who are affected by suicide, traumatic deaths or other life-altering events.
    They also provide support to emergency personnel within law enforcement, fire departments, first response teams, emergency medical technicians and more.
    Many times they hold debriefings within 24 hours of a critical incident as it is a way to ensure that emergency personnel process what they have seen and experienced.
    "The support everyone has shown has been amazing. It means a lot," Greaver said.