The Henifins remain hopeful despite cancer diagnosis
    The stomach pains gradually worsened and eventually became so bad that it kept him awake at night, said Kevin Henifin, 61, of Long Prairie.
    Kevin and his wife, Alice, went to CentraCare Health clinic in Long Prairie, Jan. 9, to find out what was going on with his body.    
    "We knew something was wrong. We just never thought it would be that," he said. Kevin was diagnosed with stage 4 pancreatic cancer. The diagnosis was later confirmed at Coborn Cancer Center in St. Cloud.
    The CT scans revealed a large tumor on the back of his pancreas.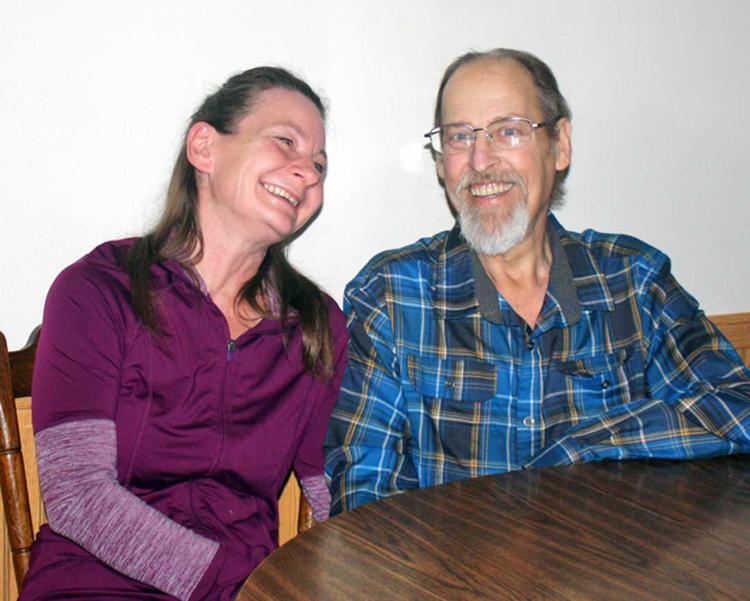 "We were told that when it's on the back of the pancreas that it's basically too late by the time you show any symptoms," Kevin said.
    The couple also learned that if the tumor had been on the front, there would have been a better chance of catching the cancer earlier since the symptoms would have presented themselves sooner.
    Another large tumor was found on his liver, as well as several spots on his lungs.
    Being diagnosed with cancer, let alone stage 4, was a shock. Not only to Kevin and Alice, but also to their four children, Jamie, Chantel, Jackie and Jimmy. Kevin and Alice told them the news the same day.
    "They were shocked, heartbroken. A couple of them were crying and in disbelief that there is no cure," Alice said.
    Kevin started receiving chemotherapy treatments Jan. 29. While it may not cure him, it will prolong his life.
    "The doctor said that without it, I'd die within six months," Kevin said.
     But the couple is not without hope. Since Kevin started the treatments, his doctor has noticed that his liver has shrunk and its functions have improved. He is also no longer in pain.
    "It's great to see that he's not in pain anymore," Alice said.
    Because the liver decreased in size, it also relieved the pressure the liver caused when it was enlarged. Before that, the only place he was able to alleviate some of the pressure was by sitting in his recliner.
    "I'm very happy to be able to sleep in a bed again. It seems to be going in the right direction," he said.
    In the beginning of January, Kevin developed yellow jaundice, but that has since disappeared.
     Even though Kevin is battling cancer, the couple is not allowing the diagnosis to steal their joy. Fun, humor and a good laugh from time to time keeps their spirits high.
    "We've also been about living in the present and that's what we are doing now. We take it day by day," Alice said.
    Alice's humor is something Kevin really appreciates. In fact, it was her humor and fun personality that attracted him to her in the first place, he said.
    It was the same for her. That and his good looks, she said.
    The two have been married for 18 years.
    Kevin is known to many as a man who will bend over backward to help anybody. To him it's just a given, Alice said.
    The support from family, friends and others shown throughout this difficult time is something Kevin and Alice are very grateful for. In fact, seeing the lengths people are willing to go to and the time and dedication many have put in, overwhelms Kevin with gratitude.
    "I don't know how to thank them enough," he said.
    A benefit has been set to raise funds for the family to help with the medical costs and other related expenses.
    The event will be held Sunday, March 18, at the Falls Ballroom, at 15870 Hwy. 27, in Little Falls, from 1 p.m. to 5 p.m.
    A silent auction will be held at the event with many popular items to bid on, such as Minnesota Twins tickets, a football signed by American football coach and former player P.J. Fleck, a baseball bat signed by former Minnesota Twins first baseman Kent Hrbek, New Orleans Saints tickets, a hotel room for one night at the Double Tree by Hilton in Bloomington, a suite stay for one night at the Seven Clans Casino in Thief River Falls, an 8-foot by 10-foot shed and many more items suited for both men and women.
    There will also be a bake and quilt sale at the event.
    A roast beef sandwich meal will be available for purchase.
    For more information about the event or to donate, call Mary at (320) 249-8646 or Keith at (763) 218-7183.
    A Go Fund Me page has been set up for the family, as well. To donate, visit www.gofundme.com/kick-in-for-kevin-cancersucks    .