When Jenny Borgstrom, 30, of Little Falls found out she was pregnant, she had hoped she would carry her baby for nine months (40 weeks). Pregnant with their son, Winston, her due date was Feb. 4, 2018. But because of circumstances that threatened the lives of mother and child, Winston was delivered through an emergency C-section at 25 weeks, three days, nearly four months premature.
    "I feel like I was robbed of the pregnancy experience," Borgstrom said.
    Winston's dad, Tom Rochat, 34, said the couple knew that Winston might arrive earlier then the estimated due date because of Borgstrom's medical history (Crohn's Disease and high blood pressure), he said.
    "I expected Winston to come early, but not that early," Rochat said.
    Because of Borgstrom's medical history, she was considered to have a high risk pregnancy. Early on in the pregnancy, she battled excessive swelling in her feet and it was difficult to keep her blood pressure under control, she said.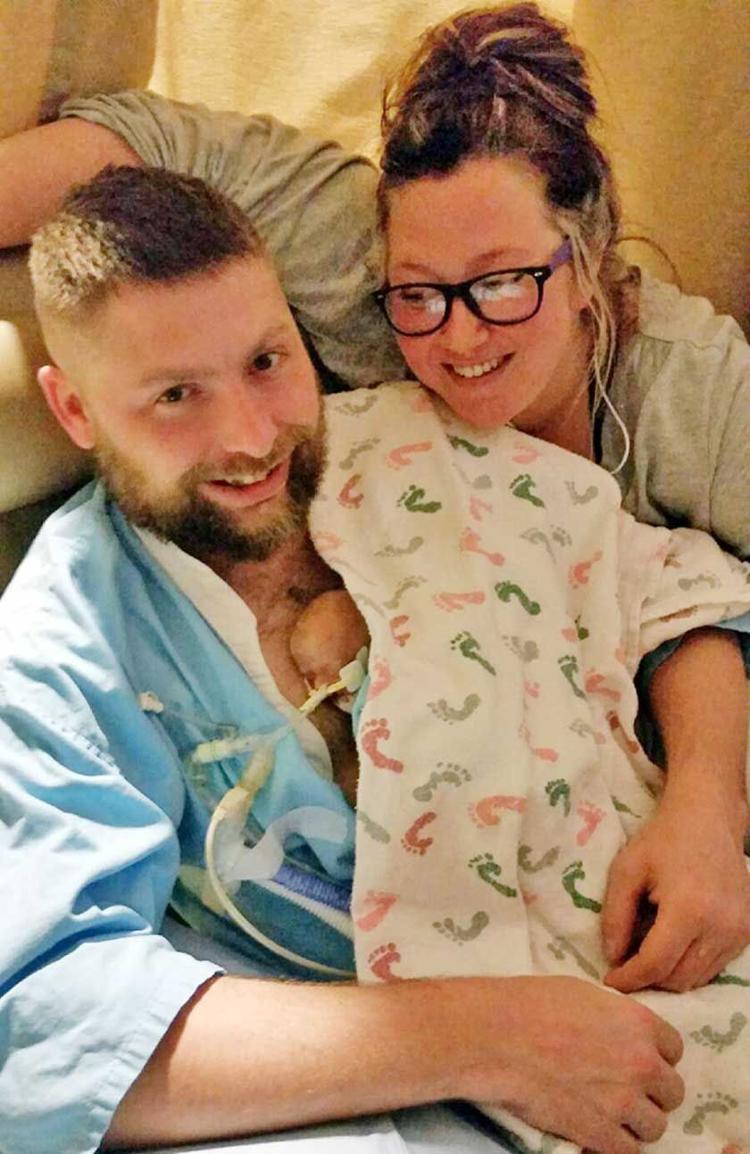 Several times her condition worsened to the point she visited the emergency room. However, when medical personnel were unable to treat her and get her high blood pressure under control, she was sent home, Borgstrom said.
    Just an hour after she was released from the hospital, Oct. 22, Borgstrom developed a fever and became much worse. It was discovered that her platelet levels were significantly low.
    "My platelet level was at 14,000. The normal platelet level is somewhere between 150,000 - 400,000," Borgstrom said.
    She was also diagnosed with severe pre-eclampsia (a pregnancy complication characterized by high blood pressure and signs of damage to another organ system, most often the liver and kidneys, according to the Mayo Clinic) and severe HEELP (hemolysis, elevated liver enzymes and low platelet count syndrome). HEELP is considered to be a life-threatening pregnancy complication and is usually considered to be a variant or complication of pre-eclampsia, Borgstrom said.
    An emergency C-section was scheduled, but as Borgstrom became more ill and Winston was showing fetal distress, he was born earlier. He weighed 1 pound, 0.9 ounces and was 11.3 inches long.
    "He was so very, very tiny. He's still tiny," Borgstrom said.
    Rochat was surprised when he found out Borgstrom needed to be admitted. It came as a shock as he had thought the medical personnel were only going to get her blood pressure under control. Before he knew it, an emergency C-section was needed to save both of their lives.
    "It was a very scary time. To think I could have lost both Jenny and Winston. They mean the world to me," Rochat said.
    Winston continues to fight for his life. So far he has had three platelet transfusions and two blood transfusions. He also needs to be intubated every so often to help him breathe, Borgstrom said.
    "He's working so hard to breathe. He doesn't have the weight on him that he needs, so he gets tired by just breathing," she said.
    Borgstrom spends nearly every day at the neonatal intensive care unit at the CentraCare Health St. Cloud Hospital.
    One thing both Rochat and Borgstrom enjoy tremendously are the times they get to hold him. Since whether or not they can hold Winston depends on how he is doing medically, they cannot help but think how their first time parenting experience is different from many other couples.
    "I don't get to bring him home. There are days where he can be held, but it all depends on how he is doing medically. Most parents don't have to ask if their child can be held, so that's tough," Borgstrom said.
    Even though Winston has gained some weight, it fluctuates day-to-day, such as one day he weighed 1.8 pounds, but lost a couple of ounces the next.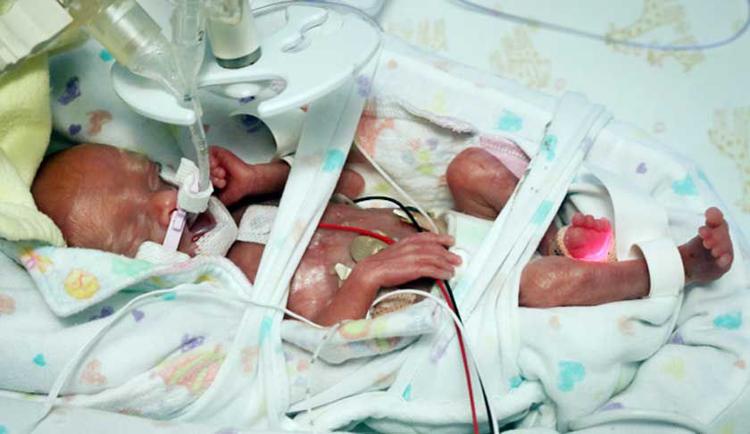 Even though there have been several setbacks, the new parents focus more on the strides he has made.
    "Slow and steady progress keeps me hopeful. Winston is gaining weight and growing a little. Every day he lives he has better odds of surviving," Rochat said.
    Rochat or Borgstrom holding Winston is part of the "Kangaroo Care" he gets. It is done by the parents holding him upright against their chest, allowing him to have skin-to-skin contact. Research of low-birth weight infants who have been given Kangaroo Care tend to show reduced mortality, severe illness, infection and length of hospital stay, Borgstrom said.
    The goal is for the couple to bring their son home by Feb. 4, 2018.
Borgstrom said she and Rochat are very thankful for the support they receive from family and friends. To help the couple with medical, travel and other expenses related to Winston, a couple of fundraisers have been set up at www.gofundme.com/4o98214 and www.caringbridge.org/visit/winstonrochat2.