Making do with that they have and with what they can, while continuously looking for ways to enrich students' experience, that is what John Tetrault and Amanda Jansen, music instructors at St. Francis Music Center in Little Falls, focus on.
    Jansen said since Tetrault, who teaches percussion, had the idea to start a percussion ensemble several years ago, they have slowly acquired different instruments. With a limited budget, simply purchasing new instruments that cost thousands of dollars was just not feasible, she said.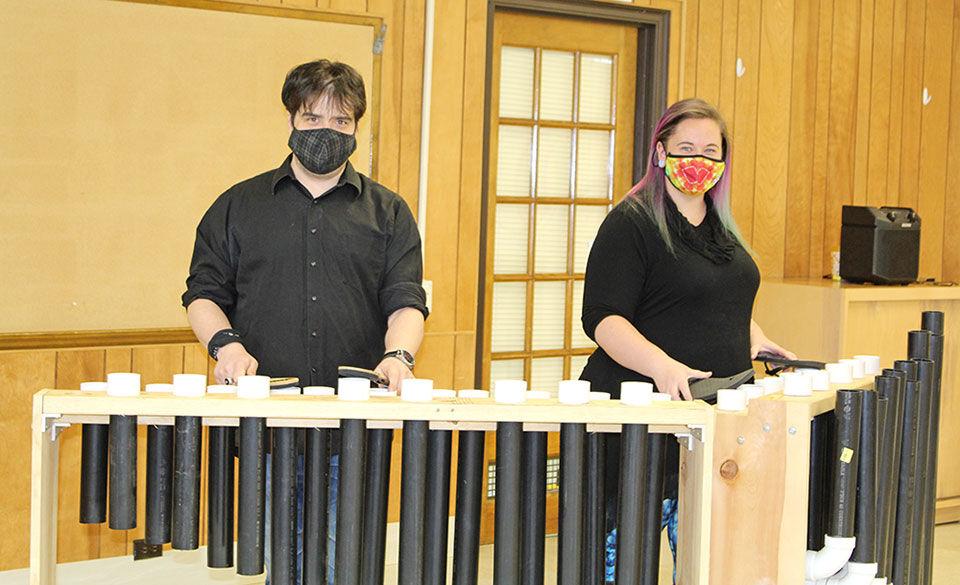 One instrument the two have long wanted to acquire was a marimba or something that had a similar sound. However, a concert marimba, such as those at times found in high schools, can cost about $10,000 or more, they said. Because of the high price, Tetrault and Jansen decided to build their own tubulum, using PVC pipe and couplings normally used for plumbing projects. Altogether, it cost them less than $200.
    "We were looking for something affordable as well as portable," Tetrault said.
    Normally marimbas and tubulums are all one length. Tetrault and Jansen designed theirs so that it can be positioned at 90 degrees to make it easier for the person playing the instrument.
    While the concept of building tubulums isn't new, Tetrault said, their design is to his knowledge.
    The project began during Labor weekend in 2019. They purchased 100 feet of PVC pipe, 31 couplings, wood and a special glue to build the instrument. Both were also very thankful to Jansen's dad, Robert Jansen, who is a plumber, for all of his help.
    Since neither knew exactly what they all needed, Jansen and Tetrault made many trips to their local hardware store. Once they started building, they also started at the low end of the notes. As each note pitch is determined by the length of the pipe — a longer pipe for a lower note and a shorter pipe for a higher note, starting on the low end allowed them to use the tube for a higher note if they accidentally shortened the pipe too much. That way, the material would not be wasted, he said.
    The tubulum was built so that even the frame can be easily taken apart and reassembled, if needed. They also added wheels on the bottom to make it even easier to move it around on a stage or in a room.
    Building the instrument was quite time-consuming, especially tuning each pipe to its correct frequency. What made it even more challenging was the fact that, initially, it was out of tune the next day.
    "We couldn't figure out why it did that. We still don't know," Jansen said.
    As a result, they had to tune it again by sawing the tube to the exactly needed length to produce a specific note. Each tube was different. While one tube may have needed more, another needed less, they said.
    Jansen said the main reason she and Tetrault wanted to build the tubulum was that the St. Francis Percussion Ensemble was getting ready for a show with "The Revolution 5," a Beatles tribute band, at the Paramount Center for the Arts in St. Cloud, Feb. 29, 2020. The tubulum was the first note the audience heard, Tetrault said.
    Since the COVID-19 pandemic reached Minnesota in March 2020, the tubulum has not been used a lot among students. However, they are looking forward to seeing more students trying it out once touching or using the same gear is not as concerning as current times., Jansen said.     
    What makes the tubulum Tetrault and Jansen built more universal in the sense that even students with no experience in percussion can play it, is in how they designed it. While marimbas, tubulums or other street instruments may be designed to have a cluster of notes, Tetrault and Jansen designed it to the layout of a piano.
    Tetrault and Jansen are looking to paint the tubulum frame at some point. Most likely it will be painted white and they are considering adding something else to it, possibly even opening it up for an art project of some sort, Tetrault said.
    To play the tubulum, paddles that are made of a rubber or foam material, similar to that used in flip flops, are needed. Since Tetrault and Jansen didn't have a pair at first, she purchased a pair of flip flops at the Dollar Store and used those for a while. Luckily, they said, they found a pair of paddles for sale at a music store they were visiting in Minneapolis.
    Continuously looking for affordable instruments to include in the Percussion Ensemble, the two music instructors found a Deagan vibraphone that was built sometime in the 1930s. It is a rare find, especially since it's functional.
    Jansen said they purchased it from an old man in International Falls. While he was not an antique dealer, he had a variety of cool antique items, she said.
    "Driving all day just to get that was so worth it," she said.
    Tetrault and Jansen share a love for music. While he enjoys teaching percussion, she teaches piano, violin, cello and all of the woodwind instruments.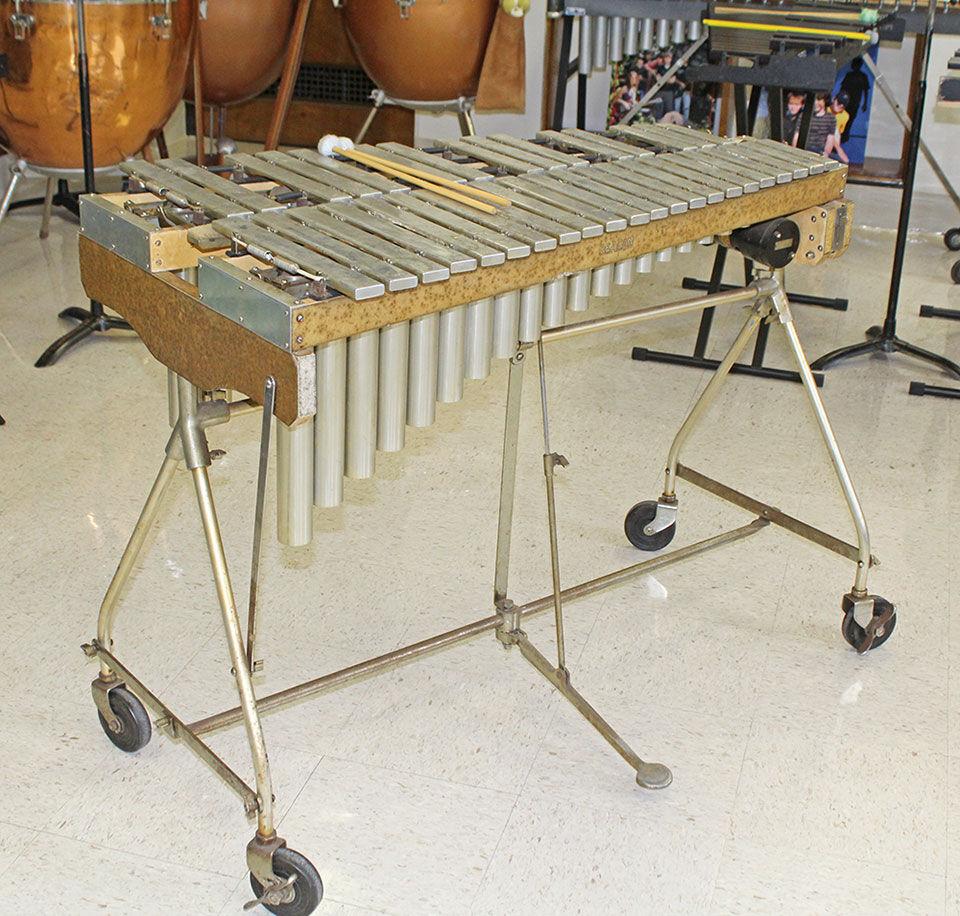 "For me, music has always been there. I grew up with it from a very young age," Tetrault said.
    He was about four years old when his dad, a musician, started teaching him how to play the piano. His mom played some music, as well, he said.
    Music was always a big part of Jansen's childhood as well. At first, it was listening to her parents play classic rock vinyls and then learning how to play an instrument in band as a sixth grade student.
    It is that same passion and love for music, they teach and seek to instill in their students.