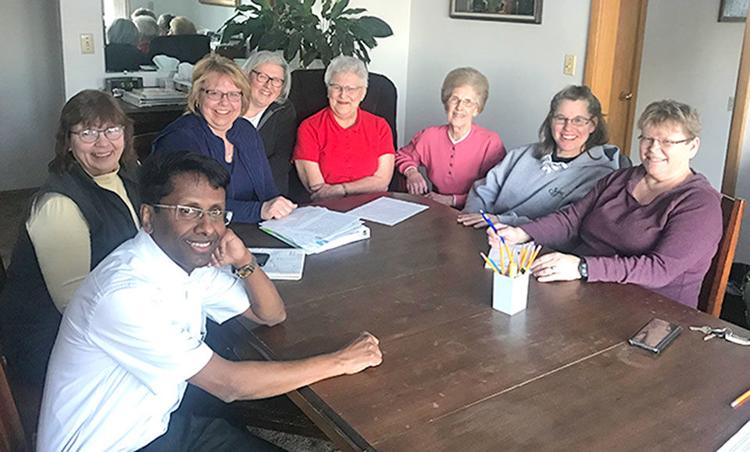 Those old shoes that have been sitting in the back of the closet for years. The blue sweater a family member gave one year for Christmas, but was never worn. A dress that rarely ever makes its way off of the hanger.     
    St. Stanislaus Church in Sobieski is inviting people to join them in a "Spring Thaw," a stewardship project that aims to de-clutter and give to someone in need. It's also an incentive for more people to get together to warm up after a cold winter.
    The event is held from March 1 (first Sunday of Lent) to April 18 (first Saturday after Easter).
    "Many give up various things for Lent in the hopes of making themselves a better or healthier person. The goal of this project is to make room in our lives for God by de-cluttering our surroundings. It's the clutter around us every day that's holding us back," said Co-Chair Sharon Hegna.
    Donations can be dropped off at the parish house of St. Stanislaus Church, at 9406 Church Circle, Little Falls, Wednesdays, from 6:30 p.m. to 8 p.m. and Sundays, from 9:30 a.m. to 11 a.m.
    Donations can also be brought to the Sobieski Co-op Creamery, at 9407 Cable Road, Little Falls, Monday - Friday, from 8 a.m. to 4:30 p.m.
    For more information, to volunteer or to make arrangements for dropping off donations outside of the days and times listed, call Hegna at (320) 632-3434 (evenings/weekends) or Co-Chair Pat Oldakowski, at (320) 360-6010. Both numbers also accept text messages.
    A variety of donations will be accepted. Those who are donating shoes or boots are asked to keep the footwear openly in a bag separated from the clothes. The shoes and boots are also inspected to ensure that they are clean and in a good condition with soles, no holes or mold and have both left and right shoes, Hegna said.
    Pairs of shoes and boots with strings should be tied together. While skates and cleats are not accepted, sandals, flip flops, cowboy boots, rain and mud boots, work boots, hiking boots, sneakers, high heels, hard foamed slippers and all other shoes in any size are.
    Clean and dry clothing items of all sizes and condition that are accepted include scarves, coats, jackets, snow pants, caps (with or without visors), backpacks, purses, belts, tote bags, curtains, bedding, towels, rags, blankets, decorative pillows, slippers, stuffed animals, pot holders, doilies, tablecloths, fabric-made decor and more.
    Items that are not accepted for donation are rugs, housewares, knick knacks, bed or sleeping pillows, jewelry, books, CDs, DVDs, dishes and glassware.
    "As long as the fabric is clean and dry, it's accepted. Any items that are well-worn, ripped and not usable will be shredded and used for fill in cushions and stuffing," Hegna said.
    As the stewardship program is also a fundraiser for the church, once the items have been gathered, the church will sell them to Funds2Orgs (shoes/boots) and Central Minnesota Clothing Resource (clothes) by the pound.
    The organizations, in turn, sort the collection and ship it to more than 60 developing nations, such as Haiti, Columbia and Tanzania.
    St. Stanislaus is also accepting clean denim fabric, such as denim shirts and jeans with or without holes. The material will be cut into blanket pieces and several volunteers will sew blanket tops that will be sold at the silent auction, Saturday, April 18, following the afternoon Mass.
    In addition, the church is accepting donations of large material/fabrics, eyeglasses, hearing aids, warm caps, gloves and blankets.
    Wanting to include all age groups, the youth, ages pre-school to teen, they are encouraged to de-clutter vehicles, under furniture cushions, their room and other areas, by collecting coins in red solo cups.
    On Sunday, after gifts and the collection have been brought forward, children can bring their offering in the red cup to the altar and pour the coins into a large glass bottle.
    "The collected coins will be donated to a charity for the benefit of children," Hegna said.
    The third part of the project is an opportunity for church members and other participants to use and possibly discover new talents.
    People are encouraged to use their talent to create and donate an item that can be sold at the silent auction.
    Some ideas are items made from pallets, plants, baked or canned goods, wine making, photography, carpenter, firewood, music, bird houses, garden/lawn articles, babysitting, metal or wood sculpture, campfire ring, embroidered towels, up-cycling old furniture and even time that can be spent in fellowship or helping and more.
    "There is no limit on ideas. Think spring, Mother's Day," said Hegna.
    Several of the ladies at St. Stanislaus Church said they are looking forward to de-cluttering their homes. Doing it together with several others also makes it more fun.
    Joyce Borash of Sobieski said the project is a good incentive to get started. She plans on de-cluttering clothes that are too small and have been taking up space for too long.
    "They have been there for 10 years," she said. "It's time."