Pierz football team comes back to win 3A Prep Bowl, 28-27
By Tyler Ohmann
Sports Editor
 Pierz players, fans and coaches had a collective, 'Here we go again' moment as the for the second straight week, Pierz entered the fourth quarter trailing.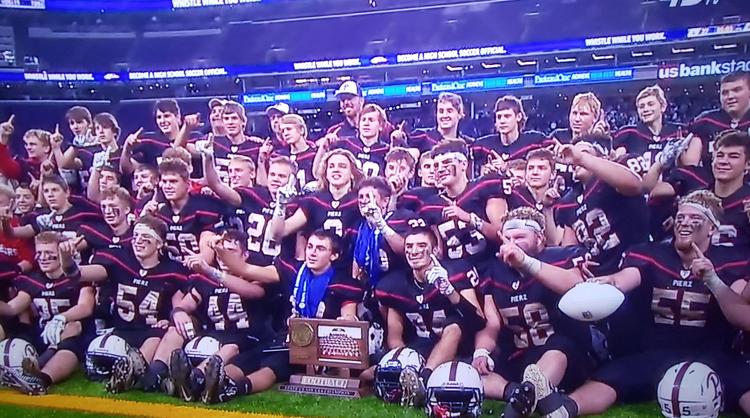 An unfamiliar feeling became almost too familiar, as Sanders Asplin put Dassel-Cokato ahead 27-22 right before the end of the third quarter. Pierz had to come from behind in the state semifinal, Nov. 16, scoring with 1:19 left in the game to win 20-14 over JCC.
"That week against Jackson County really helped, because up until then, we'd never really been put into that situation," said Pierz head coach Dan Saehr. "It was a do or die situation, and being in that spot in the semis almost put our kids in a deja vu situation Saturday, and I heard a bunch of them say 'We were just here two weeks ago, if we could do it then, we can do it now.'"
And do it they did, eventually.
After a couple of long possessions for each team, Pierz got the ball back with under four minutes to go, and made a drive for the ages.
"Being in that spot the previous game, really helped our confidence, knowing that it is possible to come back," said Pierz senior lineman Zach Traut. "We got the ball with 3-4 minutes left, and we all just kind of had a belief that we've been in this spot before and we can get the job done again. Matthias and everyone made some great plays on that last drive and we got the final score."
The final score was a three-yard touchdown run by Algarin with 38 seconds left in the game, his third score of the afternoon.
However, perhaps the play of the game was a 22-yard pass play from senior quarterback Peter Schommer to Algarin to set up the final score.
"We worked on it a lot in practice, knowing that coming down to it these last couple games, it is going to come down to making a couple big plays,"
Schommer said. "I just happened to get one-on-one on Matthias on the outside, and the line did a great job blocking like they have all season, and he ended up making a great catch."
"At the end of the game, obviously we had to switch things up, and Peter (Schommer) did a great job of getting the ball out to me, and I had to make the play," Algarin said. "When I made that catch on the three yard line, I can't even describe that emotion, it was just crazy, and then I scored on the next play. Rewatching those plays on the TV, I just get the chills."
Saehr had a suspicion that Algarin would need to make a big play or two down the stretch.
"I told him right before kickoff that big-time players make big-time plays in big-time games, and obviously we're going to go to him in crunch time," Saehr said.
Schommer was named Most Valuable Teammate, while Algarin was Player of the Game.
Algarin finished with 166 of Pierz' 323 yards rushing and the three scores. He also added two grabs for 45 yards.
Junior Michael Leidenfrost was also a workhorse for Pierz as he finished with 18 carries for 109 yards and a score.
Pierz allowed the Chargers to convert their first four fourth down tries, including two of them that went for touchdowns. It helped DC work out to a 21-14 halftime lead.
Leidenfrost's touchdown and two-point conversion in the third gave Pierz its first lead, before the heroics of Schommer, Algarin and the Pioneers kicked in.
"These kids just have a tremendous amount of heart and pride. It was two weeks in a row now that we've had our backs against the wall the majority of the game, and the kids just don't quit," Saehr said. "They're relentless, they're confident and they really believe in their coaches and their teammates and they find a way to win."
"I think it helped us a lot. I was a lot more confident this week, than last week, staying more calm," Algarin said. "I think the younger kids were more ready for staying in the game. We have really good senior leaders on this team, and being down was always tough, but we had to keep us motivated and keep our heads up."
While a one-point comeback win isn't the smoothest way to win the title, it might be one of the most memorable.
"Winning that championship, that is something that years and years and years later me and my teammates, we'll be able to look back and say, 'I did that,'" Algarin said.