Athletes enjoy sensational sophomore season
There was no doubt that when the track and field season came to a close that Ashley Kimman was Pierz' MVP.
The sophomore hurdler, jumper and runner, was three-time sub-section champion and was a state entrant in the high jump after a tie for second at sections with a personal best 5 feet, 4 inches.
At state, Kimman represented Pierz well, placing third after clearing 5 feet, 3 inches.
In total, Kimman tallied over 200 points for the Pioneers this season.
"I was a little surprised at what I had accomplished by the end of the season. In high jump especially," Kimman said. "I had been around the same heights all season, but by the last few meets I was able to move up a few more heights and finally reach those goals."
Her coach was less surprised, but impressed.
"I was not surprised at all with her times and jumps because I knew she came into practice the first day ready to go," said Pierz head coach Craig Johnshoy. "She was very strong in all of her events right from the start."
Despite some difficult situations at state that included heat, and the length of the event, Kimman was able to persevere and earn that third place finish. She said state left her a little awestruck, but ultimately it was good.
"The state meet was definitely different than any other. Being the only one on my team competing and not really knowing a lot of people I was definitely able to just focus on my event," Kimman said. "Being able to place third was such a blessing and I am so thankful to have made it that far. The state meet was very fun to be at just because no matter what race or event you were watching, everyone competing was so talented."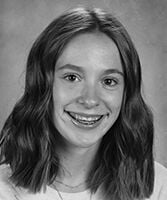 Johnshoy said that Kimman's composure at state was evident, and it led to that strong finish.
"Watching her at the state meet, she didn't seem like a sophomore, all nervous and excited but more like a senior. She did everything that was expected of her," Johnshoy said.
Aside from the high jump, Kimman also competed in the 100 and 300 hurdles and the long jump. She was a sub-section champion in both hurdles events and the high jump.
She was nearly a state qualifier in the 100 hurdles, as she placed third at the Section 5A Meet with a time of
16.39, which was .69 away from second place. Her season best time was 15.83.
Apart from her accolades in competition, Johnshoy said that Kimman was a leader for the Pioneers, despite being just a sophomore.
"She was an amazing role model for the younger athletes to look up to," Johnshoy said. "I could count on Ashley to help out at practice or to do whatever events I needed her to compete in at a meet."
She said that leadership comes from playing other sports as well. Kimman was a big contributor on both the volleyball and basketball court for the Pioneers varsity teams.
"Competing on varsity in my other sports helps me in track because I have experience competing against people that are better than me," Kimman said. "That makes me want to push myself more. It also makes me a leader and an example for the younger athletes."
Kimman also said that a lot of her inspiration came thanks to Johnshoy, who retired following the season.
"One of my favorite things is to watch Coach Johnshoy when one of us is high jumping because as we are mid-jump, he always ends up kicking up one of his feet and leaning like its going to help us get over the bar," Kimman said. "Another thing with Coach Johnshoy is that anytime we were making an attempt at 5 feet, he would say 'don't worry it's just 4'12.'"
Johnshoy has high hopes for Kimman, despite the fact he won't be her coach any longer.
"I know that Ashley will continue to do great things on and off the track," Johnshoy said. "It wouldn't surprise me one bit if she makes it down to the state meet in four events next year."
Kimman is thankful for all of Johnshoy's help, as well as coach Karla Jensen, who also retired following the season.
"I would like to thank Coach Johnshoy for always believing in me and pushing me to improve. He has been one of the best coaches I have ever had," Kimman said. "I would also like to thank Coach Jensen, she has also made a huge impact in my life and she never gives up on me. After every race she tells me that she is proud of me and she is always there to push me to run faster and to cheer me on. I will miss both of them very much."
Johnshoy would like to thank his assistants Rey Zimney, Jensen, Rich Teske, Luis Algarin, Dustin Betsinger and Scott Herold.
Johnshoy said that despite not being her coach, he will keep a close eye on Kimman, because she has the potential to do some special things.
"I can't wait to see what she will do in the next couple of years. I have a feeling that our school record held by Kayla Kapsner might be in jeopardy," Johnshoy said. "Her record is 5 feet, 5 inches, and I think Ashley will get that next season. That might not be the only school record that could fall before Ashley is finished."
While Kimman may be the unquestioned MVP in many people's eyes, her teammates are the MVP for her.
"The support from my teammates on the track team this year was huge. From practices to meets, I always had people cheering for me and pushing me to do better," Kimman said. "I even had a couple teammates come to the state meet to watch me compete and I know others on my team were just as supportive from home which means a lot to me. I love to cheer on my team during meets and just pushing them to do their best."
Royalton sophomore Connor Carlson is a testament that hard work most definitely pays off.
The sophomore had never previously run the 800 meters, and even didn't in the first meet of the year.
When he finally did, he said it was not the best. However, he steadily improved from meet to meet, which led to a runner-up time of 2:00.35 at the Section 5A Meet and a trip to the Class A State Meet.
"I was pretty surprised, because earlier in the year, the first time I ran in the 800, I wasn't too good at it, so I wasn't expecting too much," Carlson said. "But every race I started to get a little bit better, a little faster and it ended up at state."
His coach, Royalton head track and field coach Michael Marschel, wasn't really surprised.
"I was very impressed with Connor. He has a great work ethic and attitude. He's a very talented athlete. In a way I was surprised by his playoffs run. His early 800 time was around a 2:10. He even told me how "slow" it was at the beginning of the year," Marschel said. "His ability to drop time was very impressive. I wasn't surprised by that. He just kept gaining confidence and was very tough to beat."
Once at state, Carlson really turned it up a notch, placing in eighth among the state's best 800 runner.
Oh, and he also set a school record with a blistering time of 1:58.83.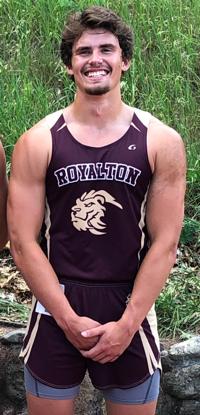 "It was a pretty cool experience to see all the best athletes in Minnesota, and all the competition," Carlson said of state. "In your local meets, you don't really get to see the best competition, so it was nice to be able to stay in the race against them."
In addition to the 800 meters, Carlson also runs the 400 meters and is part of a strong 4x400 relay team. Throughout the season he also took part in the long jump and discus.
Marschel said his dedication was infectious.
"Connor's presence on the team was huge. Our whole team loved to watch him finish the 4x4," Marschel said. "He never disappointed and made it exciting. He would remind me to do our Royals cheer if I ever forgot."
And that continued down at state, as a number of his teammates came down to watch him compete, even though he was the lone Royalton athlete at the meet.
"It was pretty cool at state, because a bunch of our team came, even though they didn't have to," Carlson said. "They cheered me on, and that was a cool experience to have them want to come and cheer on a teammate."
Aside from track and field, Carlson is also a running back on the football team and a wing on the basketball court. He said those sports definitely helped this spring.
"Other sports help a lot, because they keep you conditioned throughout the entire year, that way you're not just going into it without any conditioning and you're still in shape throughout the whole year," Carlson said. "Plus you're also used to all the crowds for football and basketball, so it is nothing new when you are running around the track."
As only a sophomore, Carlson gets two more cracks at improving, and his goals hope he can continue to do just that.
"The next two seasons I'm really looking forward to going back (to state), but maybe in the 4x400," Carlson said. "Maybe in the 400 and in the 800 again, but hopefully just getting better, getting faster and hopefully placing higher."
Carlson said he'd like to thank his coaches, Marschel, and assistant Jake Andres, who really helped him throughout the season but especially at state.
"I'm really excited for Connor's next two years. I believe he's only going to get stronger and faster," Marschel said. "The future is very bright for Connor Carlson."