More than 50 people gathered in secret, Monday, to surprise Sister Julien Dirkes to celebrate her 20 years of service for the Red Cross.
"There aren't words to express our gratitude for the important work she does. It's also impossible to say how many lives she touched over the years, but it has to be tens of thousands," said Carrilyn Wiste, Red Cross account manager.
Sister Dirkes, the sister services coordinator at the St. Francis Center of Little Falls, walked unknowingly into a room full of people, followed by the surprise of a cake, flowers and a framed recognition award.
The surprise kicked off the first day of the first blood drive of the year for Sister Dirkes.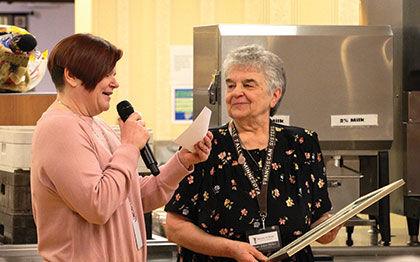 "I hope you're ready for a good blood drive 'cause it looks like it's going to be a good one again. I really have to say it's the people in the Morrison County area that respond to that call. I'm just coordinating it a little bit here. So thank you, it's a joy," Sister Dirkes said.
Sister Dirkes focuses on recruitment for the blood drives, which she holds five to six times a year. She's involved in coordination, sending reminder cards, and calling donors as well as spreading awareness via ads about upcoming drive dates.
"And, of course, the donors say they'll come if they can have homemade cookies, so we say, 'We'll provide the cookies. If you're going to come, we'll provide the cookies,'" she said.
Wiste said she did a bit of calculating and figured that Sister Dirkes' recruitment efforts have collected over 20,000 units of blood and impacted possibly 63,000 people, as just one unit of blood can save up to three lives.
Blood donations can be broken down by need, whether it's plasma, platelets or red blood cells.
"It's an astounding number and Sister Julien continues to serve her community, as has her family, for generations. If I could, Sister Julien, I'd throw you a party every day," she said.
Such a celebration fits well into the month of January, as it's National Blood Donor Month, a designation to promote blood donation in the winter, which can be a slow time of year.
"I could not do this job if people did not come into the door. When I first started this job I was always disappointed when we didn't meet our goal, however now I say I can't do anything anymore. When the blood drive starts at 1 o'clock today, I'm done. Except if somebody calls me," Sister Dirkes laughed. "I can't pull in anymore. I've done what I can do."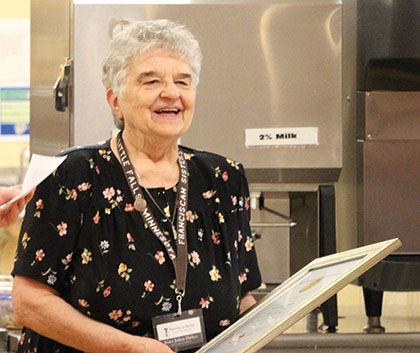 Sister Dirkes made a special point to credit all of the participants and volunteer coordinator, Mary Thomas, for signing up volunteers to make the drive possible. She also said that the radio announcements have really been good for letting people know when to sign up.
Wiste said that during Sister Dirkes' three-day drives, they usually collect close to 100 units per day.
She also said that Minnesota provides a great amount of blood to other parts of the country.
"I think the people here in central Minnesota are amazingly giving and generous and it's kinda crazy. I've only been at this for a few months and I've heard from multiple people in the organization that other parts of the nation depend on us," Wiste said. "We always try to get the blood to local people first but not everyone in the country is as giving as the folks here in Minnesota so they often require blood to be sent in emergency situations."
Sister Dirkes doesn't plan to end her work with the Red Cross anytime soon, and hopes to continue making a difference and saving lives.