Walk into a room of eight women. One of those women will be diagnosed with breast cancer at some point in her life. That's what the statistics reveal, said Dr. Ryan Wippler, breast and body radiologist at Centers for Diagnostic Imaging (CDI) in St. Cloud.
    While breast cancer is often treatable and sometimes curable, the reality is that one in 37 women will die from breast cancer, he said.
    Passionate about the subject, Wippler is hosting the second annual "Scrub Out Breast Cancer" fundraiser for the American Cancer Society at O'Brien's Pub, at 10 East Main Street, in Rice, Saturday, June 15, from 4 p.m. to 8 p.m.
    A silent auction, featuring a wide variety of items, such as gift certificates to local businesses, activities, custom art work, gift baskets, jewelry and more, will be held from 4 p.m. to 7:30 p.m.
    There will also be music and a bean bag tournament.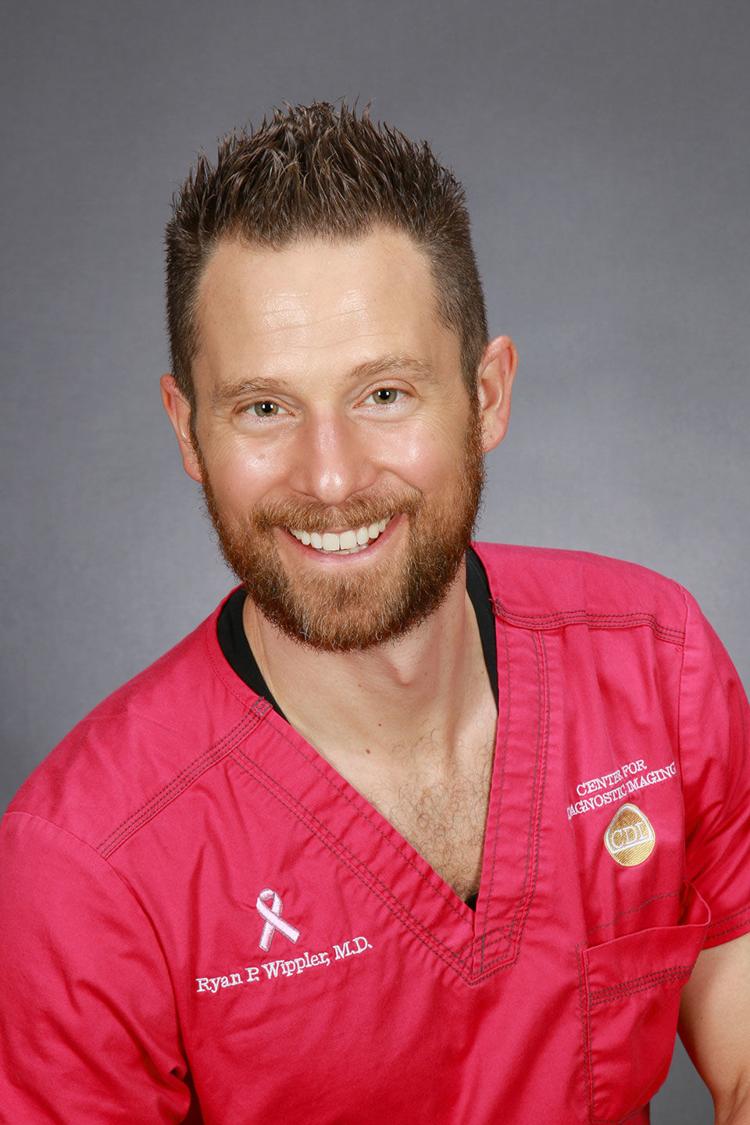 Wippler. who has worked at CDI for more than five years, said he kind of fell into the profession. After he joined the United States Air Force in May 2001, he received a scholarship to complete medical school. It was then he discovered he wanted to become a radiologist and specialize in some kind of field.
    "The Air Force indicated to me that they would need me right out of residency, so even though I wanted to specialize in something else, they brought me in as a general radiologist who ended up reading all things," he said.
    Wippler was stationed at Offutt Air Force Base in Omaha, Neb. where he filled in as chair of the department and led the women's imaging, in particular breast imaging.
    "I found at that point that it was something I really enjoyed," he said.
    Once his commitment with the Air Force was completed in June 2014, Wippler started looking for jobs that would allow him to continue in that field and found the position at CDI. He also remains in the active reserve for the Air Force.
    "It ended up being a breast and body position where half my time is spent taking care of breast patients," he said.
    Although breast cancer is a part of his profession, Wippler said the disease is also personal to him.
    Five years ago, his mom, Diane, was diagnosed with a triple negative tumor. The only reason it was discovered in its early stage was that it showed up on her annual mammogram, he said.
    "Her cancer wasn't palpable. There was no lump she or her doctor could feel, but it was there on the mammogram," he said.
    Wippler contributes the fact it was caught early to her survival.
    "It was a pretty scary reminder. Not just that one in eight women will be afflicted with breast cancer in their life and one in 37 will die from it. It also raised the importance of annual screening mammography, that early detection leads to treatable and more often, curable disease," he said.
    Wippler said research has projected that in 2019, there will about 42,000 breast cancer deaths in the United States. It has also been projected that there will be about 330,000 new cases of invasive breast cancer, he said.
    "We have very long-term data, like 30-40 years worth of research from all over the world and we find that in populations who screen for breast cancer, the survival rates are 40 percent higher," he said.
    Wippler said although the occurrence of breast cancer is generally low in men, it is estimated that about 2,700 men in the United States will be diagnosed this year and about 500 will die from it.
    "I think men in general are less likely to seek out treatment, which may be why there are so many deaths," he said.
    Wippler said some ways that may prevent breast cancer is keeping a steady diet that is rich in vegetables and whole grain. Limiting or eliminating animal products, such as eggs, fish, milk, beef and pork, may help too, he said.
    Staying active, exercising daily and maintaining a healthy body weight are other ways that may prevent breast cancer, he said.
    Wippler said he is looking forward to the fundraiser. He also encourages people to come dressed in pink as part of breast cancer awareness. He himself will be rocking his pink scrubs. After all, it is "Scrub Out to Breast Cancer."