Wanting to make learning more fun, Alicia Gapinski, second grade teacher at Lincoln Elementary School in Little Falls, introduced a new project to her students which involved designing doughnuts. It was a project idea she had seen posted on Facebook several months before.
    In addition to designing a meaningful doughnut, the students were asked to write a persuasive letter to the local bakery to try to convince the business to make their doughnut.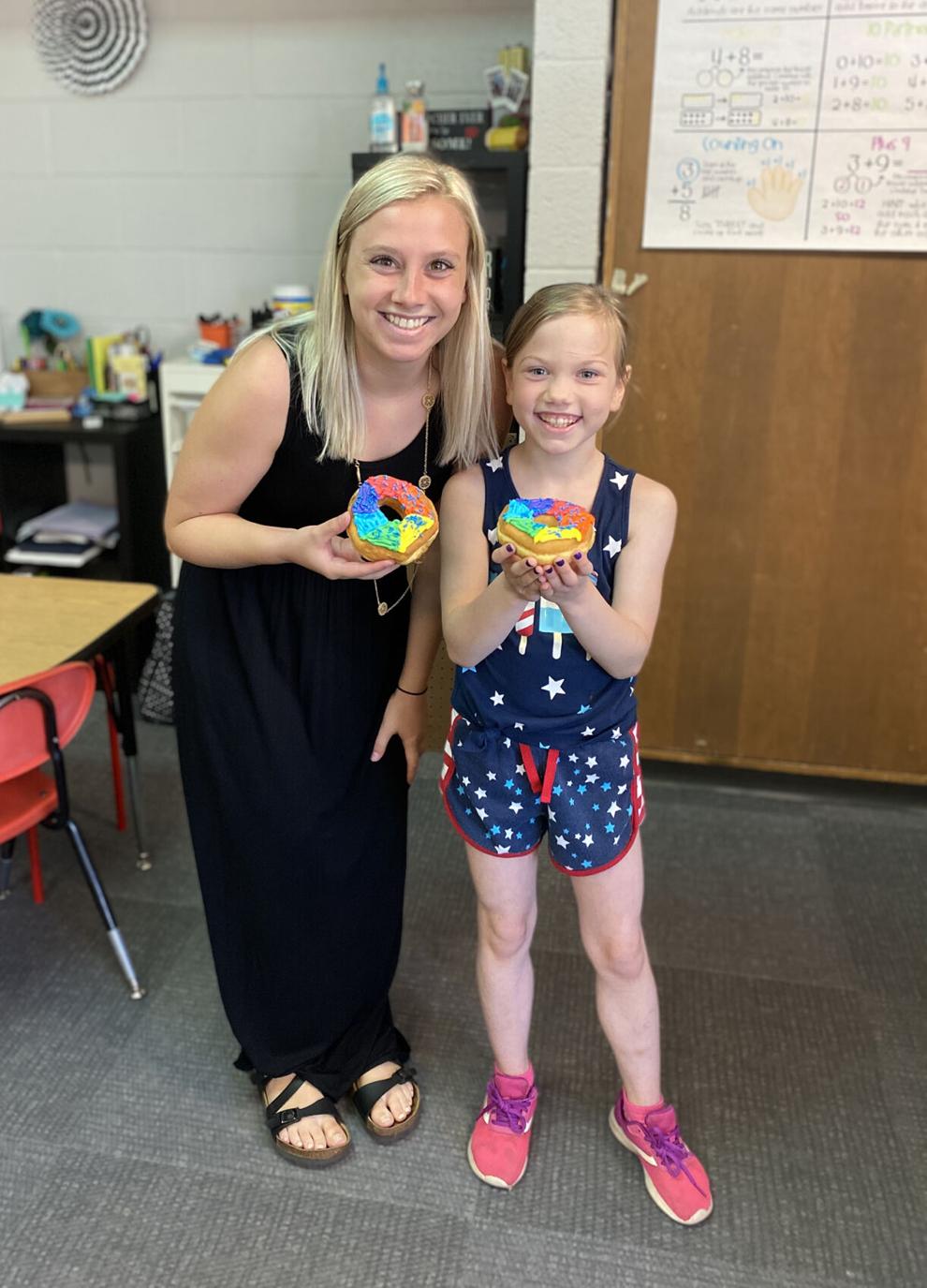 "I thought it was a great way to connect with a small business in the community and help support them," she said.
    The initial project idea Gapinski had been inspired by had the local bakery make one doughnut of each student's design that he or she then was able to eat in the classroom.
    However, when Gapinski spoke with Dawn Lattimer, chief operating officer and sales manager at Little Falls Bakery and Deli, Lattimer wanted to take it further.
    Since there wasn't enough time to make all of them before school was out for the summer, she suggested that any student who designed a doughnut in Gapinski's class would have the option to bring it in to the bakery to have it made. In addition, rather than to limit each doughnut design to be tasted only by the student, Lattimer opened it up for the community to have a chance to savor the flavors.
    Starting in June, the Little Falls Bakery and Deli has featured a doughnut design for a day about every week. While the "doughnut day" has often been on Tuesdays, Lattimer said what day a student's doughnut will be offered depends on when the student and his or her parents can come to the bakery. By meeting with the child, Lattimer said, she is able to get a better understanding of what kind of doughnut the student envisions it to be.
    The first doughnut to be featured was designed by Payton VanScoik. As her grandfather had died earlier in the year and the family was finally able to have his funeral service, she wanted two doughnuts to be made so she could have one with him. Made with several colors, VanScoik called it a rainbow doughnut. It also had sprinkles on it and altogether, it was delicious, she said.
    "I liked designing my own doughnut," she said.
    It also felt really good to see her design brought to life by the Little Falls Bakery and Deli, she said.
    Another student, Marshall Posch, said he had a lot of fun designing his own doughnut. It was a way to let his imagination flow.
    Posch designed his doughnut with an ocean theme in mind. After all, he loves fishing and really enjoys exploring new fish.
    Since VanScoik and Posch's doughnuts were made, several other students have been featured. Lattimer encourages people to check out the bakery's Facebook page, Little Falls Bakery and Deli, to see when a student's doughnut is featured and to try it out.
    "The response from the community has been wonderful and amazing. The community loves it and even the staff enjoys watching how I do it. This has been a great opportunity and I have enjoyed it immensely," Lattimer said.
    Gapinski said that while it was only her second grade class of 18 students who participated in the project, she believes other second grade classes may take on the project at some time. It has been a fun experience and something the students have learned from hands-on.
    When VanScoik's doughnut was featured, she returned to Lincoln Elementary School where Gapinski had summer classes and shared a doughnut with her.
    "We ate them together. It was really good," Gapinski said.
    Looking back to when she first announced to the class that the bakery would feature a doughnut for one day about every week, they were delighted.
    "They were like jumping out of their seats and screaming, they were so excited," she said.
    Gapinski said the project allowed the students to create something fun as well as practice their writing skills. Seeing their design become an actual product also showed them the value of a project when constructive writing is applied.
    "I think it was really cool to see their writing skills by the end of the year; how to write and form a sentence, how to spell words and how you can get something out of your writing. It was also fun seeing how the community reacted after the first doughnut was created," she said.