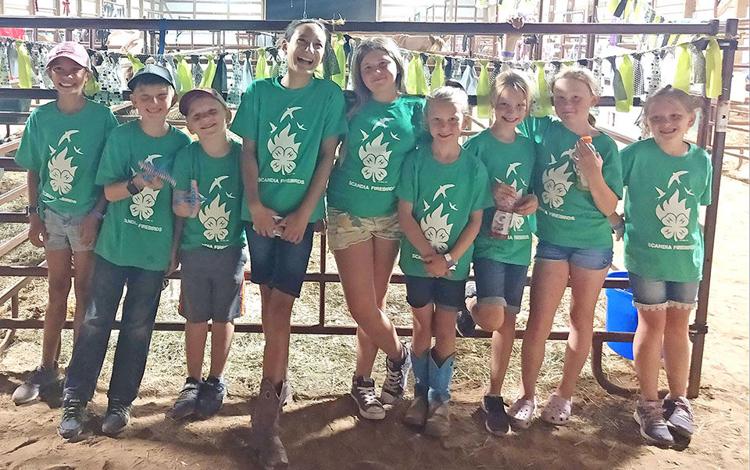 Since 4-H club, "Scandia Valley Firebirds," was founded in March, its members have been busy learning and competing.
    "I really enjoy being with my friends," said Lyric Kavanaugh, 10, of Pilla
    Kavanaugh, who is the daughter of Bryan and Tina Kavanaugh, said it was her mom who inspired her to join the club.
    "Mom said it would be a good idea," she said.
    This year, Kavanaugh, competed in several categories at the Morrison County Fair, Aug. 9-10 and returned home with several ribbons.
    Some of the categories she competed in were in fine arts where she displayed a water color recycled art, showed her rock collection in the geology class and a pillow case she had made in the clothing and textiles category.
    With a passion for horses, she also made a horse poster of different types of western saddles and entered into 14 horse classes with her Pony of America (POA), "Captain," and her Miniature Horse, "Tad."
    "With Captain I received Grand Champion Junior Pleasure and Reserve Champion Junior Games," she said.
    Her showing of Tad also brought  the title and ribbon of Grand Champion Miniature Horse.
    One of the many things she learned this year was how the judging process in 4-H shows is different from open classes.
    "It was fun spending the weekend at the fair," she said.
    Tina and Bryan have seen the positive impact being involved in the 4-H club has had on their daughter.    They are happy that there is a club in their immediate area as 4-H has provides a variety of opportunities and experiences, they said.
    "It has allowed her to participate in events and shows that otherwise would not have been available to her and also expanded her experience with judging — being able to explain how she put together her projects and why she chose to do them the way she did," they said.
    Besides being involved in 4-H, Kavanaugh enjoys riding horses, reading swimming, swinging and playing with her pets.
    Michael and Monica Cole of Pillager have three children, Isabel, Hannah and Isaac, who are involved in 4-H.
    Monica said growing up, she was involved in 4-H and valued the learning opportunities and fun she had with her friends and family. It was her own experience that influenced their decision to encourage their children to participate.
    Some of the things her children have learned through their involvement in 4-H are discipline, focus, education, communication, community and friends, she said.
    As she knows the sheer amount of work that goes into 4-H, Monica said she is very thankful to the University of Minnesota Extension for spearheading it in the state.
    "I just want to acknowledge the Extension office staff for their dedication and passion to support this awesome program," she said.
    One thing, siblings Natalee, 9, and Evan Kuklok, 7, of Cushing, learned this year was how to show animals.
    At the Morrison County Fair this year, they showed rabbits, chickens and arts and crafts projects. While Natalee plans on showing horses next year and is already preparing by participating in horse lessons, Evan hopes to show more varieties of poultry.
    "The crafts we did was about stuff we like," Natalee said.
    Her crafts were about horses and his about hunting.
    Despite their young ages, both Natalee and Evan have taken on a leadership role in the club.
    "They are very helpful to us and to the other families," said their mom, Keri.
    Keri is co-founder of the club with her mom, Patty Zahler.
    What inspired the two to start Scandia Valley Firebirds was wanting to have a club closer to home, so more local children could be involved.
    "We wanted a group that was flexible  and based on the interest of the kids," she said.
    The best part about being a leader in the club has been to see the interaction between the children. She also gets to see first-hand the positive impact it has had on her own children.
    "Both kids have become more outgoing. They have no problem talking to adults in our group and the judges at the fair," she said.
    Keri said it was her own involvement in 4-H, showing horses for a year in high school with a friend, that influenced her to involve their children in 4-H.
    "It is a great program to be involved in," she said.
    Before they founded the Scandia Valley Firebirds, Keri and several other members were members of the Darling Thunderbirds from the Randall area.
    "Our group was growing and we had a lot of locals that wanted to join, so we decided it was best to create a group in Scandia Valley," she said.
    At this time the club has 20 children who are involved with many active adults and parents. The children's ages range from 5 to 12 with more than half of its juvenile members being Cloverbuds
    "We have an amazing group of families, some with 4-H experience and some without. We are creating a support system within our club and are really looking forward to the new year," Keri said.