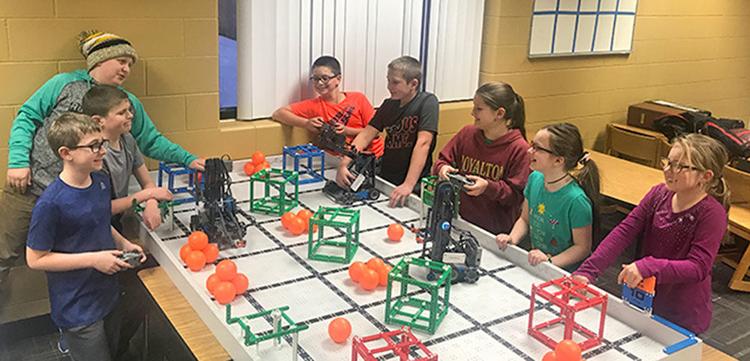 When the Royalton Robotics Team at the Royalton Elementary School was formed in late October 2019, its team members didn't have high expectations for placing high on the competition block. After all, it was their first year in robotics and they were just learning the ropes of the game.
    "We were not expecting to do as well as we have been. We were hoping to do well, but as a new team we had no expectations," said Robotics Coach Angela Roering.
    Robotics is also just as new to Roering. Although she had no experience with robotics, she saw how the children benefit from the activity on so many levels and decided to step up and volunteer as a coach. Two of her children, Samantha and Abigail, also participate in robotics.
    At this time, there are 17 students in the Royalton Robotics team, ranging from fourth grade to sixth grade. The students were divided into five teams to ensure that all had the opportunity to learn and participate.
    "They got to name their own teams," she said.
    The five teams are Out of the Box, Robros, Ice Cream Monsters, Brain Lifters and the Royal Pains.
    Despite this being their first year, the Royal Pains and the Brain Lifters have qualified to compete at the Minnesota State VEX IQ State Competition at the St. Cloud River's Edge Center Convention Center, Feb. 1.
    Besides having fun with their friends, robotics programs help students improve their science, technology, engineering and mathematical (STEM) skills.
    "Whether they know it or not, they are learning a lot," Roering said.
    The teams meet twice a week and work on improving their techniques as well as their robots. By trying to figure out how to solve different challenges and how to get the robot to perform a certain way gives the students an opportunity to develop and improve their problem-solving skills.
    Another skill the students improve is communication. Besides communicating with their fellow team members, they also have to able to communicate well to whatever alliance team they are paired with during competition — usually a team from another school.
    "To avoid going for the same cube or ball, they have to communicate where they are going and make sure they don't run into each other," Roering said.
    Sixth grade students Cody Bieniek and Alex Zimmerman with the Brain Lifters joined the robotics team since they like building and engineering.
    Bieniek said he was in fifth grade when he was first introduced to the concept of building robots. But it was that experience that influenced him to take it one step further and compete in it.
    As the two boys are a part of one of the teams that will compete at the state competition, they are looking forward to the event.
    Fourth grade students Sydney Seelen and Stella Popp and fifth grade student Jillian Telste joined the robotics team as a way to spend time with friends as well as make new ones.
    "We've learned a lot too," Seelen said.
    The three girls belong to the team, Ice Cream Monsters. They all like ice cream, they said.
    Besides learning how to communicate well, they have also had opportunities to show each other grace.
    At a competition during one of their practice runs, Telste accidentally drove their robot off the table, which broke once it struck the floor.
    "I felt so bad," she said.
    But rather than freak out about it, they just fixed it and went about their day.
    Popp said she had accidentally caused the robot to depart from the table at one time, too, but since it landed on top of Seelen's bag of snow pants, it didn't break, she said.
    "That was lucky," Popp said.
    Fifth grade student Henry Hofstad joined the robotics team because he likes to build with Legos. He also received a robotic kit for Christmas that he was really happy for.
    His teammate, fifth grade student Reed Revoir, said when he joined he initially thought the robots were already built and ready to drive.
    "Building it is fun and you learn a lot. Sometimes it can feel frustrating. It feels good when the robot is done though," he said.
    Isaac Czech, another fifth grade student, said he joined the team because of how much fun he knew they would have together.
    "You have the teamwork, just working together, the excitement of winning a match and having the challenges to overcome," he said.
    But just as the three boys, who make up the team, Robros, know the thrill of winning, they have felt the sting of utter disappointment, too.
    One disappointment was competing for an entire day, being number 18 in the top 18, only to bumped to 19th place after the last match of the day was finished, Revoir said.
    "It happens and you learn from it," Czech said.
    Roering said she is very proud of how far the students have come within just a few months.
    "I have really enjoyed seeing the excitement on their faces when they figure something out, watching them grow in the program and figuring things out on their own. I'm very proud of them," she said.