Royalton girl's bone marrow is gift of life for a stranger
    In May 2014, Kayla Bjorge, 26, of Royalton made a decision that ultimately saved a woman's life. She signed up to become a bone marrow donor.
    It was really by chance Bjorge became a bone marrow donor. When she was studying at University of North Dakota in Grand Forks, N.D., she attended the student union blood drive that was hosted by the Red Cross.
    As she was leaving the blood drive, she just happened to walk past a booth with representatives from "Be the Match," an organization that is operated by the National Marrow Donor program (NMDP).
    The NMDP manages "the largest and most diverse marrow registry in the world" and works with other organizations that specialize in bone marrow transplants.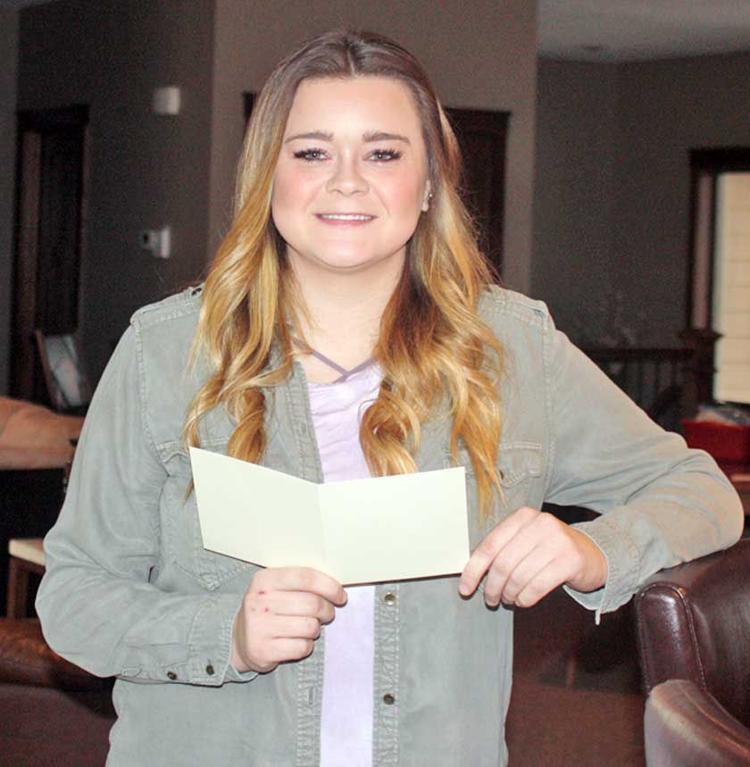 "They told me that being a bone marrow donor is super rare and that less than 1 percent of those on the registry ever have the opportunity to donate. When I signed up, I figured that my chances of donating were pretty slim," Bjorge said.
    But nearly a year later, in February 2015, she received an email from the organization, saying there was a potential match. She was asked if she wanted to proceed and Bjorge said yes.
    The first step in the process was becoming a potential match based on the donor's stem cells. Bjorge's DNA had already been obtained by a simple cheek swab when she signed up, she said.
    Before it was determined that Bjorge was a match, she went through further testing to make sure that she was a good candidate.
    "They do blood work, check an electrocardiogram (EKG) on your heart and a psychological evaluation to make sure that your body and mind can handle the process," Bjorge said.
    When Bjorge signed up to be a donor, she was asked whether or not she would want the recipient to know who she was. She wrote that she was open to it, but that it all depended on what the recipient wanted.
    It is not uncommon for donors to be anonymous. Most times it seems to be what the recipient and his or her family want, Bjorge said.
    "I think it's just to protect them. A lot of the donations don't work, so if the patient doesn't survive, I think they make it as non-personal as they can, so there's no pressure or guilt on the donor or his or her family," she said.
    The only thing Bjorge knew about her recipient was that the patient had been diagnosed with acute myeloid leukemia. Where the recipient was from, gender and any other information was kept secret.
    Bjorge not only had the chance to donate once to her recipient, but twice.
    The first time, in March 2015, she donated peripheral stem cells.
    "The peripheral stem cell transplant is used to replace the blood forming cells of the recipient's body that are usually destroyed by cancer treatments, such as chemo and radiation," Bjorge said.
    A year later, Bjorge was informed that the recipient needed another transplant. This time, her T-cells.
    "The T-cell transplant is a boost basically only needed in people that have received a marrow or stem cell transplant. It replenishes the antigen (a molecule that is able to induce an immune response) needed to fight off the disease," Bjorge said.
    Before she donated, Bjorge was given the bone marrow stimulant drug, Filgrastim. For the first donation, the drug was administered to her daily for seven days by a nurse that came to her home.
    "It made me really sick. It kind of reminded me of having the flu. My muscles ached really bad, I was nauseous, vomited and couldn't really eat for a week. Basically, the drug's job is to go into your bones and turn them inside out so they can get what they need to get easier," she said.
    At one point, she became so ill she wondered why she was even doing it. But she persevered and kept reminding herself that she was doing it for someone's father, mother, brother, sister or child.
    "It became very personal to me. I kept thinking, what if it was my dad or brother that needed it and there was a stranger somewhere who could help them?" she said.
    That thought alone was enough for her to endure the pain. Once she had donated, she immediately felt better, only tired.
    For the second donation, Bjorge was only given one shot of Filgrastim on the day of the donation.
    "I was sick for about 48 hours after and that was it," she said.
    It wasn't until recently Bjorge learned that the recipient was a woman in her 50s who lives in the Netherlands.
    The organization that handled the transplant, DKMS (Deutsche Knochenmarkspenderdatei), a German marrow donor program with offices across the world, contacted her and asked for her permission to send her the letter the recipient had sent. She said "yes" and "checked the mail pretty aggressively after that," she said.
     Bjorge was thrilled once the letter arrived. Even though she still doesn't know the identity of the recipient, she is very excited to have heard that the recipient is alive.
    "I was very emotional and cried a lot when I read the letter. I think it was because even though I knew what I had gone through, I got to hear her side and it made everything so much more real," Bjorge said.
    The recipient's letter was dated in August, is addressed: "To my super hero" and is filled with gratitude toward Bjorge and her willingness to sacrifice herself in that manner for a complete stranger.
    Just as Bjorge is curious about the recipient, the Dutch woman is just as curious about Bjorge, where she lives and if she has any family.
    In one part of the letter, the recipient said that sometimes she and her family make "joyful jokes" about her donor (Bjorge) in terms of behaviors the recipient sometimes exhibits.
    "We say: 'Oh, did you get that from the donor?'" the letter said.
    "I'm assuming that since the transplant that she may have a changed a little. It makes me wonder what part of me she may have then, like is she a smart aleck like me?" Bjorge said.
    In time, it is likely that Bjorge and the recipient will find out each other's identities. Until then, it is simply a matter of following the organization's guidelines.
    "I understand why the organization keeps it private, but I do hope that one day I will know her name and will know more about her. Maybe even someday meet her. That would be pretty cool," Bjorge said.
    The letter also described part of the recipient's medical journey. She apologized to Bjorge that it had taken her a long time to write and explained she had been in the hospital a long time.
    The recipient's transplant journey began in 2013, when she was diagnosed with multiple myeloma.
    "My world collapsed and that of my family. Our lives would never be the same," the recipient's letter said.
    As the disease progressed and treatments weren't successful, it became evident the recipient would need a transplant from an anonymous donor.
    "We went to an unknown donor because my family was unfortunately not a match for me," the letter said.
    After the first transplant, the recipient was hospitalized for a long time and also became ill with a virus.
    "I had been in intensive care for five weeks. I had been sleeping for a long time and everyone thought the worst. It was a miracle to be taken out of that sleep," the letter said.
    The recipient also ended up having to have dialysis for a long period, sometimes three to four times per week. Eventually she had kidney failure and needed Bjorge's T-cells in order to boost her immune system.
    "You were prepared to donate the cells. I received four cells in different quantities. The last time would be my last possibility. Fortunately, after a while, there was a response," the letter said.
    The recipient told Bjorge in her letter, too, that she has chronic reaction disease, which is common among recipients. However, she takes medication to control it and so far, it has yielded positive results.
    The recipient ended the letter with: "I'm surprised that you have given so much and have made such trouble for someone unknown. At the moment, I feel very happy and encouraged. In two days, I am going with my family on a week-long vacation. Thanks to you, I am able to do this."
    Looking back at her own journey and the impact her decision to become a donor had, Bjorge said she would donate again in a heartbeat.
Those interested in becoming a donor, may visit www.bethematch.com.