One thing Ron Lyschik, owner of Zoomski's Midtown Cafe in Little Falls, can count on is that his family will make his birthday memorable one way or another.
    For his 70th birthday in 2019, his daughter, Julia Lyschik and his wife, Carolyn "Kess" Lyschik, collaborated and arranged a surprise birthday party for him with the help of a friend at Great River Arts. He was also hired to cater the event, not knowing he was essentially catering his own birthday party.
    "A friend of the family had him cater a party for 100. As it turned out, he usually doesn't cater for that many, so it was a little challenging for him, too. We knew that it would be hard to convince him to go to that location other than to bring the food himself," Julia said.
    When he walked through the door, the guests shouted surprise. It shocked him, Julia said.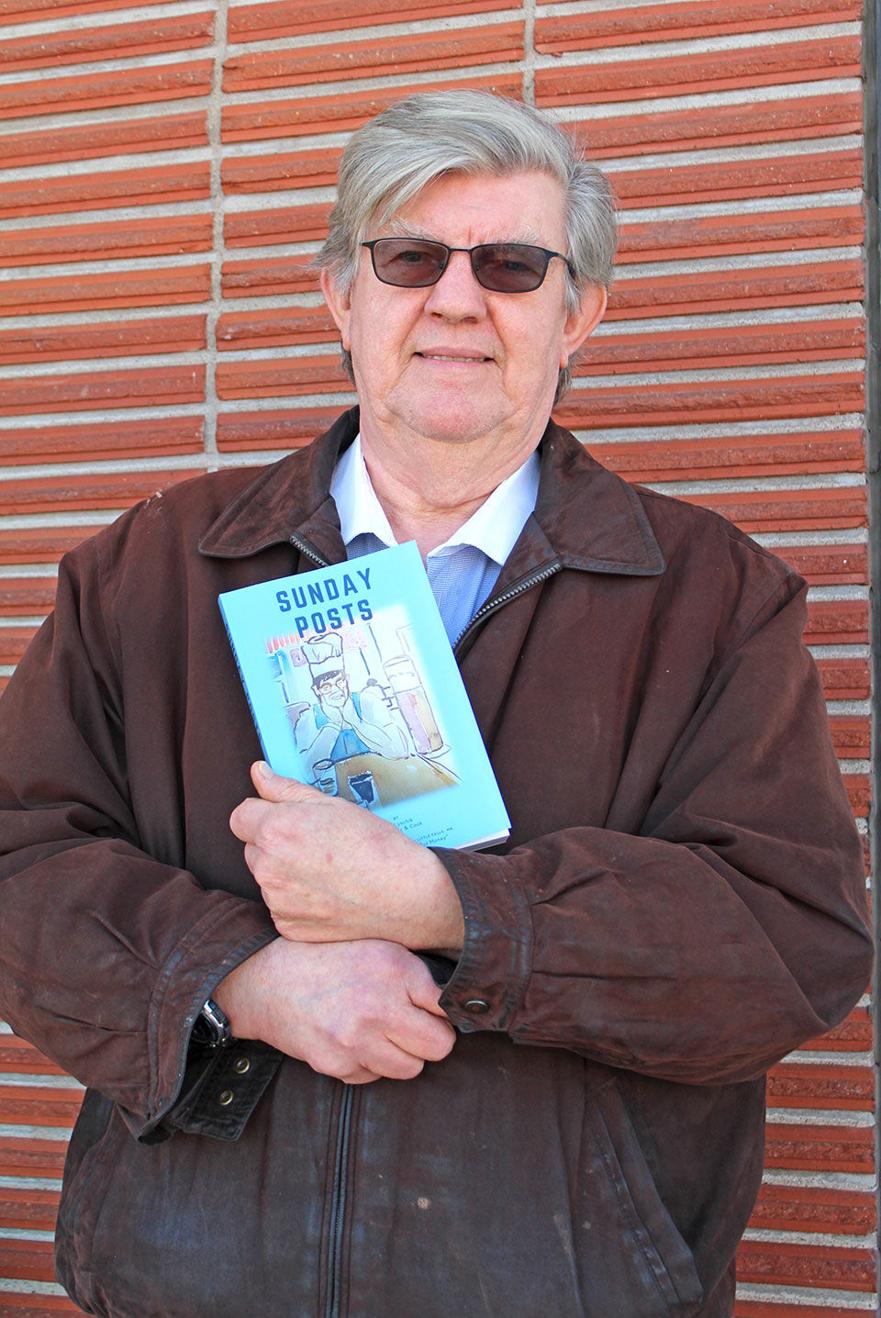 Once again, Julia pondered on what to give her father for his birthday in November 2020. Inspired by his "Sunday Posts," words written by Ron about anything and everything and then emailed and posted for family and friends to read for the last three years, she decided to turn them all into a collection.
    "She did a very good job with the look of it. It's a good-looking paperback book," Ron said.
    The book, "Sunday Posts," includes more than 300 pages of Ron's written posts. While some posts are more serious, other posts are funny and may contain some of his own observations or stories he has heard.
    "He enjoys writing and has written in various forms throughout the years. This was a fun form that seemed to appeal to people," Julia said.
    In the foreward of the book, she wrote, "The weekly posts are replete with equal parts wit and intellect, a dash of contemplative life reflection and a heaping spoonful of rare middle ground perspective. Much like Ron's recipes, in the posts he blends thoughtfulness and humor in complimentary portions, sliced into perfect bite sizes for the mind and heart."
    Realizing that his fans, family members and friends would appreciate his posts in a collected format, Julia started collecting the material he had written. Because of the short time-frame until Christmas and to keep the authenticity of his posts, she published them as he originally posted them. She knew that also meant they may contain typos and other errors, she said.
    In the Aug. 11, 2019 Sunday Post, Ron wrote about his observations in Morrison County related to tomatoes, especially raw ones.
    "The number of people who don't like tomatoes, especially in Morrison County, astounds me. They like pizza; they like spaghetti with tomato sauce; they like tomato basil soup; they'll even use ketchup, but bare, naked tomatoes? Not on your life," the post said.
    Another post from March 3, 2019 tells about his discovery one morning at the cafe that he was the victim of theft.
    "Yet, amidst the Birds Eye frozen Garden of Eden, there is menace. There is evil. Someone stole my snow shovel. Yes. It was planted in a snowbank outside the back door of the restaurant and — lo and behold — I came to work one early morning and it was gone. Ripped off. Taken... I never thought in a million years that someone would steal my snow shovel. I mean who doesn't own a snow shovel in Minnesota?" read the post.
    One thing Ron really likes about the book is reminiscing back on what he wrote. Before he received the book from Julia, he hadn't read much of what he had written. Instead, he focused on what the next post would be about and the old post was as the saying goes, "out of sight, out of mind."
    Ron said what initially led him to post his writings every Sunday began with good ol' fashioned letter writing by hand. His older sister had a couple of strokes and he decided to write her letters. Before he knew it, his letter writing expanded to include his grandson, his mother-in-law and more and as time went by, more were included.
    Although Ron may be more known for owning Zoomski's and being the former owner of the Black and White Restaurant in Little Falls, writing was not all too unfamiliar to him. Before he went into the restaurant business, he worked as an advertiser and technical writer.
    Julia, who lives in New York City, N.Y., estimates that it took her about 20-25 hours to put the book together, from compiling the posts to working with the printing company. She is very thankful for her colleague, Kent Gustavson, whose company works with people to achieve their dreams. He was also able to point her to "48 Hour Books," a printing company known for its speed in printing books.
    "Sunday Posts" can be purchased at Zoomski's.