When 2018 Minnesota Rodeo Association (MRA) Rodeo Queen Tana Dirks of Rice purchased a 4-year-old miniature bucking donkey last year, she never anticipated he'd become famous on various social media outlets, such as Facebook, Instagram and Tik Tok.
    "He is always the center of attention. This is the coolest donkey ever," she said.
    Dirks said after she had bought "Donkey the Donkey," one of her co-workers suggested she set up an Instagram page for her new pet. He also has his own Facebook blog set up, she said.
    While Donkey gained popularity on Instagram and Facebook, it wasn't until Dirks posted a video of him to the musical app, Tik Tok, that his fame took off.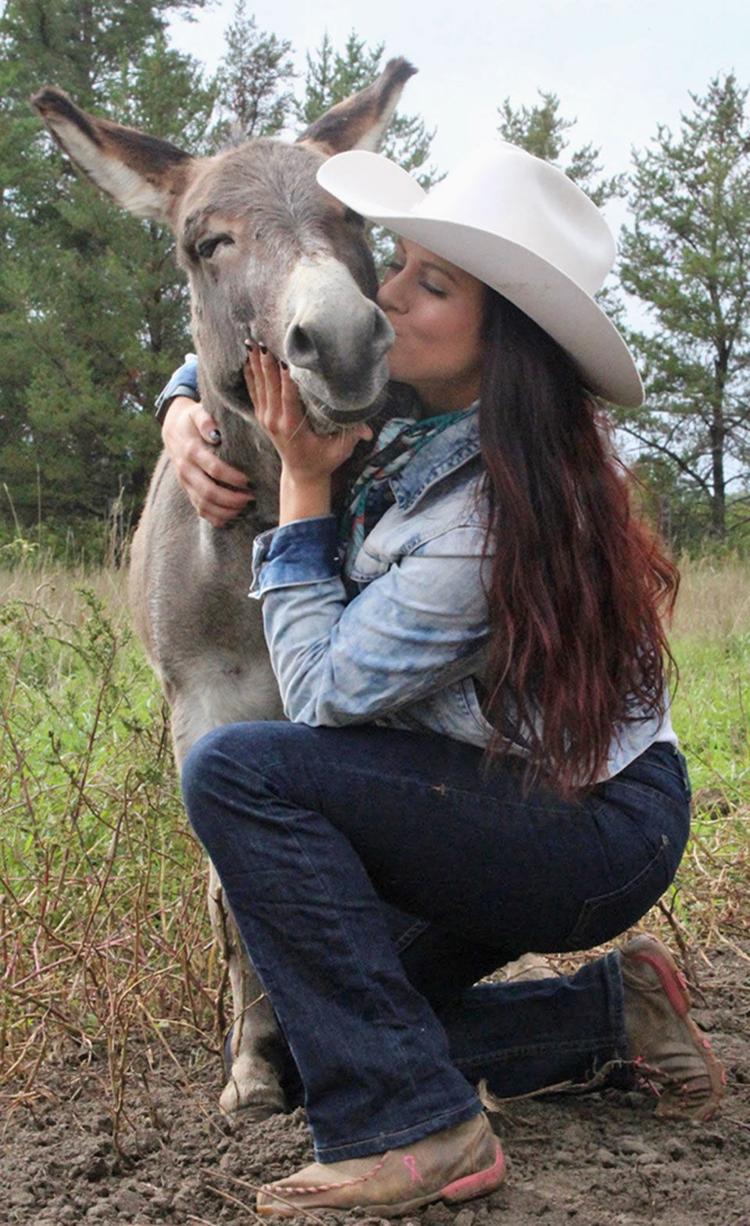 "I posted the video on a Thursday and Friday morning, it had more than 60,000 likes on it," she said.
    Dirks said she figured that would be about as many likes as her video would get, but over the weekend, the number rose to more than 100,000. Today, her video of her pet donkey has received nearly 159,000 likes, more than 746,200 views and since the video was posted under her account, she also gained more than 4,000 followers.
    "It's crazy," she said.
    The video Dirks posted was of Donkey braying at her when she visited him after he had been castrated. Since the veterinarian didn't want him to tear his stitches and to decrease the chance of getting an infection, he was stalled in a small bedded, temporary pen for less than two days.
    Since the weather was cold, windy and rainy, it also kept him warm and dry.
    Dirks said she mostly received positive feedback on her video. Many commented on how cute and happy he was to see his owner. But despite that she had written in the post that it was post surgery, a few said they couldn't believe he lived in that small of a pen and accused Dirks of animal abuse.
    Dirks said she kind of took it with a grain of salt. While several commenters defended her, she replied to several that it was post surgery and most of them understood.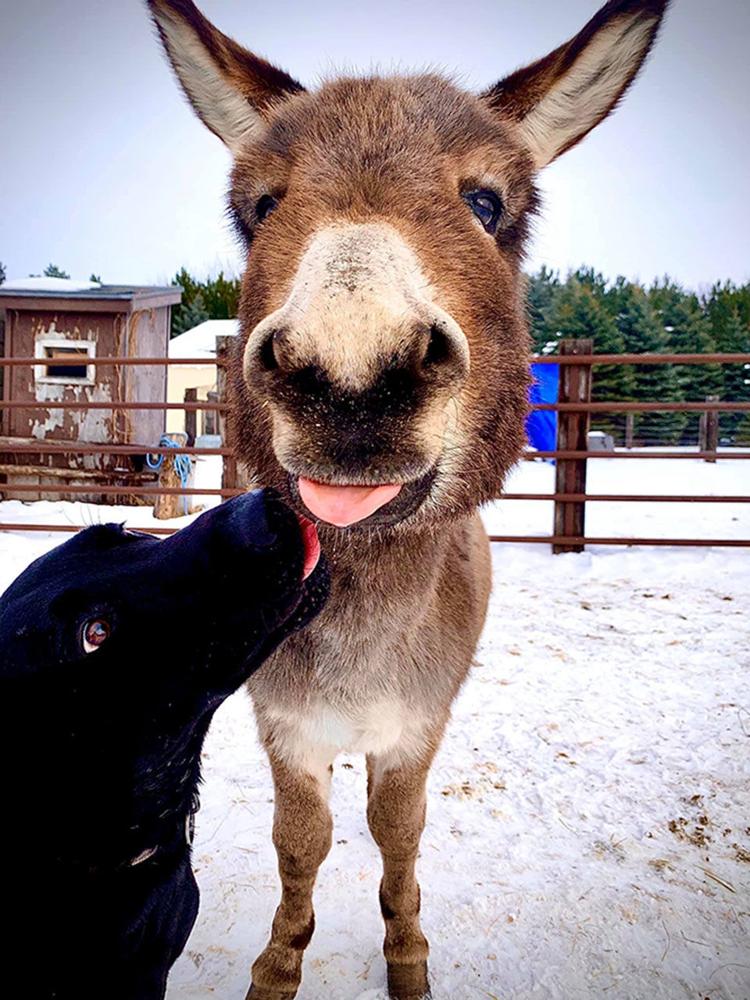 "Other people still don't get it. After anybody has surgery, they are pretty limited to what they can do," she said.
    Dirks said initially she had considered finding anther miniature donkey to breed with Donkey. But when Donkey started acting like a bully and became aggressive toward her horses when they were in heat, she knew she had to do something.
    "I didn't want him to become even more aggressive, so I just decided to get it done. We haven't had any issues since then. He was nice before, but now he is extra nice other than having an attitude because he is a donkey," she said.
    Dirks purchased Donkey last year from the Joe Varner, owner of the Man vs. Beast Rodeo in Little Falls. It was during that rodeo that she first met Donkey and it was love at first sight.
    Dirks said she was standing by a smaller pen Donkey was in. He had been separated from the bigger mules and was used in the rodeo as a bucking donkey for small children.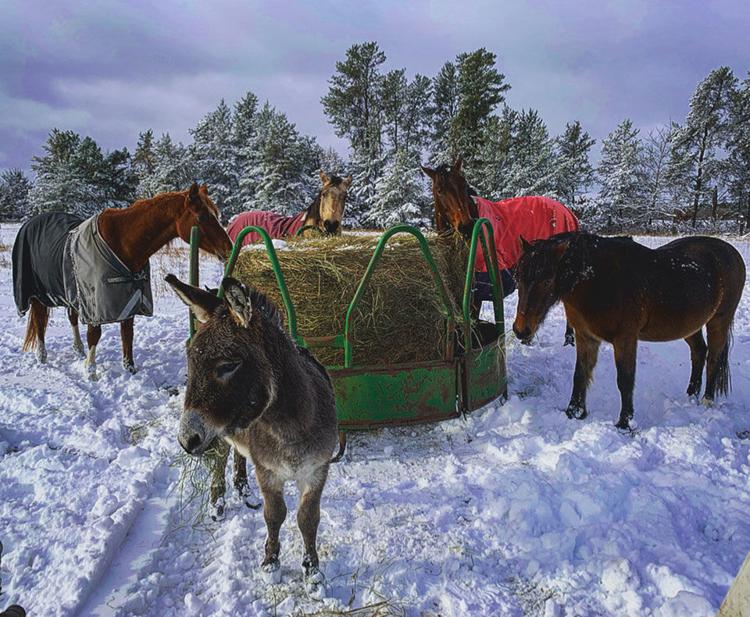 "He came to the fence and I petted him. I thought he was so nice. Every donkey I have interacted with before has been so mean. I thought it would be cool to have a donkey," she said.
    After she purchased him, a family she knew hauled him to their place overnight, since she didn't have her trailer with her at the time.
    "I picked him up the next day with my trailer, so I could get him home before my dad came home. I figured it was better to ask him for forgiveness rather than permission," she said.
    Dirks keeps her three horses at the home of her parents, Dale and Linda Dirks, who live in Rice.
    "I kind of buttered up to my dad a little bit before I told him. I did stuff around the house and I wrote him this nice note and at the end of the note wrote, 'And I am sorry,'" she said.
    Dirks said her dad's reply had been, "What did you do now?" She then told him about Donkey and he asked her why she would even buy a donkey.
    "Before he could really open his mouth, I said, 'He is really cute and you're going to love him' and now they're best friends," she said.
     It wasn't just her dad that had to get used to the donkey. Dirks said when she first brought Donkey home, the dogs barked at him while the hairs on their backs stood straight up. The horses, including her mom's horse and a boarder's horse, were terrified of the small, odd-sounding creature.
    "He was so happy to see the horses, but the horses freaked out because he was hee-hawing. For the longest time, their noses were flared," she said.
    While it took about a week for some of the horses to get used to his presence and sounds, some of the horses didn't acclimate to him for two months.
    "He would run into the pasture and the horses would run away," she said.
    Now, Donkey rules the herd and the horses follow him. He also
gets considerably upset when Dirks takes one of the horses for a ride, she said.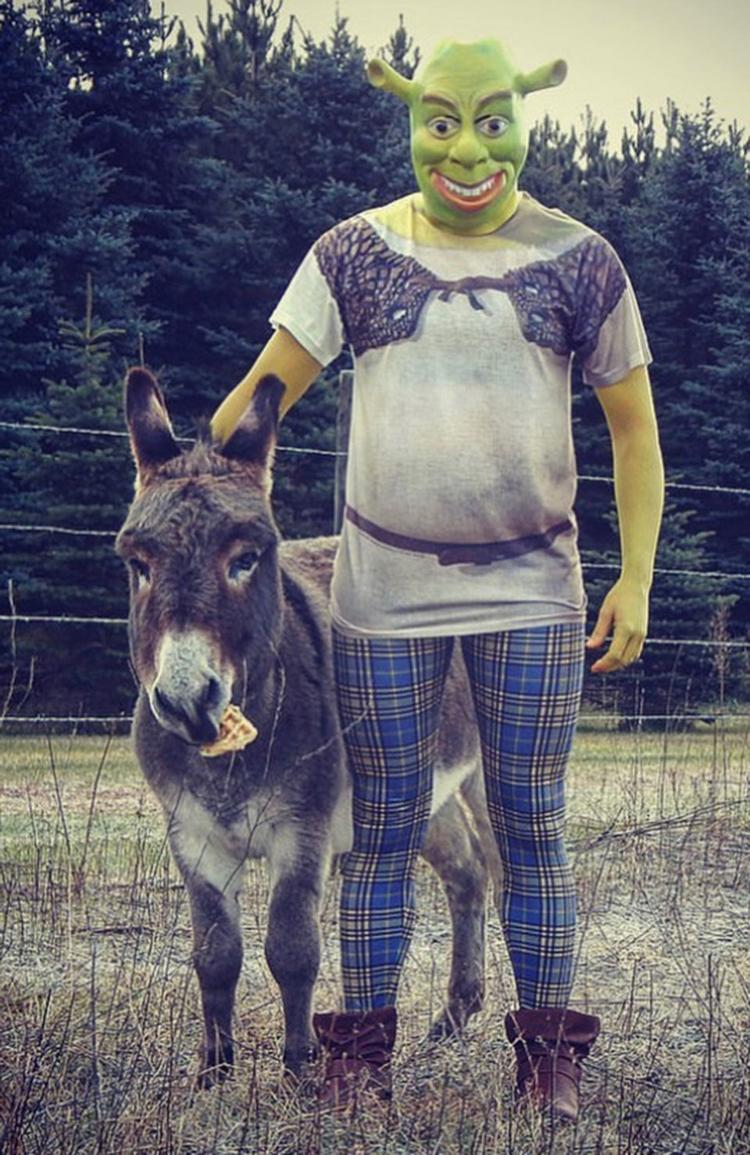 Donkey and Dirks have shared many special moments as he is very sweet-natured, but also has his own diva-like attitude.
    "He has so much personality. I don't know what I did the other day to make him mad, I think I may have climbed over the fence and may have bumped him a little bit, but he wouldn't look at me at all," she said.
    He also tends to stick out his tongue for quite some time after drinking water and portrays a large variety of funny and cute expressions, Dirks said.
    In November 2019, Triple Crown Feed hosted the 2019 Triple Crown Halloween Costume Contest. Dirks submitted a photo of her dressed as Shrek with Donkey eating a waffle. The photo won the contest with 183 likes.
    As a prize they received a blanket, some apparel and about $100 worth of horse feed.
    "I was so excited," she said.
    Dirks plans to keep working with Donkey. The next step is to tack him up in a saddle. Not to ride, but for looks.
    One neat fact she learned about donkeys after she bought him was that donkeys, on average, live for 40-50 years.
    "So now I'll have him for the rest of my life," she said.
    Those who want to follow Donkey's adventures can search for "Donkey the Donkey" on Facebook, "donkeythedonkey19" on Instagram and "tana_rose_" on Tik Tok.