This year commemorates nine years since the coordinated terror attack against two United States government facilities in Benghazi, Libya by Islamic militants.
    The attack of the U.S. diplomatic compound in Benghazi began the evening of Sept. 11, 2012, which resulted in the deaths of U.S. Ambassador Christopher Stevens and Diplomat Sean Smith.
    Then, in the early morning of Sept. 12, 2012, the militants launched a mortar attack against a CIA annex about a mile from the U.S. diplomatic compound. Several people were wounded. Retired Navy SEALS Tyrone Snowden Woods and Glen Doherty, died while protecting others.
    "They are American heroes and they are a part of the American story," said Woods' mom, Cheryl Croft Bennett.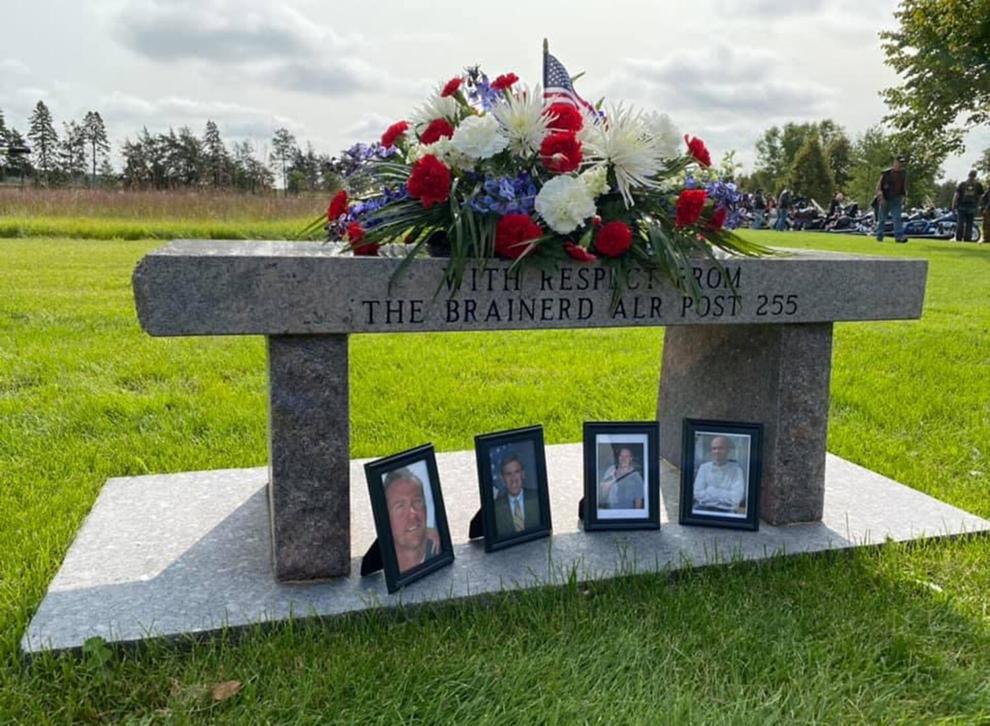 In 2018, the Brainerd American Legion Riders Post 255 raised funds and installed a memorial bench to honor the four fallen American heroes. Although there has been a lot of political controversy around the Benghazi attacks over the years, the Heroes of Benghazi Memorial is about recognizing and remembering the four heroes, who so bravely gave their lives for their country on Sept. 11 and Sept. 12 of 2012, said Jim Parent with the Brainerd American Legion Riders Post 255.
    "The memorial reminds people when they see it of the sacrifices made by these brave countrymen to protect others and to keep our country free. It also helps their families to know that their sacrifice is recognized and the American people have not forgotten," he said.
    Parent said the memorial bench location at the Minnesota State Veterans Cemetery in Little Falls was chosen for the memorial as a place where it is beautifully maintained and where it is available to the public 24 hours per day. He also believes it is the only memorial erected on public land in the United States.
    "American lives were saved because of these heroes," he said.
    The ninth annual Benghazi Memorialization and Ride will be held, Saturday, Sept. 11, at 1:30 p.m. at the memorial bench at the Minnesota State Veterans Cemetery in Little Falls.
    The event will include a presentation of colors, a speaker, an invocation and the playing of Taps, followed by the motorcycle ride to Legionville with a stop for refreshments.
    "Riders and groups are encouraged to form rides from their starting points and join us either at the Brainerd American Legion or at the Minnesota State Veterans Cemetery in Little Falls for the memorialization and then the ride up to Legionville," Parent said.
    Parent said the first leg of the ride will start at the Brainerd American Legion Post 255 at 12:20 p.m. As the ride is also a fundraiser to support future operations, riders are asked to donate $10.
    Attending the memorilization ceremony is free. Parent encourages people in the community, whether they intend to participate in the ride or not, to come to the memorilization event to show their support and to join them in recognizing and honoring the four heroes.
    It is also something that means a tremendous amount to Bennett. Life has not been the same without her son.
    "I miss him so much," she said.
    He was 41 when he died, she said. Although he had accomplished much in life, he was very humble about the work he did, she said.
    She recalls one time she introduced him as a Navy SEAL to someone they met. He later spoke to her in private and asked her not to do so again.
    "He said, 'I am just a guy in the Navy.' He liked flying under the radar," she said.
    Woods also had values and a moral compass, which ultimately guided him that night in Benghazi, Bennett said.
    "He was also a very determined guy," she said.
    That strong determination also became evident during Hell Week, a defining event in the Navy Seal training, where students train in cold, wet, brutal and difficult operational trainings for five days and five nights with less than four hours of sleep.
    Bennett said four days into Hell Week, a cut Woods had sustained on his leg became infected to the point his superiors deemed it necessary to pull him out.
    "He was so upset they pulled him even though he told them he could do it," she said.
    Determined to make it through the training, Woods completed a second Hell Week.
    Loyalty was one of Woods' core values.
    "He was a very loyal teammate and a very loyal friend," she said.
    Since his death in 2012, Bennett has heard many more stories of how her son's heart for helping people in various ways made a difference. One woman, whom Bennett had never met, wrote her how he had helped her when her husband was deployed.
    Once he found out that her car needed new brake shoes, he drove to the local parts store, purchased them and within a couple of hours, had installed them for her, Bennett said.
    "He, above all, was just an avid seeker of adventure, loved adventure and liked a situation where there's life on the edge. He had an absolutely wonderful sense of humor. He had these great one liners and he could just have you laughing. He was a good man and he had the grit and the perseverance that was needed for what he was doing. He lived his Navy SEAL creed and that was to protect and defend, even if it meant at the cost of his own life," she said.
    One detail many may not know about Woods, Bennett said, is that he was also a registered nurse and was board certified in the state of California.
    Over the years, there have been several attempts for Congress to award the Congressional Gold Medal to the four American heroes, who died in Benghazi. It is the highest honor that the United States Congress can award.
    Bennett said that in order for that happen, a total of 290 representatives and 67 senators need to sign on to the resolution so that the Senate and the House of Representatives can vote on passing it. After that, the bill will be sent to the president's desk for a signature.
    "This is our fourth attempt," she said.
    Although the effort was a near success in December 2020, the bill did not receive a final vote in time in the House of Representatives. Because a new Congress was coming in, Bennett said they had to start all over again.
    At this time, the H.R. 320/310 resolution shows that the bill currently has 172 cosponsors of which 89 are Republicans and 83 Democrats, not including its primary sponsor, Stephen Lynch, D-Mass. Co-sponsors from Minnesota include Representatives Tom Emmer, R-MN6; Pete Stauber, R-MN8; and Angie Craig, D-MN2.
    The S. 1408/1408 bill shows it currently has 33 co-sponsors, of which 16 are Democrats, 16 Republicans and one independent. The bill was introduced by Sen. Edward Markey, D-Mass. Co-sponsors from Minnesota include Sen. Amy Klobuchar.
Bennett said a good website that keeps track of different bills and shows who has voted for what is www.govtrack.us.
    Bennett, like so many others, is hoping to see the four American heroes awarded with the Congressional Gold Medal. It would mean a lot. Not only because of the sacrifice Not only because it would show bipartisanship to give the four men the award and the respect they deserve, but it also touches home in another personal aspect.
    Woods' grandfather and Bennett's father, Eddie Croft, was assigned to the Office of Strategic Service (OSS) and fought in World War II. He, along with the other members in OSS, was later awarded with the Congressional Gold Medal. In one way, Bennett said, once the four American heroes who died as a result of the terror attack in Benghazi are awarded with a medal, it will be like a full circle.