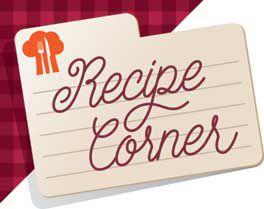 CALIFORNIA BURGERS WITH SPICY OVEN FRIES
2 pounds russet potatoes (about 4), cut into 1/2-inch thick sticks
1 Tablespoon barbecue spice rub or chili powder
2 Tablespoons plus 1 teaspoon olive oil
1/3 cup mayonnaise
2 Tablespoons pickle relish
1 Tablespoon ketchup
1 pound ground beef chuck
4 whole wheat hamburger buns, split
4 lettuce leaves
4 slices of tomato
1/2 teaspoon Kosher salt
1/4 teaspoon Black pepper
Red onion, sliced
Heat oven to 425°. Dividing evenly, on 2 rimmed baking sheets, toss the potatoes with the barbecue spice rub and 2 Tablespoons of the oil. Roast, tossing once, until browned and crisp, about 25 to 30 minutes. Meanwhile, in a small bowl, mix together mayonnaise, relish and ketchup. Form the beef into 4 patties and place each between 2 sheets of wax paper; press to a 1/2-inch thickness. Heat the remaining teaspoon of oil in a large skillet over high heat. Season the burgers with 1/2 teaspoon salt and 1/4 teaspoon black pepper and cook to desired doneness, 2 to 3 minutes per side for medium-rare. Form sandwiches with the buns, burgers, mayonnaise sauce, lettuce, tomato and onion. Serve with the fries. Makes 4 servings.    
1 medium cauliflower, washed and let into medium-small florets
1 1/2 cups white onion
6 cloves garlic, minced
1/2- inch ginger, outer skin removed, finely grated
1/2 jalapeno, diced (more or less needed for spice)
1/2 teaspoon mustard seeds
1 Tablespoon cooking oil
2 Tablespoons cashew cream, optional
Freshly chopped cilantro, for garnish
3 medium vine-ripe tomatoes, halved
1 medium red bell pepper, stem and seeds removed
1/2 cup fresh cilantro, loosely packed
3/4 cup full-fat coconut milk
3/4 teaspoon garam masala
1/2 teaspoon ground coriander
1/4 teaspoon ground turmeric
1/2 teaspoon ground cinnamon
1/2 teaspoon salt, add more if needed to taste
Chili powder, as needed for spice (optional)
For the cashew cream (optional)
1/2 cup raw unsalted cashews, soaked for 2-3 hours
1/4 cup water
To prepare the sauce: In a large non-stick saute pan, heat 1 Tablespoon cooking oil on medium heat. Add in the mustard seeds and allow them to fry for 30 seconds (they will sizzle and pop). Immediately add in the finely grated ginger, minced garlic, green jalapenos (if using) and chopped onions. Cook for a few minutes until fragrant and the onions start to become translucent. Mix frequently to avoid burning. While the mixture is cooking, add all the sauce ingredients above into a blender. Once the onions start to become translucent, turn off the heat and add all the contents of the saute pan (onion/garlic, ginger) into the blender containing the sauce ingredients. Blend on high until completely pureed into a smooth sauce. Pour the sauce from the blender back into the saute pan, add all the spices listed above and mix to combine. Heat the sauce on medium-low until a gentle simmering is achieved. Cook, uncovered, for 10-15 minutes on medium-low heat. For a non-spicy version, omit the red chili powder and green jalapeno.
To make the dish: Add all the cauliflower florets into the sauce, toss and cook, covered, for about 10 minutes on low heat or until the cauliflower florets are cooked and tender, yet able to keep shape. Remove the cover and cook again on medium heat, stirring occasionally, for about 10-15 minutes or until the sauce reduces a decent amount and thickens in consistency. While waiting, prepare the cashew cream, if using. Makes 6 servings.
To make cashew cream: Combine 1/2 cup soaked saw unsalted cashews and 1/4 cup water into a blender. Blend on high until completely pureed and the cashew cream is smooth. Any remaining cashew cream not used in the recipe can be refrigerated or frozen. Season with additional salt if needed, turn off the heat, drizzle on 2 Tablespoons of cashew cream (if using) and garnish with some fresh chopped cilantro. Enjoy with hot rice, Naan (flatbread) or tortilla.  
2 Tablespoons unsalted butter, divided
1 large shallot, finely chopped
2 cups arborio, carnaroli or vialone nano rice
1/2 cup white wine
4 cups low-sodium chicken or vegetable broth
1/2 cup finely grated Parmesan cheese
1/2 cup finely grated fontina cheese
1/2 cup shredded mozzarella cheese
Warm the broth in a saucepan over low heat. Set the pressure cooker to saute and melt the butter. Add the shallot and sweat until fragrant and beginning to soften, about 2 minutes. Add the rice to the pressure cooker and stir until every grain is coated with the butter. Continue stirring the rice until the edges have turned translucent, but the center is still opaque, about 2 minutes. Turn off the saute function, add the white wine, scraping to remove any stuck rice. Continue to stir until the wine has evaporated. Add the broth, cover and set the cooker to manual high to 5 minutes. Release the pressure using Quick Release. Remove the insert from the cooker to prevent overcooking. Add the cheeses, season and serve the risotto. Add salt and pepper, as desired. Serve immediately. Makes 4 servings.
    If you have a recipe you'd like to share -