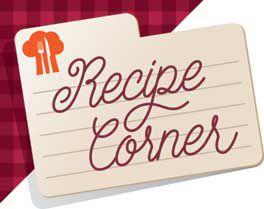 PESTO CHICKEN SALAD IN MINI PEPPERS
20 mini sweet peppers (1 1/2 to 2 inches long)
1 cup chopped cooked chicken
2 Tablespoons finely chopped onion
2 Tablespoons finely chopped yellow or red sweet pepper
3 Tablespoons purchased pesto
2 Tablespoons mayonnaise
1/8 teaspoon ground black pepper
To make pepper shells, cut sweet peppers lengthwise, moving the top one-third of sweet peppers and leaving stems on the other portion. Finely chop some of the removed sweet pepper and use for the salad (reserve remaining sweet pepper for another use). Remove seeds and membranes from sweet pepper shells. For salad, in small bowl, combine chicken, onion and chopped sweet pepper. In another bowl, stir together pesto, mayonnaise and black pepper. Add pesto mixture to chicken mixture, stirring to combine. To serve, spoon some chicken mixture into each pepper portion. Arrange on a platter. Make-ahead directions: Prepare filled peppers as directed. Cover with plastic wrap; chill peppers in the refrigerator for up to 2 hours. Makes 20 servings.
2 mangoes
1/2 cup sugar
1/4 cup cooking oil
3/4 cup fat-free milk
1/3 cup refrigerated or frozen egg product, thawed or 2 egg whites
2/3 cup all-purpose flour
1/2 cup whole wheat flour
2 teaspoons baking powder
1/2 teaspoon finely shredded lime peel
1/4 teaspoon ground cardamom or ground allspice
1 1/4 cups quick-cooking rolled oats
Nonstick cooking spray
Preheat oven to 375°. Lightly coat a 9-by-1 1/2-inch round baking pan with cooking spray; set aside. Pit, peel and chop one of the mangoes; set aside. Pit, peel and slice the remaining mango; set aside. In a large mixing bowl, stir together the sugar and oil. Add milk and egg product. Beat with an electric mixer on medium speed for 1 minute. In a small bowl, stir together the flours, baking powder, lime peel and cardamom. Add flour mixture to milk mixture; beat until combined. Using a wooden spoon, stir in oats and chopped mango. Spoon batter into prepared pan. Arrange sliced mango in a flower pattern over batter. Bake for 35 to 40 minutes or until a wooden toothpick inserted near center of cake comes out clean. Cool in pan on a wire rack for 30 minutes. Serve warm. Makes 10 servings.
2 pounds boneless lamb shoulder roast
2 Tablespoons olive oil
1/2 cup chopped onion (1 medium)
2 cloves garlic, minced
1 Tablespoon grated fresh ginger
1 package (6 oz.) long grain and wild rice mix
1 cup dried apricots
1/2 cup golden raisins
1/2 cup dried tart cherries
2 medium yellow summer squash, cut into 1-inch pieces (2 1/2 cups)
1 package (8 oz.) fresh mushrooms, halved or quartered
1/2 teaspoon coarsely ground black pepper
Trim fat from roast. Cut roast into 1-inch pieces. In a large skillet, brown roast, half at a time, in hot oil over medium heat. Transfer roast to a 4 1/2- or 5-quart slow cooker. Layer on roast in order: Onion, garlic, ginger, rice mix and contents of seasoning packet, dried apricots, raisins, dried cherries, squash and mushrooms. Sprinkle with black pepper, cinnamon and cayenne pepper. Pour the water over all in cooker. Cover and cook on low-heat setting for 8 to 9 hours or on high-heat setting for 4 to 4 1/2 hours. Stir gently before serving. If desired, serve with pita bread. Makes 6 servings.
INSTANT POT HONEY GARLIC CHICKEN BREASTS
1/3 cup water (or vegetable broth or chicken broth)
1/4 cup low-sodium soy sauce
1/4 cup honey
2 cloves garlic
1/4 teaspoon black pepper
1 1/2 pounds boneless skinless chicken breasts
2 teaspoons cornstarch
Combine water or broth, soy sauce, honey, garlic and pepper in Instant Pot. Stir. Add the chicken breasts to the Instant Pot. Seal the lid and turn the steam valve to the sealing position. Set Instant Pot to pressure cook/manual, high pressure. Set the time according to the size of your chicken breasts. For fresh: 8 minutes for small (7-8-ounce) chicken breasts, 10 minutes for medium (10-ounce) or 11 minutes for large (12-ounce). For frozen chicken breasts, add 3 minutes to the cooking times above. When the cook time has finished, carefully quick release the pressure (10-minute natural release for frozen chicken breasts). Use an instant read thermometer to verify the internal temperature of the chicken is at least 165 degrees Fahrenheit. If the temperature is lower, finish cooking using the Instant Pot's saute mode. Remove chicken to a clean plate or cutting board. In a small bowl, stir together the 2 teaspoons cornstarch and 1 Tablespoon water. Turn the Instant Pot to saute mode and stir in the cornstarch mixture. Cook, stirring until the liquid has thickened, 2 to 3 minutes. Turn off Instant Pot and remove the inner pot to stop the cooking process.  Slice the chicken and stir it back into the sauce in the pot.  Serve with rice and  vegetables, or as desired. Makes 4 servings.
    If you have a recipe you'd like to share -