The city of Randall was one of only 15 in the country to receive a 2019 Aquarius recognition award for their drinking water improvement efforts.
The program recognizes cities that funded their projects through the Drinking Water State Revolving Fund (DWSRF).
Mayor Danny Noss said the recognition is a great honor for the city.
"I'm very, very proud of all of our employees who did such an outstanding job and continue to do an outstanding job for the citizens of Randall," Noss said.
Chad Kolstad, DWSRF program coordinator from the Minnesota Department of Health (MDH), applied for the recognition on behalf of the city. He said the Aquarius program is a way for the Environmental Protection Agency (EPA) to acknowledge the progress of small towns.
An additional 10 cities received an exceptional project designation.
Kolstad also worked with city officials when they applied for funding through DWSRF.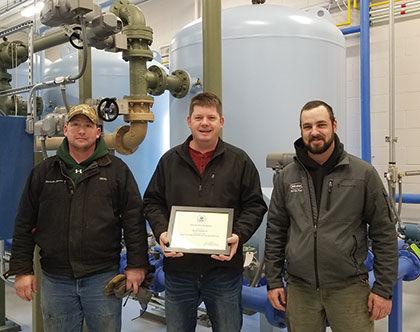 "We worked hard with them to get back into compliance, because they were out of compliance with nitrates, and we were able to put together a very good funding package for the city. And they met the criteria, and they were probably the number one on our list for that, that met the criteria," Kolstad said.
Randall's new water treatment plant has been active since May of 2018.
Prior to that date, Noss said, "We didn't have a water treatment plant per se, we did add chlorine to the water, but we came up where the nitrate level was just a hair higher than what was allowed by the state. So we felt that the federal and state requirements for water were going to continue to get stronger and we'd have trouble maintaining good water for our citizens. We decided the best thing to do at the time would be install the treatment plant."
Kolstad stressed that adding a small amount of chlorine is a necessary step to many water treatment processes to prevent bacteria formation.
According to the EPA's Aquarius report, Randall's municipal well nitrate totals had been increasing since 2000. By the spring of 2015, a water test indicated nitrates exceeded safe levels for drinking, so the state required the city to discontinue use. The MDH and the EPA state that water with nitrate levels below 10 milligrams per liter is safe for consumption.
Nitrate is a common groundwater contaminant. Small amounts of nitrate is naturally occurring, however, according to the Pollution Control Agency (PCA), most nitrates found in water are sourced from improper manure spreading, over use of chemical fertilization or unsuitable use of septic systems.
Ingesting high levels of nitrate can lead to medical issues, with the most noted being blue baby syndrome, according to the MDH, which can cause serious illness or even death, especially in children under the age of six months. People with medical conditions such as: anemia, cardiovascular or lung disease are also at risk of developing issues with symptoms ranging from high blood pressure to nausea.
Noss said that after the high nitrate result came out, each resident of Randall was hand-delivered a notice informing residents of the possible risks.
"It was high enough that it probably would've been bad water for young kids up to six months old and for seniors over 65. It might have caused some health problems with them, but the thing is we don't want any of our citizens to feel concerned about the quality of the water," he said.
Noss said the city didn't suggest any action be taken by residents since the well had been offline by that time.
Randall is just one of many cities affected by high nitrate levels in drinking water. In fact, the MDH reported in 2017 around 8% of community water systems had nitrate levels over 3 mg/L in treated drinking water, still well within safe levels.
The MDH reported that Randall's highest nitrate levels in 2018 were a mere .45 mg/L.
"Now if you talk to some of the residents, they'll probably say they still buy bottled water because they don't trust the city. But those residents will never trust anybody, they don't trust our words," Noss said.
After the well in Randall went offline in February of 2015, Matt Pantzke, Randall city manager, said they connected to a second well. But, Pantzke said that he knew the second well could not sustain the city long term. After some research, a plan to drill a new well and build a treatment facility was unfolded, but the city needed funding.
The DWSRF, a low market loan program, loaned the city a $776,000 loan at a 1% interest rate for 20 years, Kolstad said. The remaining amount of the $1.37 million project came from a water infrastructure grant.
Pantzke said the funding covered exploration, drilling the new well, constructing the new water treatment facility and connecting the treatment plant to the existing water system.
The first step, however, was finding a new source of water.
"We discovered the aquifer that we are currently using that had a tremendous volume of water. So we have plenty of volume of water for the city for many years to come," Pantzke said.
Pantzke did say that the new water source was low in nitrates, but needed some treatment for arsenic, iron and manganese. Kolstad said that those minerals are easier to treat than nitrates.
To repay the loan, the City Council voted to raise water rates for residents,
"We had to find a way to repay that loan and increasing water rates was actually a requirement of it. In order to get the funding you have to maintain a 5% budget surplus in your water fund so we had to adjust our water rates to cash flow the project and they require a 5% surplus to ensure we always have money to maintain the system," Pantzke said.
The City Council voted for a 20-year term versus 30 years, because it saves money in the long run and chances are there will be something else to fix after that time.
But for now, "We're actually in a good spot here, so we should be covered. We're hoping that this will meet the city's needs for many, many, many years," Pantzke said.