With excellence in mind, Rammer Repair in Little Falls strives to provide friendly customer service and knowledgeable mechanic services at a competitive rate, said owner Chris Ramsdell.
    "We fix all sorts of vehicles, even skidloaders," he said.
    Ramsdell opened Rammer Repair in October 2018.
Already an owner of CJR Delivery Inc., a sub-contracting delivery business for FedEx, Ramsdell said he initially opened the mechanic shop as a way to save money in repairs made to the FedEx delivery trucks. He averages the move has saved him about $5,000 per month, if not more.
    "I just got tired of paying all those fees," he said.
    While he is able to save significant sums by owning the mechanic shop, Ramsdell enjoys helping the customers in any way he can. What makes the business rather unique, too, he said, is the fact that the mechanics will sometimes travel to the customers and if possible, make the repair right there and then.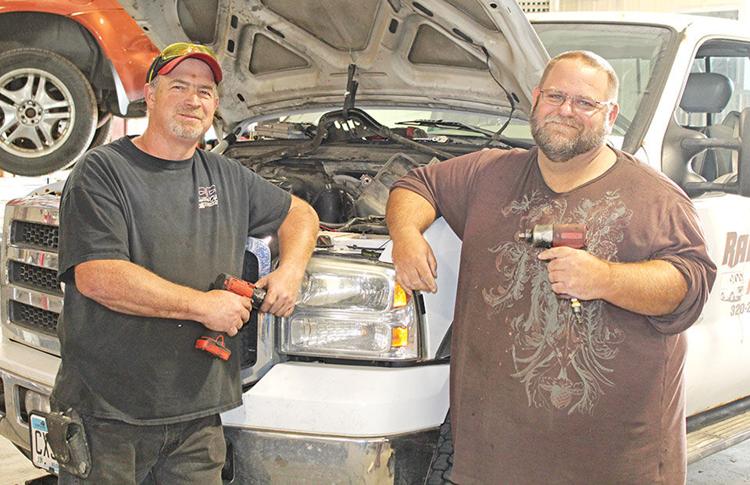 Ramsdell recalls one woman in her 80s whose car wouldn't start. Parked at Walmart in Little Falls, one of the mechanics installed a new starter in the parking lot. It is also a way of helping customers to save money too, as the woman had not needed to pay for the cost of a tow truck, he said.
    "Most places will have you tow your car to them," he said.
    In instances where it may be difficult for the car owner to get the vehicle to the shop for regular maintenance work, they will sometimes pick up the vehicle, for instance change the oil and then return the vehicle.
    "Some work at the hospital, we go get it and then bring it back when we are done, he said.
    In addition, the personnel at Rammer Repair offer customers who drop off their vehicle a ride home. That way they don't have to sit for hours and wait for their vehicle to be done. Once any necessary repairs or maintenance have been done, the vehicle owner is picked up and brought to the shop to pick up the car. It is a service many of them appreciate, Ramsdell said.
    How long it takes to repair something depends on what it is that needs to be fixed. What kind of vehicle it is also makes a difference. Nowadays, most cars are quite compact, which usually requires several other parts to be removed before they can reach the part that needs to be repaired or replaced. Because of the time it takes, repairs may seem more expensive than they did back in the day.
    "Back in the '80s you could work on a car and change the starter in 20 minutes," he said.     
    Besides repairing his own  FedEx trucks used in his other business, Rammer Repair also provide mechanic services to other FedEx sub-contractors.
    At this time, Rammer Repair has two mechanics, Chris Peterson and Tom White.
    "They are really good. Having good workers makes a huge difference. It took me about 20 years to get good workers in the delivery business. I have good drivers now," he said.
    Those at Rammer Repair strive to complete each job in a timely fashion. Before COVID-19 reached the United States, it wasn't unusual to order a part one day and get it delivered the next. However, because of many manufacturers being closed down during the pandemic or being backlogged, along with an increased demand, finding parts can be more difficult.
    "Now when I order something, it can take two weeks to get a part. Customers don't want to hear that, but what do you do? After COVID hit and plants were shut down for month, it affected everybody," he said.
    When Ramsdell isn't working, he enjoys spending time with his wife, Tara, and their children, Shay, Hunter, Hayden, Seth and Sage. One of the many activities he and the children enjoy is going to their cabin on a lake and go fishing.
    Rammer Repair is located at 16682 11th Street NE in Little Falls.
    For more information or to make an appointment, call (320) 232-8025.