As construction has begun in the historical building near Bank Square (Broadway and First Street) in Little Falls, many people in the community have wondered what business will make its home in the former JC Penney location. The answer — Platinum Cosmetics, a medical spa owned by Suzie Mattison of Little Falls.
    Mattison, who works as a nurse practitioner at the medical clinic in Randall, said one day last year she decided to get trained in how to do Botox and fillers. In October 2020, she attended the National Laser Institute in Scottsdale, Ariz. and has since become certified in injectibles and in advanced injectibles.
    Afterward, she posted on her personal Facebook page about her adventure. It inspired her friend, Jocelyn LeBlanc, who has had a 13-year career in the beauty industry, to attend the same institute to get certified as a laser technician. It was something she had always wanted to do.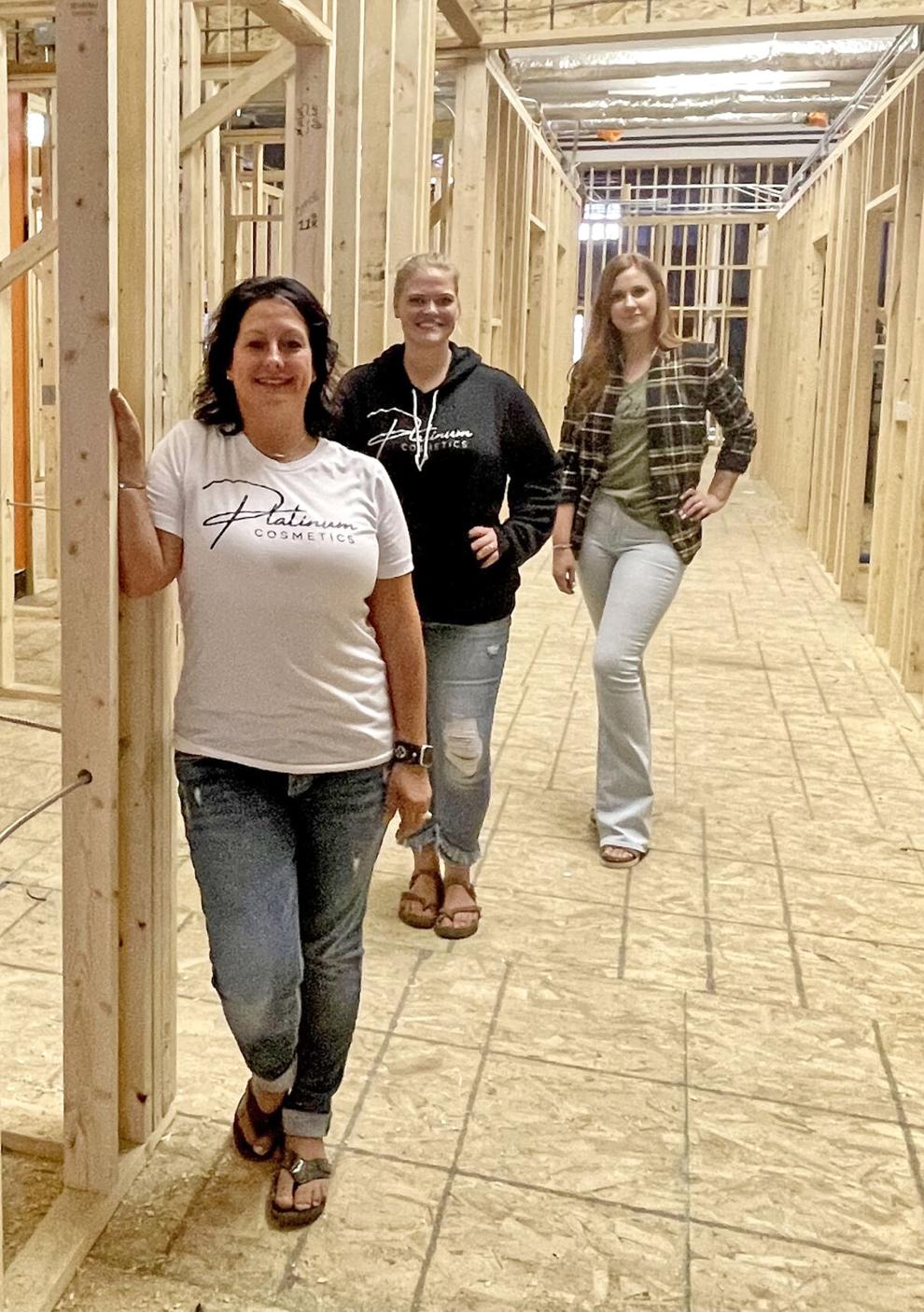 LeBlanc said the reason she traveled to Arizona to get certified as a technician is because the state has the highest regulations across the country. Minnesota, on the other hand, doesn't have any regulations at this time that oversees laser technicians. Essentially that means that anyone could work as a laser technician without being certified, a concept she finds quite scary, she said.
    "That's why we made the choice to really invest in us and make sure we're educated and are going into it with as much education as we possibly can," LeBlanc said.
    Both Mattison and LeBlanc are certified in the state of Arizona.
    After founding Platinum Cosmetics last year, Mattison started doing Botox and fillers from her home south of Little Falls in December 2020. Since then, she has acquired more than 100 clients. As many of her clients also want other services, she's added a few more.
    One of the reasons Mattison chose to open a medical spa in Little Falls is that she wanted to make accessing those type of services for people. The closest cities that have medical spas are St. Cloud and Brainerd. As a result, the time it took people to travel made it quite inconvenient.
    Now with Platinum Cosmetics opening in Little Falls, it is a lot more convenient, she said.
    "Botox and that type of thing is a relatively quick appointment, but it could literally be a lunch break appointment. If someone works down the street, they can walk down on their 45-minute lunch break and get their service done and go back to work," she said.
    Mattison said a common misconception about Botox is that people often think it means that the person won't have any facial expressions. While that can be accomplished, if desired, a little bit of Botox can make the skin appear softer.
    "You still have your full facial expression and you still look like yourself. There's just less wrinkling," she said.
    Common areas for men and women to have cosmetic Botox injections include forehead wrinkles, crow's feet, frown lines and more.
    Injectible dermal fillers can plump thin lips, enhance shallow contours, remove wrinkles, improve the appearance of scars and soften facial creases.
    "The possibilities are really endless," she said.
    Platinum Cosmetics also offers microneedling, a cosmetic procedure in which the machine uses tiny needles and radio frequency waves to create channels in the skin causes the body to make more collagen and elastin. The result is then  rejuvenated facial skin that can make the individual look younger.
    "It's amazing at scar revision, even if it's cavernous scarring from acne. It also helps to soften wrinkles. Basically, it's a one size fits all for everything and every skin tone," LeBlanc said.
    Knowing that clients and others who may be curious about microneedling would ask her, Gabby Stoner, office administrator at Platinum Cosmetics, said she decided to try out microneedling. That way she could relate her own experience as well as explain the procedure.
    Numbing before the procedure is available for those who are sensitive to pain. However, Stoner opted not to since she wanted to be able to attest to the full experience. While the notion of having 36 needles come at her sounded scary, Stoner said it wasn't that bad at all.
    "I've had mosquito bites that hurt worse. Then, the next day, my skin looked like brand new," she said.
    What makes microneedling popular too is that it be used just about anywhere. It also helps getting rid of stretch marks.
    "That's another big one. It's amazing, because not only with it help re-texturize the skin, it tightens the skin, too. I've seen results from our machine that would be a perfect candidate for a tummy tuck. After a couple of sessions with my granny Adeline, she didn't need a tummy tuck anymore. It's an amazing technology," LeBlanc said.
    Laser skin surfacing is offered, as well, which helps reduce acne scars, wrinkles, age spots and more. LeBlanc said that when it comes to laser skin surfacing, the technology has improved greatly in just the last few years.
    Previously, most people of color could not use lasers because the lasers couldn't tell the difference between the pigment in the hair and the pigment in their skin. As a result, many received burns or worse, LeBlanc said.
    "Nowadays, we can treat anybody as far as genetic skin tone or skin type. It's wonderful how technology has advanced in this," she said.
    While Platinum Cosmetics takes up most of the room at the location, a portion in the back has been dedicated to 5 Star Auto Glass, a business Mattison's husband, Rick Mattison, owns and operates.