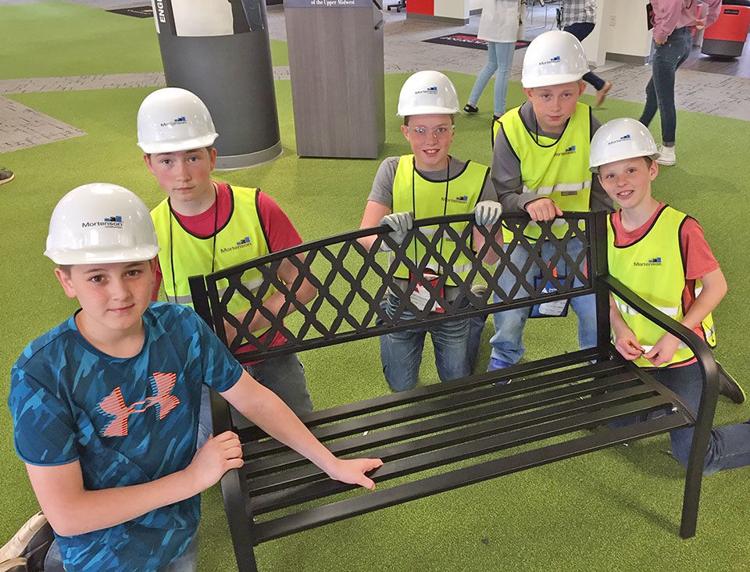 Imagine traveling as a young student to a mock city to learn hands-on what it is like to run a business. That's what the sixth grade students at Holy Trinity Catholic School and Pioneer Elementary School in Pierz had a chance to do, May 9.
    "The kids just had a fantastic time. They were very enlightened on what it's like running a business and how hectic and busy it can be to have a job," said Teresa Giese, board chair of Junior Achievement in Morrison County.
    The students traveled to BizTown, a mock city located at the Junior Achievement of the Upper Midwest in St. Paul. But the learning didn't start there.
    Giese said in the weeks before the trip, the students were taught a variety of skills and procedures they will benefit from later in life. Skills, such as learning how to write a resume, how to fill out a job application, how to conduct themselves in an interview, how to balance their own checkbook and more.
    The students had a list of 120 different mock job positions they could apply for, such as CEO, CFO, project manager, production specialist, banker, disc jockey, news reporter and more.     
    Giese said since the students were from two different schools and most didn't know each other, the interviews for the different job positions were done when everyone was present.
    "That way everyone had the same opportunity. It was kind of cool to overcome the hurdle of the two schools," she said.
    As every city has a mayor, Giese said BizTown was no different. Those who were interested in being mayor had to first throw their ballot in.
    A polling place was also set up on the day of the interviews for students to vote on who they thought should be mayor. Since they had watched a video of the different candidates, they were able to make an informed decision. Once they had voted, they were given an "I voted" sticker, Giese said.
    BizTown is set up as a small city indoors with 18 different businesses. The space in which each business is located is sponsored by that specific business, such as Cargill, Giese said.
    The students knew ahead of time what their assignment was, what business they worked in and how much they would be paid per hour (in toy money.)         Part of the students' preparation before coming to BizTown had also been to research the position they would be working in to know what was expected from them as well as to get to know the company they would be working for, Giese said.
    The day started with the CFO for each business calculating how much money they would need to borrow from the bank to operate for one day. They also had to sign a promissory note with the bank that the loan would be paid back.
    Vice Chair Aubrey Hoggarth Cook said the ultimate goal for most of the businesses was to pay their debt and make a profit. Profit was made by selling the items they had created to other students. The business Cook was involved with for the day was H.B. Fuller where the students made slime and sold it for profit.
    Giese was with the business Xcel Energy and sold energy to the other businesses.
    "We had a sales person who had to go around to each business and tell them about the benefits of regular energy versus renewable energy. There were also different price points on each depending on what they chose," she said.
    The students were given their own bank account for the day, which included their own checkbook and a debit card. Once they were paid, the students were able to use their breaks to make withdrawals or go shopping at the other businesses.
    The students were paid twice during the day. The first time they were paid in an actual check so they had to create a deposit slip for it and take it to their bank and track it in the register, Giese said.
    "Their second paycheck was directly deposited, which was a whole new concept for many of them. They had a hard time to understand the funds had gone directly into the bank account and that it was available for them to spend," she said.
    Many of the businesses found different ways to promote and advertise their product. Cook said the business she was with paid for a couple of ads for their slime product to be advertised on the radio that was played throughout the mock city.
    "There was a DJ and a radio station, so you could pay to request songs or pay to advertise on the radio," she said.
    Giese and Cook said they were very pleased with how the day went at BizTown. It was a fun day for students to experience and learn more about work readiness, entrepreneurship and financial literacy — skills that prepare them for the future.