Since schools in Minnesota were ordered closed by Gov. Tim Walz two months ago due to the COVID-19 pandemic, graduating seniors, parents, school staff and other community members have wondered what this year's graduation ceremony will look like. Will there even be one? As a result, many seniors are feeling robbed of what was supposed to be one of their biggest highlights of their lives.
    Although the Minnesota Department of Education (MDE) has voiced its preference about schools keeping it to a virtual graduation, many districts, including the Pierz School District, are looking to make it even more special, while staying safe.
    "Our biggest mission is to create the experience of walking across the stage and getting their diploma, so that is what we are trying to accomplish," said Supt. George Weber.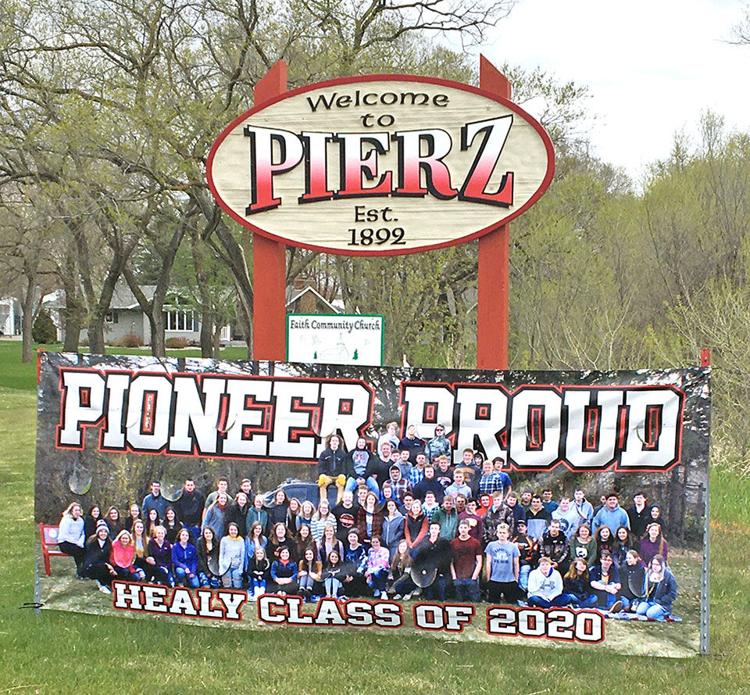 The graduation ceremony for seniors will be held Friday, May 22, at 7 p.m. Since MDE has banned gatherings in auditoriums, gymnasiums, on football fields and more, the ceremony will be held in Pioneer Elementary School parking lot.
    Visitors, including students, will need to remain in their vehicles throughout the ceremony. The windows will need to be closed, as well. Because of social distancing guidelines, vehicles will be parked in rows 6 feet apart and due to available space, only one vehicle per graduating student will be allowed.
    High School Principal Karrie Boser said an exception will be made to the one-vehicle-per-student regulation with split families and that she will personally call them ahead of time.
    Boser said a stage will be set up in front of the MAC entrance. The students in the first row of vehicles parked will then one at a time walk across the stage. The diplomas will be sanitized and the person who will place the diploma at a certain location for the student to pick, will be wearing a mask and gloves. The person will also step away from the diploma to keep a safe distance between the student and him or herself, Boser said. Afterward, the student will return to the vehicles in which they he or she was seated in.
    Once the students in the first row of vehicles have received their diplomas, they will be directed to park in the back row to allow the vehicles in the second row to move up to the first row. This will continue for each of the rows to ensure that parents and others are able to watch their student walk across the stage and receive their diploma.
    As people will not be able to get out of their vehicles to take photos, the school has arranged for a professional photographer to take a photo of each student. While each student will be given one photo, more will be available to order, Boser said.
    In addition, another professional photographer has volunteered to snap photos throughout the ceremony. These photos will later be combined in a photo video and in a collage for parents to see online at a later date.
    The Pierz School District has partnered with Little Falls Radio for the ceremony to be aired on AM960 KLTF. The ceremony will also be livestreamed during the event and can be access through a link at the school's web page.