Pierz cousins grow in faith and life skills on mission trips
    When cousins Corrine Schomer, 17, and Lydia Otremba, 17, of Pierz left this summer on mission trips, they didn't quite know what to expect at first. While Schomer visited Scotland, Otremba set her eyes on Spain.
    "I had done one year of Spanish and figured maybe I could practice a little. Spain is also known for their pastries, so that sparked my interest," Otremba said.
    Both left for their respective mission trips, June 23. Schomer returned July 22 and Otremba, July 28.
    Since several of their friends had all chosen to go on different mission trips to different parts of the world, Otremba and Schomer said they decided to do the same.
    Schomer said it was initially her older sister, Latyana, who inspired her to go on a mission trip in the first place as Latyana has gone on several.
    "I kind of wanted to follow in her footsteps. I have also grown a lot in my faith recently and felt like God was telling me to go into the nations, not just Pierz, Minnesota," she said.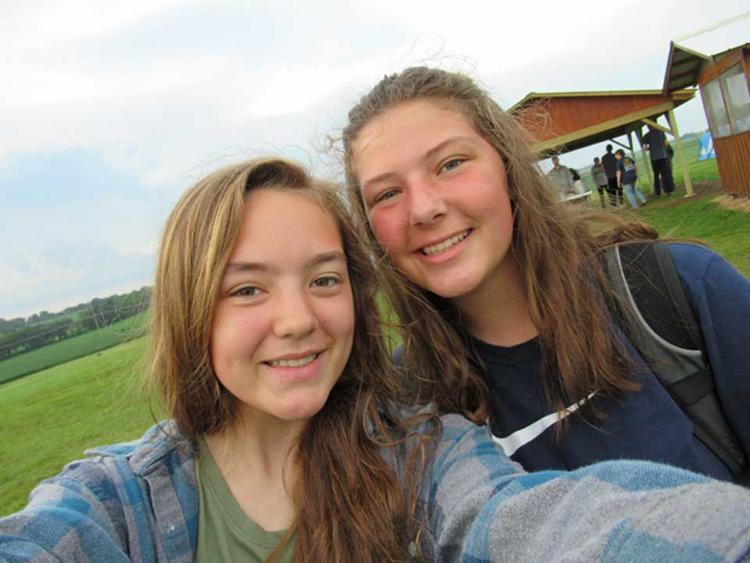 The girls went on their mission trips through the organization Royal Servants. As the organization sends about 10 different mission teams to different countries, the first week was spent at a training camp in Wisconsin.
    "That was probably the most challenging. Royal Servants does a great job of pushing you out of your comfort zone," Schomer said.
    Instead of regular bathrooms, porta potties were used. Simple outdoor spigots were used whenever they wanted to fill up their water bottles or brush their teeth. Showers were taken by using a bucket and a cup for five minutes. With 15 girls in her group, there was simply no time to dilly dally, Schomer said.
    The majority of the time at the training camp was spent with people who were going on the same mission trip. Although Schomer and Otremba ran into their friends as well as each other from time to time, visiting was kept short.
    "You basically had 30 seconds to say hi and bye," Otremba said.
    The purpose of the training camp was to prepare the missionaries for rough conditions they may face on their mission trip. That way it doesn't come as much of a surprise, Schomer said.
    Schomer visited Drumchapel and Dunoon in Scotland. Since English was spoken, it made it easier to interact with people. Most of them were also open to the missionaries sharing about Jesus and many were already believers, Schomer said.
    One of the highlights of the trip for her was the opportunity to encourage an 8-year-old girl named Annie and to share her testimony.
    Annie told Schomer about a new girl in her school who was bullying her and her friends. Knowing what it's like to be bullied herself, Schomer came right alongside her.
    "I am pretty open about my faith. One of my friends couldn't handle it and started bullying me for it. It was a very rough year for me," she said.
    Schomer shared with Annie about how she had been able to show love and kindness toward the friend who had bullied her.
    "It seemed to encourage her and give her hope," Schomer said.
    The food in Scotland was somewhat different from Minnesota. One of Schomer's favorite foods to eat was fish and chips.
    "I had that a lot. It was so good, so I was really excited for that," she said.
    She also tasted haggis, which is the national dish of Scotland and is served in a pudding form.
    Despite the fact the pudding is composed of the liver, heart and lungs of a sheep or other animal, Schomer said it wasn't as bad as she had thought it would be.
    "I heard that it was illegal here in the United States because of what it is made of," she said.
    Looking back at her trip, the biggest challenge was that she didn't really have any time to herself. As an extreme introvert, it was difficult to endure at times, but being surrounded by and interacting continuously with people made her grow and develop her social skills.
    "God grew me out of my comfort zone and taught me so much. It was a life changing experience," she said.
    One area Otremba grew tremendously in was to not take it personally when she was rejected.
    When the group she traveled with was asked by an organization that focuses on sharing the gospel with Muslims, they went out into the marketplace.
    Otremba learned that although the organization had been in the area for six years, only two Muslims had converted.
    However, it had not taken them long to return to the Islamic faith, either by falling back into traditions or because it ended up being too tough for them and as a result, converted back.
    "No one in the Muslim community was really accepting of us at all. We were rejected a lot, like they'd shake their finger 'no' to us, or just say 'ignore us and keep walking,' which was really tough," Otremba said.
    Even though the ministry in the Muslim community didn't seem to be successful, Otremba noticed a softening of hearts.
    "It was very encouraging because it means that God will be doing something big," she said.
    Otremba and her group spent a lot of time ministering to people on the streets. For the most part she felt safe, with the exception of when they were ministering in the evenings in an area where a lot of drinking, smoking and other activities took place.
    "We were there when it started getting dark and it was super freaky because people were already drunk and loud, but we did get some really good conversations out of it," she said.
    When it came to the food in Spain, Otremba said she stayed away from some of the traditional foods. Instead, she jumped at the opportunity to eat fresh fruit found in the market places.
    Baguettes was another favorite.
    "They were so good," she said.
    She tried one new food — squid. Despite its stringy tentacles, it was surprisingly good, she said.
    "I pulled at it and it snapped like a rubber band," she said.
    Looking back at training week, Otremba is thankful the organization prepared them as well as they did.
    "I think while you are in it, you really don't like it at all. Like, my back got so sore from sitting on chairs without backs and from sleeping on the ground. But once we got overseas I was super appreciative of it because we had to sleep on floors over there anyway," she said.
    Back in Pierz, Otremba and Schomer look at some of their every day comforts in a different light.
    "You appreciate it more," Otremba said.