More than 33 years has passed since Paul Marcus of Little Falls started working as a service technician for Center Point Energy in 1987. The first seven years in Burnsville and then in Little Falls after he and his wife, Tracy, relocated to Little Falls.
    "It went by fast," he said.
    Throughout his career at CenterPoint Energy, Marcus has strived to provide excellent, professional and friendly customer service. It is something his customers have noticed and appreciates.
    Marcus was recently named October Employee of the Month by the Little Falls Area Chamber of Commerce. He was nominated for the recognition by customer, Charlie Martin.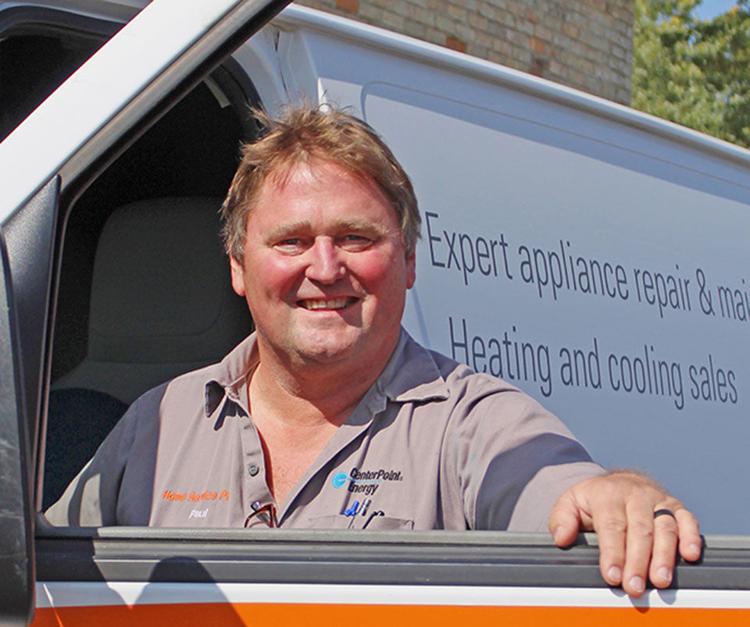 "He has come to our home a number of times for furnace tune-ups, appliance repair, etc. Paul is always friendly, courteous and knowledgeable. He takes the time to explain what he has done and is always willing to answer any questions we might have. Paul is a perfect example of an employee of the month. I would hire him if I owned a business," Martin said in the nomination.
    Marcus' dedication to his customers and his job has also been noted by his supervisor Jason Pond.
    "Paul is a great representative of CenterPoint Energy. We greatly appreciate the relationship our technicians have with the community and this recognition is a perfect example of CenterPoint Energy's commitment to customer and community relationships," Pond said.
    As for the majority of recipients of the Chamber's Employee of the Month recognition, Marcus, too, was surprised and feels honored and blessed to have been named Employee of the Month.
    "I was not expecting this. I enjoy what I do every day and look forward to going to work. My co-workers and I work hard to ensure we are meeting the individual needs of each customer. It is always a great feeling to leave a project when the customer's needs have been met, knowing that we have made their life a little more comfortable," he said.
    Marcus said it was his fascination and personal satisfaction of repairing things that ultimately led him to study for a degree in refrigeration and appliance service at Dunwoody College of Technology in Minneapolis. He graduated in 1984 and worked for a wholesale company for a while before he joined CenterPoint Energy in 1987.
    When Marcus isn't working, he enjoys spending time with Tracy, their children Sam and Libby and their spouses Maysie and Grant. He also treasures any time they can spend with their grandchildren, Cecilia and Sophie.
    "My number one hobby is spending time with the family. Granddaughters are a blessing," he said.
    In addition, Marcus likes going fishing, doing yard work, gardening and playing guitar, a skill he uses as a member of the worship team at Faith Lutheran Church in Little Falls.
    As Employee of the Month, Marcus received certificates from Bursch Travel Agency, GoldSmith Jewelers, Little Falls Integrated Physical Medicine, Linden Hill Historic Event Center, Melgram Jewelers, Pizza Ranch, Subway and Thrive with Vision.